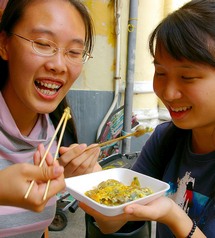 Two young women daytripping from Shenzen share a clamshell of street food in Macao.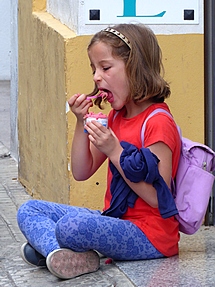 This little girl in Spain has not a care in the world as she licks her ice cream cone.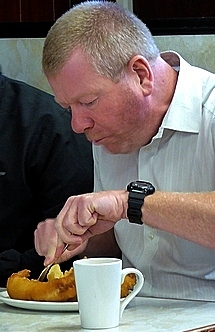 A plate of fish and chips at John Long's in Belfast, Northern Ireland, commands this chap's full attention.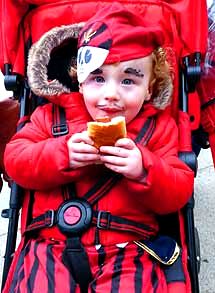 This little fellow enjoys his teething biscuit outside the Guildhall on Halloween in Derry, Northern Ireland.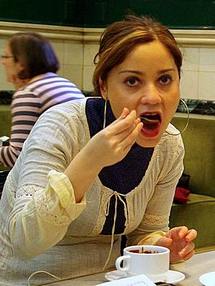 There's no way to get the last of the thick hot chocolate in the cup without slurping at Chocolatería San Ginés in Madrid.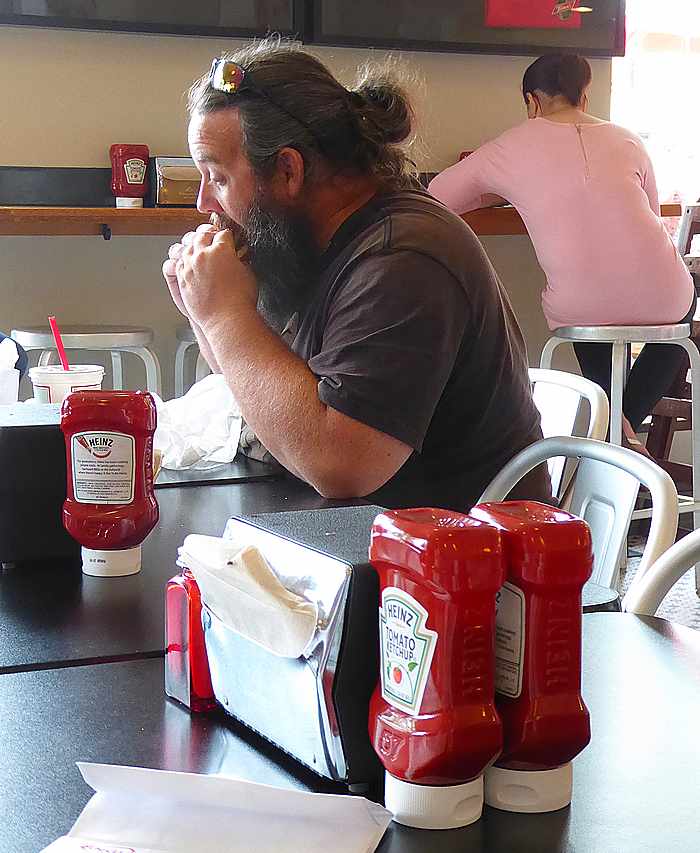 Happy diner tucks into a Tucker's Onion Burger in Oklahoma City.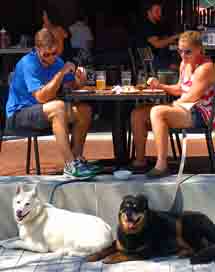 Favorite eaters enjoy a sunny day meal with their dogs outside Commonwealth Brewery in Cambridge, Massachusetts.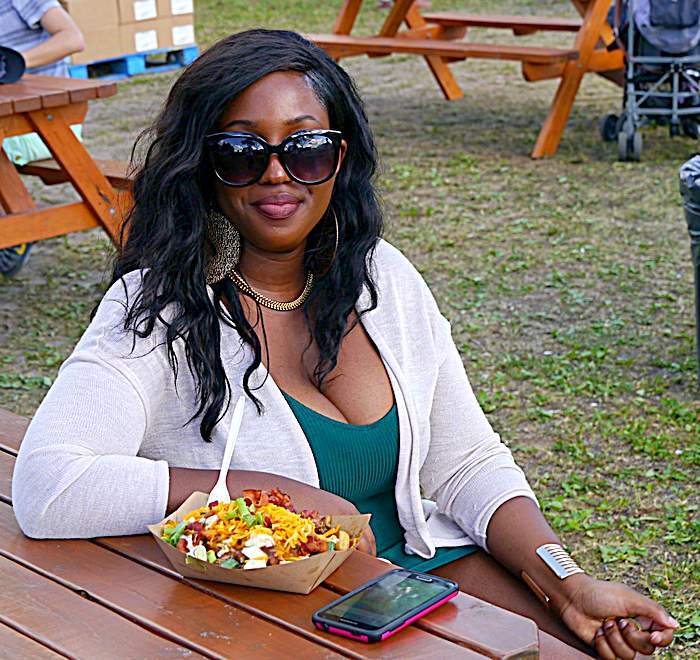 Lady enjoys a dish of bacon cheeseburger poutine at the Montreal Poutinefest.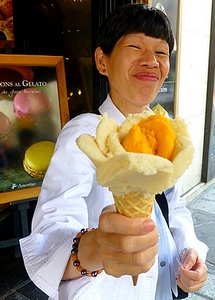 What could be finer than a bouquet of ice cream offered on a cone on the streets of Paris?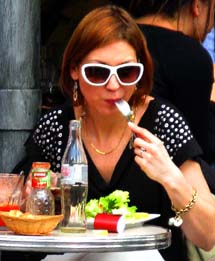 Outdoor diners in Paris always seem to have a way of looking stylish, even with their mouths open.

[singlepic id=54 w=320 h=233 float=center]

Las Bravas in Madrid claims a patent on the ubiquitous red sauce found on patatas bravas all over the country. These women seem to be enjoying their tapas break at the Las Bravas bar.

[singlepic id=109 w=320 h=282 float=center]

Tradition has it that the bagel was invented in Krakow. Certainly this lady is determined to enjoy hers whatever the weather.


[singlepic id=110 w=320 h=227 float=center]

Ladurée in Paris is precisely the right place to enjoy tea for two (along with some of their amazing macaroons).

[singlepic id=51 w=320 h=286 float=center]

There's a lot to be said for wearing red while eating spaghetti with red sauce in the rare sunshine of Venice.
[singlepic id=115 w=320 h=451 float=center]
Some fans of Neapolitan pizza insist that the best comes from Da Michele.

[singlepic id=48 w=320 h=240 float=center]

Everyone in and around Venice (Italy) seems to eat ice cream with the slightest excuse. These chaps were hanging out at the harbor on the island of Burano.

[singlepic id=113 w=320 h=222 float=center]

If there are two things Neapolitans love to do, it's to flirt and to eat pizza.

[singlepic id=56 w=320 h=317 float=center]

Crustaceans all over Spain tend to be wonderful, but the shrimp, langostinos, and lobster in Sanlúcar de la Barrameda are transporting.

[singlepic id=52 w=320 h=245 float=center]

These bovine diners chow down on the green grass of the Cantabrian hillside outside Santillana de Mar.