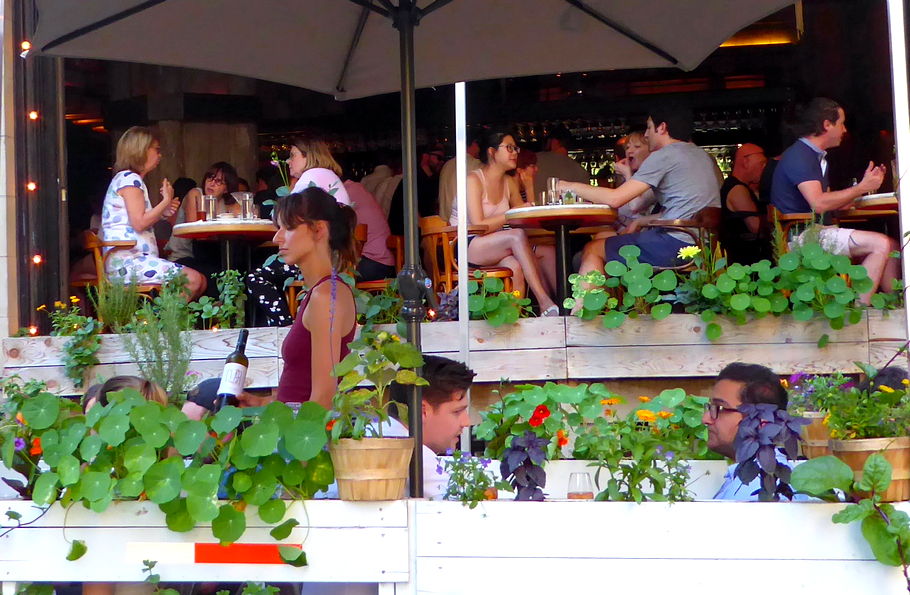 When it opened, Bar Furco (425 rue Mayor, 514-764-3588, barfurco.com) attracted a lot of attention for its industrial chic renovation of a Canadian Fur Company warehouse. It even won a 2014 prize from Design Montreal, the city agency that's charged with keeping Montreal in the forefront of creativity.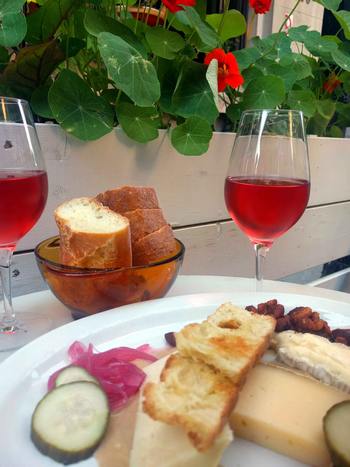 We were curious about the clever use of concrete in the interior. But when we arrived and discovered that one of the tiny round marble tables on the equally tiny terrasse was vacant, we grabbed it. A Montrealer would have done the same. The city's residents pretty much live outside during their short, glorious summers. Sitting on the terrasse surrounded by window boxes full of splashy nasturtiums was just too good to resist.
Bar Furco is really only a five minute walk from the main performance areas in the Quartier des Spectacles. But it has an entirely different energy level than the plazas in front of the Montreal Jazz Festival stages. We've been told that Bar Furco is a favorite with business people after work, but after a glass or two of rosé, everyone is pretty mellow. Suits and all.
Bar Furco has a short but interesting dinner menu—sort of a mashup of Quebec bistro with Asian touches. (Let's face it—Korean fried chicken has spread the honey-soy accent for poulet frit.) But we like the bar as a pre-concert stop for a plate of three Canadian cheeses served with good breads, spiced nuts, and some pickled vegetables. Add, of course, a couple of glasses of rosé, which seems to be the official summer drink of Montreal. (They're currently pouring a Navarre garnacha/tempranillo blend called Pink Kong by the glass.)
Bar Furco opens at 5 p.m. and is closed on Sunday.