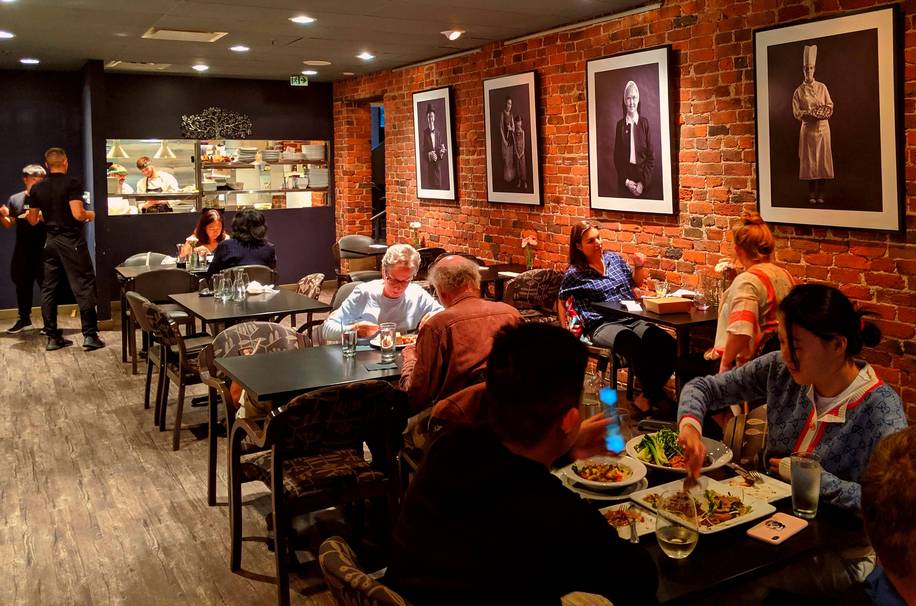 A New Brunswick friend had given us a list of her favorite restaurants in Saint John, but her list was longer than our projected stay. So when places began to open for dinner, we walked around and poked our heads inside. We know better than to judge a place on looks, but we were smitten with the design of East Coast Bistro (60 Prince William St., Saint John; 506-696-EAST, eastcoastbistro.com). Clearly, so were a lot of folks who posted online impressions about the clean lines, brick walls, and fine photography.
But the menu was what won us over. It wasn't especially long or unusual, but it was clearly built around local products and made nice use of Maritime provinces seafood. We were hooked.
Chef-owners Tim Muehlbauer and Kim Steele are transplants from the Vancouver/Whistler culinary scene in British Columbia, but they've embraced Saint John with a passion. They champion fresh seafood from the Bay of Fundy ("whose fog and salt air we breathe every day"), heirloom veggies grown on small farms up the St. John River, and farm-raised local meat. From what we observed, their most popular main course is the ECB Beef Burger with caramelized onion, aioli, white cheddar, and crispy shallots. It's a steal at $18 ($13.60 USD). In fact, the most expensive main, a bouillabaisse made with Fundy fish, is $30 ($22.65 USD).
A bistro with bustle just off the harbor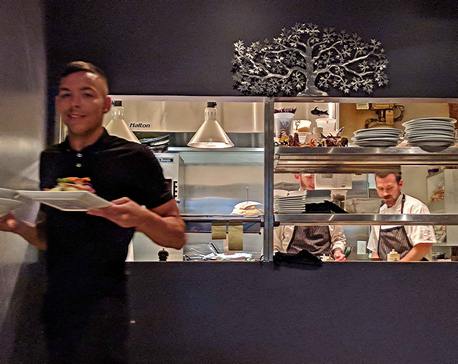 East Coast Bistro is a long, narrow room with the kitchen pickup window at the back. (There's also an overflow room upstairs.) The main dining room wasn't quite full when we arrived, but since it was early on a Tuesday evening, that wasn't surprising. Folks we've talked with since suggest that we were lucky to get in without a reservation—even after the cruise ships had left. ("Cruise Ship Tuesday" is quite a phenomenon in Saint John. From June to early October, 3,000 to 4,000 tourists come ashore from early morning until late afternoon.)
Many fellow diners seemed to be locals who were out on a date or celebrating a milestone. Clearly, East Coast Bistro is one of Saint John's "occasion" restaurants, and deservedly so. Mind you, celebration can be a little muted given New Brunswick taxes on wine, but we found a half-liter carafe of Louis Moreau Petit Chablis ($35, $26.50USD) a lovely match for our meals.
David ordered a special of seared fresh Bay of Fundy tuna on a bed of red lentils, accompanied by stir-fried bok choi, bean sprouts, mizuna greens, and a carrot and red cabbage slaw. The tuna was crusted in sesame seeds to protect the edges from charring, while the red lentil base was flavored with kaffir lime.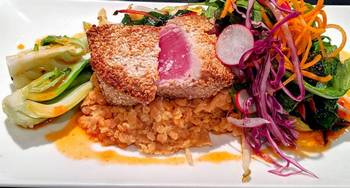 As you can see, it made a great presentation, and every aspect was delicious. Part of what made it fun to eat was the contrast in textures—the crunch of the sesame, the toothiness of the bok choi, the meatiness of the fish.
Pat's dish was less dramatic to look at, but a nice study in texture as well. She had gnocchi tossed in pesto, plated atop a pool of fresh tomato sauce, covered in a blanket of mozzarella and topped with a flurry of deep-fried spinach for a crispy contrast. It was not a dish we'd attempt at home without a deep fryer, but we are always looking for new ways to enjoy the late summer pairing of fresh tomatoes and basil. We decided to use East Coast Bistro's gnocchi dish as inspiration for our own version.
GNOCCHI WITH PESTO, CHERRY TOMATOES, AND FRICO
Our community garden plot is going a little nuts, so we have a lot of pesto and tomatoes on hand. We thought it would be nice to simply cook down our tomato trimmings from making Caprese salads along with tomato juice drained from chopped cherry tomatoes we put on pizza. That made a tomato sauce base. Then we peeled a couple of cups of cherry tomatoes, which isn't as laborious as it sounds. After that, it was really a matter of assembly—except for making cheese crisps (frico, as they're known in Friuli) to provide some crunch.
Serves 2
INGREDIENTS
2 ounces finely grated Grana Padano, Montasio, or Parmigiano Reggiano cheese
2 cups red and yellow cherry tomatoes, peeled
1 1/2 cups fresh tomato sauce
10 ounces gnocchi
1/4 cup basil pesto
1 cup mozzarella pearls, room temperature
2 tablespoons fresh basil, julienned
DIRECTIONS
Make the cheese crisps by sprinkling two tablespoons of grated cheese on a lightly oiled frying pan over medium-low heat. It should make about a 4-inch circle. Cook slowly until the cheese just starts to brown. Flip over with metal spatula. Cook a few seconds longer and remove to plate to cool. Repeat until you've used all the cheese. The alternative technique is to line a baking sheet with parchment paper and sprinkle the cheese in 4-inch rounds. Bake at 375°F for 6-8 minutes, until cheese just begins to brown.
Place peeled cherry tomatoes in pan in a hot oven to heat through. Bring tomato sauce to serving temperature.
Cook gnocchi in boiling salted water. When done, toss with pesto. Gently add cherry tomatoes and stir.
Spoon half the tomato sauce into the bottom of each of two 8-inch bowls. Using a large spatula, lift the gnocchi mixture into the bowls. Distribute mozzarella pearls over each bowl and sprinkle with julienned basil. Top with cheese crisps.