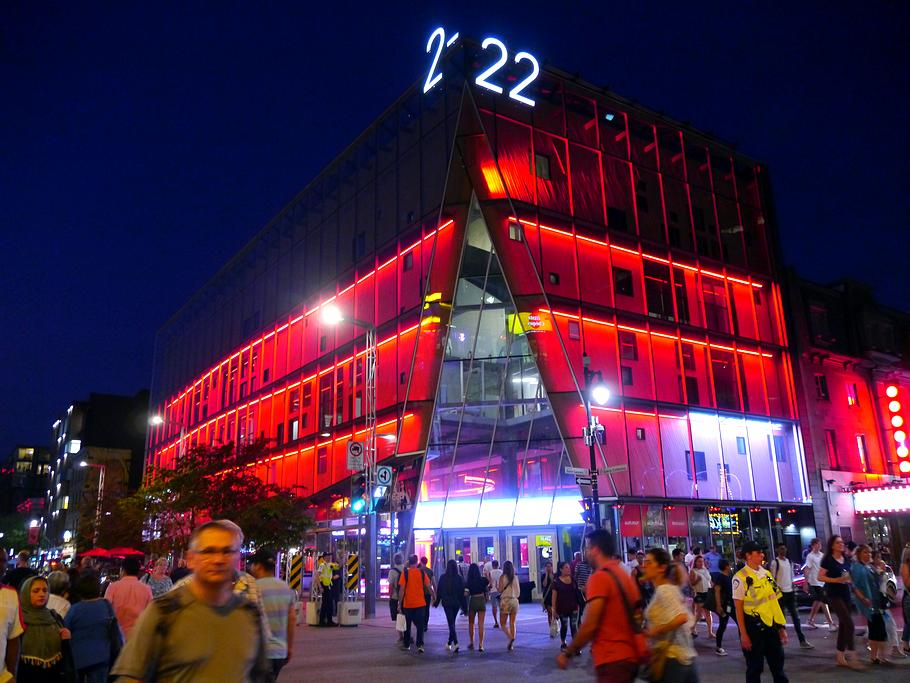 Pass La Vitrine in the daytime and you might say, "oh, what a nice modern glass building." Encounter it at night (above) and it might take your breath away with the extraordinary red rods that illuminate the structure. Located on rue Ste-Catherine est at the corner of boulevard St-Laurent, La Vitrine (lavitrine.com) houses a number of concerns. For starters, it's the ticket headquarters for almost everything happening in Montreal, including most of the city's many festivals. Jazz included.
Since it is literally steps from Club Soda and across the street from M Telus (the former Metropolis), La Vitrine is in the heart of the shows on the east edge of the Quartiers des Spectacles.
That's what makes Accords Bistro (22 rue Ste-Catherine est, 514-508-2122, accords.ca; open Tuesday-Saturday) in the Vitrine building such a great spot to eat pre- or post-show. Especially during the Montreal Jazz Festival. This is market cuisine presented with panache and an eye for color and texture. Mind you, "market" in Quebec extends from the border with Ontario all the way downriver to the Iles des Madeleines. And PEI gets included for good measure, if only to make sure there are lots of oysters on the menu. The outdoor terrace shown here by day is great fun. But if it's a hot night, the chic indoor tables at Accords Bistro might be perfect before heading to a sweaty club.