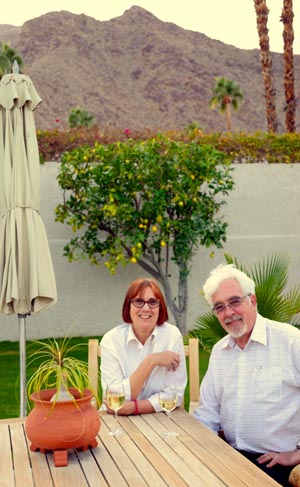 First of all, thank you for visiting Hungry Travelers. It's nice to know that we're not just talking to ourselves in cyberspace, and we welcome your comments and thoughts. Leave your comments on a post, tweet the post, or send us an email at the address you'll find on the "Contact Us" page.
So who are we? We're not gluttons, but the first thing we want to know when we arrive in a new place is, What's for dinner? Over the years, the answer has ranged from glass shrimp in Shanghai to steaks in Buenos Aires, from pizza in Naples to mole amarillo in Oaxaca, from paella in Valencia to a Hot Brown sandwich in Louisville, Kentucky.
What people eat, how they prepare it, and how they socialize over a meal reveals volumes about culture. We're travel writers, not anthropologists, but we do like to hang out in cafes, restaurants, and bars. We think of it as absorbing local flavor one bite at a time. And we try to bring those flavors back home.
There's a practical side to this approach. When we're not on the road, home is a 590-square-foot third-floor walkup with a functional galley kitchen in Cambridge, Massachusetts. We have neither the room to display conventional souvenirs, nor the inclination to dust them. So for us, taste makes the best souvenir.
We're very different eaters. David will eat (and probably enjoy) anything that isn't obviously poisonous. Pat is more picky. But when she finds a local dish she loves, she won't stop sampling until she finds the best version available.
Hungry Travelers is a casual record of our journeys, the flavors we encounter, and our efforts to recreate them at home to conjure up the pleasures of travel. We hope you enjoy the trip.
Oh, by the way, our friend Priscilla Lister snapped this joint portrait in Palm Springs.
— Pat and David