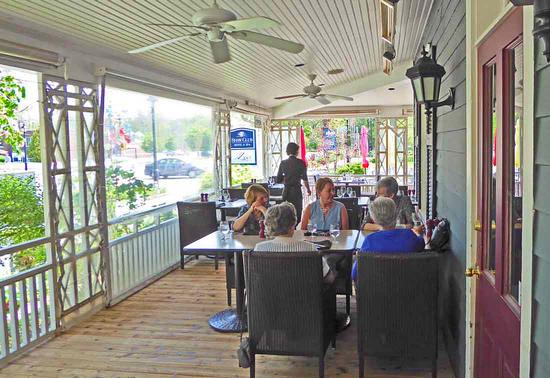 The Niagara peninsula isn't all about vineyards and fine dining. Many visitors flock to Niagara on the Lake for the Shaw Festival (www.shawfest.com). The theater company occupies a good portion of the east end of the village. It launched in 1962 to celebrate acclaimed Irish playwright George Bernard Shaw (1856-1950). That year's performances were Don Juan in Hell and Candida.
Just as wine grapes have flourished in the Niagara peninsula, so has drama. From those first four performances in a hall in the historic Court House, the Shaw Festival has grown into a major player in the theater world. This year's April through mid-October season features 11 plays presented in four different venues. (A Christmas Carol is also scheduled for the holiday season.) Shaw, of course, is well-represented with productions of Saint Joan and Androcles and the Lion. But the season intersperses the Shaw among other classic, modern, and new plays.
Before and after the curtain

The theater facility is right across Wellington Street from the aptly named Shaw Club Hotel (www.niagarasfinest.com/shaw). Embodying a relaxed modern sensibility, the hostelry is an alternative to the plush traditionalism of the Prince of Wales. (See earlier post.) The covered front porch, where slowly rotating overhead fans stir the air, is a great spot for a pre- or post-performance bite. An extension of Zee's Grill, it's also an excellent perch to watch the comings and goings on Picton Street.
Executive chef Matt Tattrie grew up in the Niagara region and studied at Niagara College. He has a keen appreciation for local growers and producers. At lunch, he makes a mean burger with locally farmed beef and pork topped with pickled daikon, cucumber, carrot and sriracha aioli. He also offers salads and other options for those who prefer to eat lightly in warm weather. We found his chilled Smoked Red Pepper Gazpacho to be the perfect restorative on a warm afternoon. He kindly shared the recipe and it has already become a staple in our repertoire at home. He calls for a liter of roasted red peppers. You can certainly used canned roasted peppers, but we prefer to roast our own either on a charcoal grill or under the broiler. It takes about 10 red peppers to make the volume he suggests. If you roast them yourself, omit the Liquid Smoke.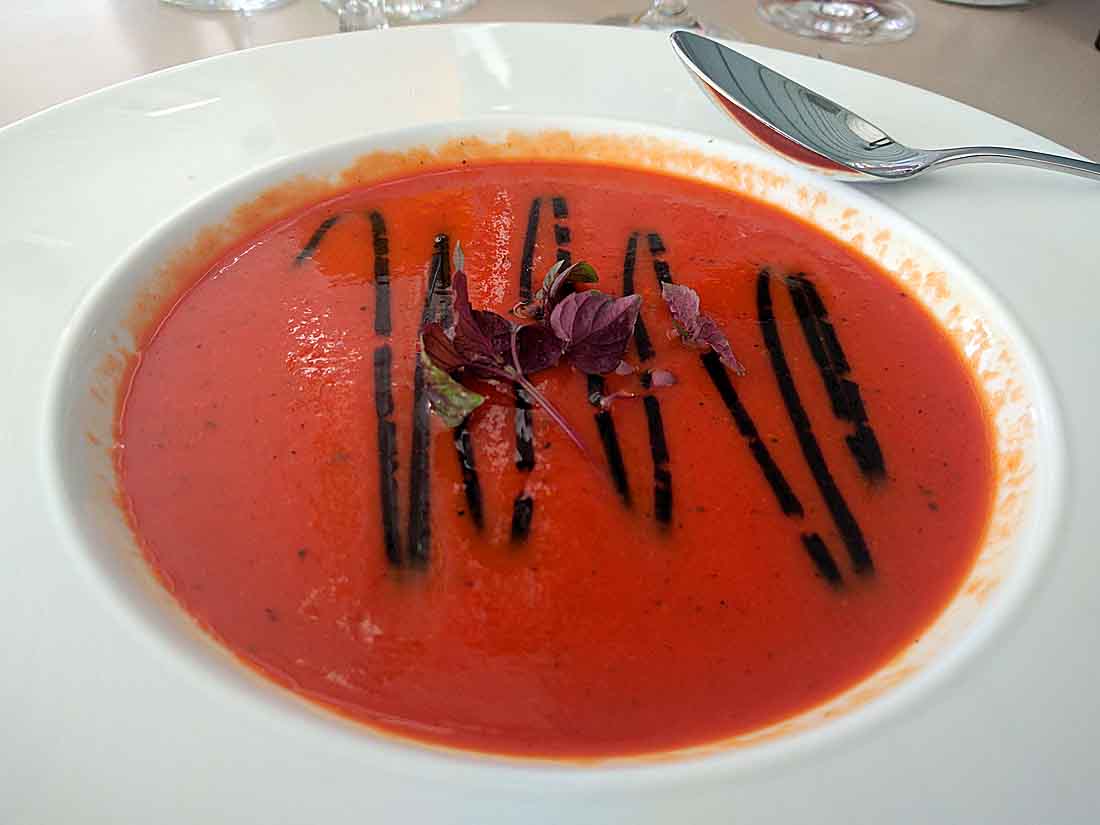 SMOKED RED PEPPER GAZPACHO
Ingredients

2 tablespoons vegetable oil
1/2 white onion, roughly chopped
1 bulb of peeled raw garlic
half bunch of fresh thyme finely chopped
1 liter container of fire roasted red peppers (about 10)
1 teaspoon of Liquid Smoke
1 liter of chicken stock (or water to keep it vegetarian)
Salt and pepper
Directions

Heat up a saucepot with vegetable oil. Once oil is hot add your onions and garlic and sauté for 3-5 minutes at medium heat. Add fresh thyme to pot and sauté for 2 more minutes.
Add your fire roasted red peppers and Liquid Smoke to pot along with stock or water. Simmer for 1 hour.
Let soup cool and blend gazpacho all together. Season with salt and pepper to taste and refrigerate.
Serve cold or at room temperature, garnishing with a drizzle of reduced balsamic glaze and a sprinkling of microgreens.
Adapted from Matt Tattrie, Executive Chef, Zee's Restaurant, Shaw Club, Niagara-on-the-Lake
—
For an overview of travel on the Niagara Peninsula, see the web site of Visit Niagara (visitniagaracanada.com).