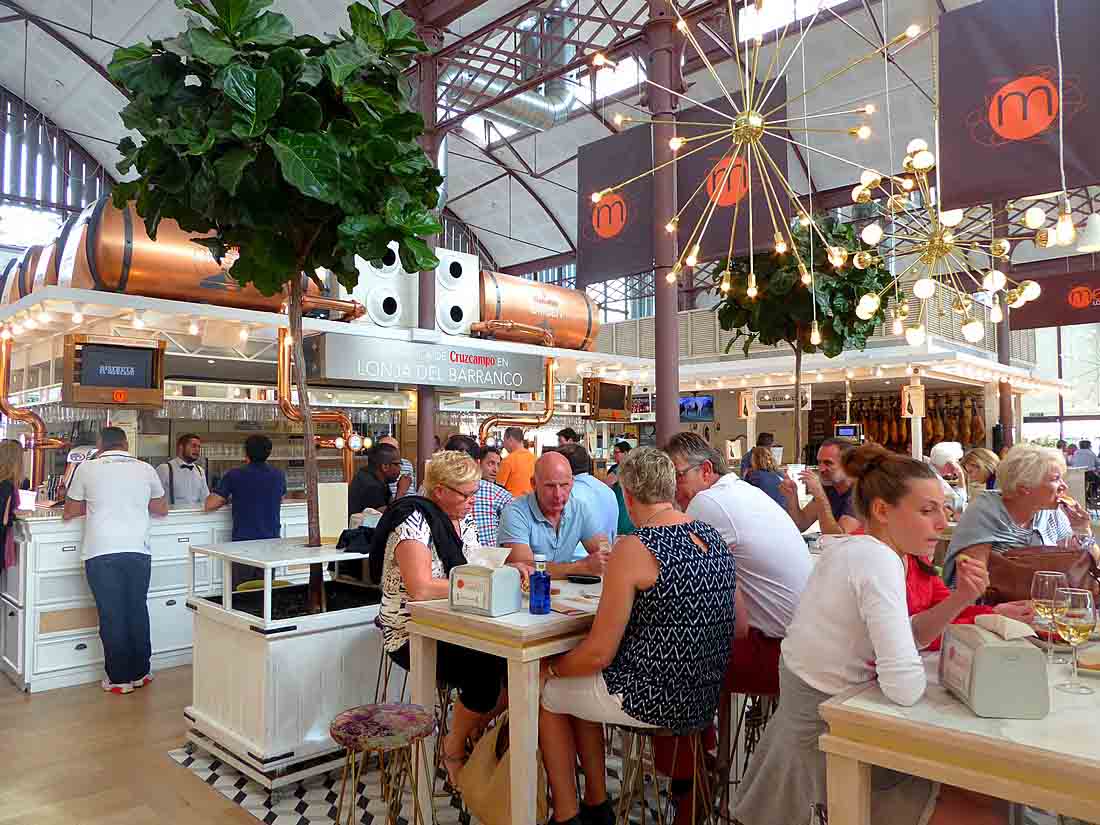 When Sevilla's Mercado Gourmet Lonja del Barranco (C/Arjona; 954 220 495; mercadolonjadelbarranco.com) opened a year ago, it was an instant hit and yet another example of the trend throughout Spain of converting neighborhood markets into tapas halls. If the structure below looks familiar, it's because it's a classic Gustav Eiffel market design. Construction began in 1861 and was completed in 1883, and for generations the handsome iron building on the riverbank at the end of the Isabel II bridge to Triana served as Sevilla's principal fish market.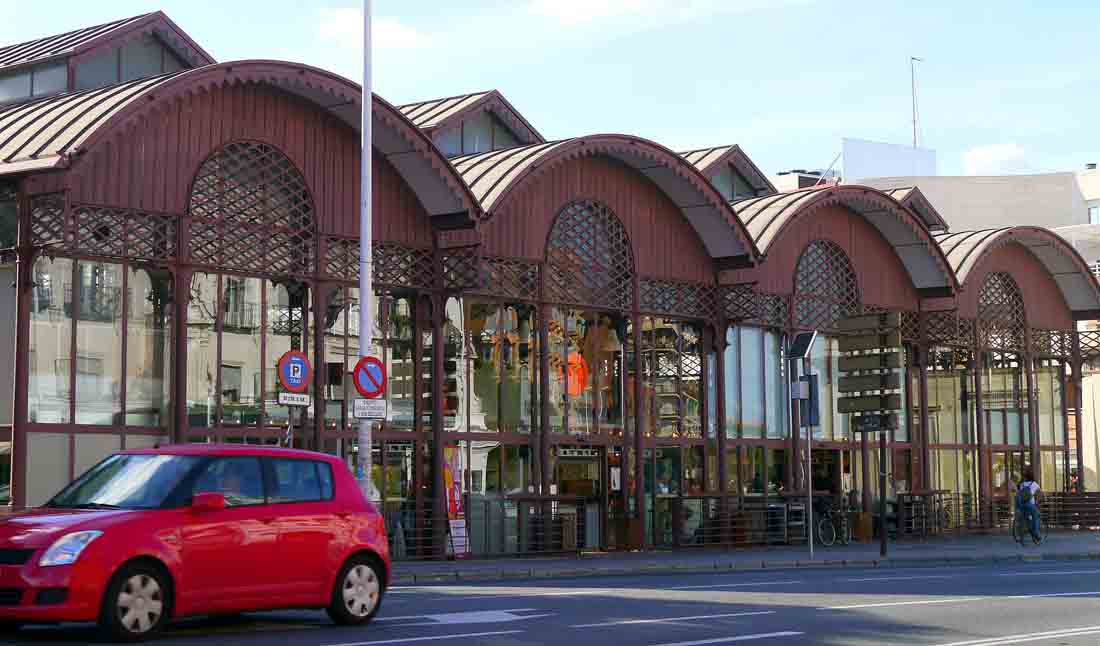 The World Heritage Site structure had been closed since the 1980s—until journalist Carlos Herrera and bullfighter Fran Rivera saw an opportunity to give Sevilla a glassed-in tapas court like Madrid's Mercado San Miguel. Two years and a reported €2.1 million later, the riverfront was awash with Sevillanos eating all manner of tapas and drinking beer and wine. In warm weather, they spill out of the building to picnic and café tables.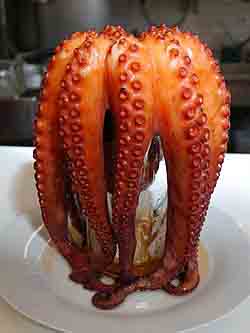 Only a few of the 18 food stalls sell food to take home and prepare (a butcher and a fish monger, as far as we could tell). The rest have tapas and food specialties—and we do mean specialties. One stand (Peggy Sue's Grill) makes nothing but variations on the American hamburger. Pulpería Barranco serves a zillion versions of octopus (left). Another stall specializes in empanadas.
Salmorejo in every guise
But our favorite stall might be La Salmoreteca, which specializes in variations on salmorejo, a puree that's a first cousin to gazpacho. The modern version combines tomatoes, bread, onions, and garlic, but the dish predates the availability of tomatoes and peppers from the New World.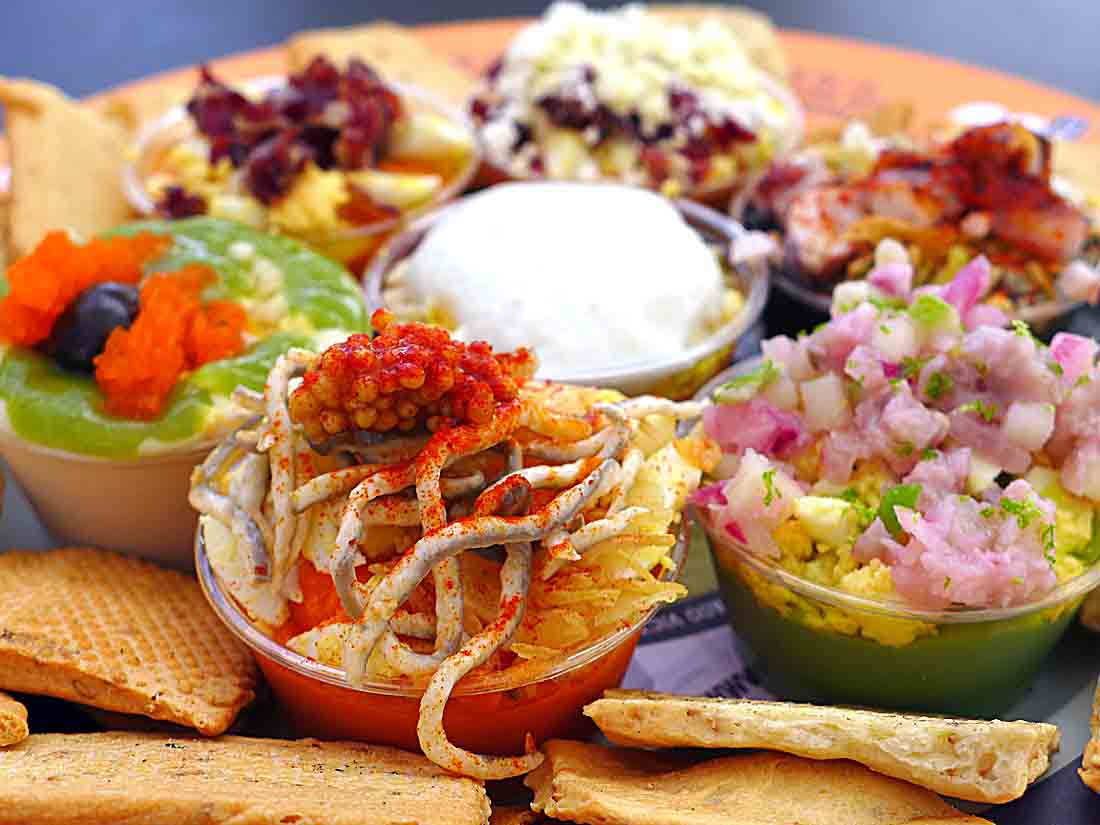 Brainchild of chef JuanJo Ruiz, the company actually began at the Mercado Victoria (another market turned tapas court) in Córdoba, the city that's usually credited as the cradle of salmorejo. Ruiz exploded the basic concept of salmorejo to a purported 600 variations. The sampler plate shown above consists of eight distinct variations in small bowls surrounded by Spanish wine crackers—an appropriately sturdy vehicle for scooping up the purées. The bowl in the foreground is the roasted pepper version topped with faux baby eels made from seafood, faux caviar made from vegetables, and some fried potatoes. Just to its right is the salmorejo of avocado and seaweed with a ceviche of dace (a small river fish) and lots of chopped egg.
The dishes offer a surprising and delicious range of flavors and textures for what is basically a dressed-up purée. Salmorejo is a barroom staple in Andalucia, and the concept of whizzing bread and vegetables in a blender lends itself to infinite variations of "salmorejos de vanguardia," as Ruiz calls them. It's a trend we can definitely get behind.
The Mercado Gourmet Lonja del Barranco is open Sunday through Thursday from 10 a.m. to midnight. On Friday and Saturday, it stays open until 2 a.m.