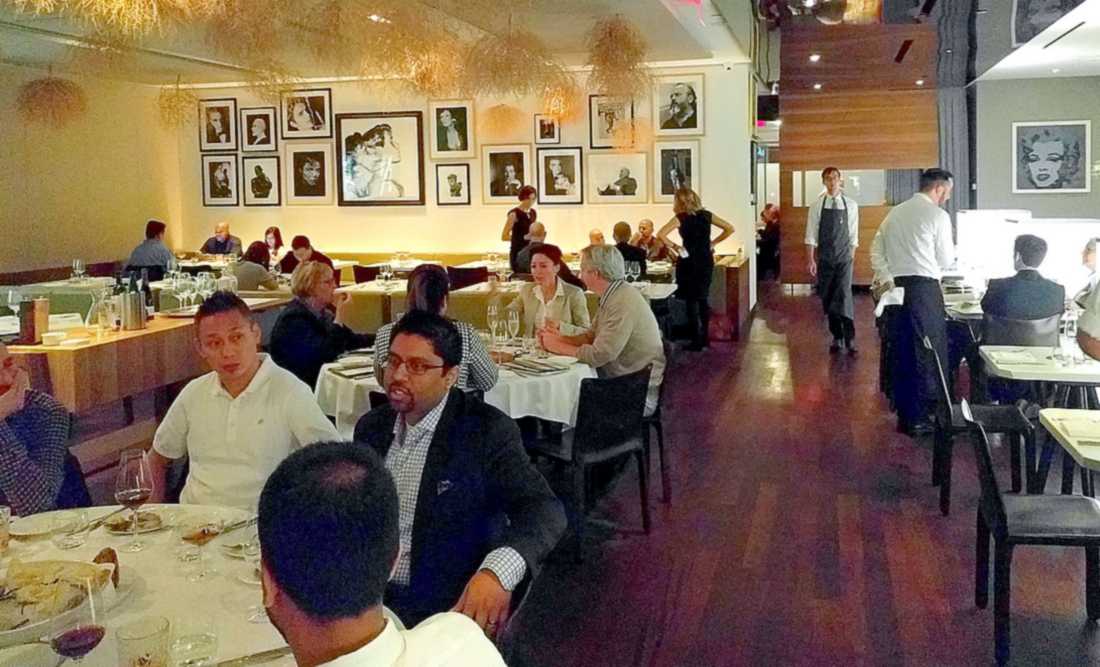 During our brief stay in Toronto, we managed to dine at three of the city's leading restaurants not run by Susur Lee. (For a look at his Luckee, see our earlier post.) The Top Chef Canada cooking competition (2011-2014) helped drive the dining culture here, placing an emphasis on restaurants that are personal expressions of the chef. So each of the three had the firm stamp of a strong personality in the kitchen.
Nota Bene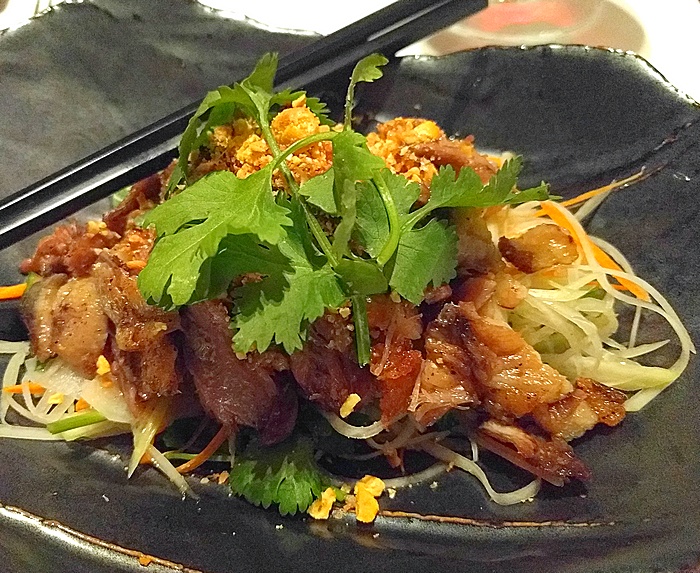 Chef David Lee was a partner when he opened Nota Bene to great acclaim in 2008. After becoming full owner, he overhauled and redesigned the restaurant last February. More than ever, this is a classy yet casual fine dining room expressing the latest fascinations of a very talented, classically trained chef. Born in England and trained in France, Lee also draws on his Asian heritage for inspiration.
His crispy duck salad is a perfect East-West hybrid. In concept, it's a lot like the duck confit salads ubiquitous in Parisian cafés. But Lee spins it as northern Cambodian by adding green papaya, fish sauce, and Asian chiles and herbs. Instead of bitter melon, he uses cool local cucumber. The dining room (shown above) has a little more decorum than many Toronto foodie haunts. In the face of many new upstarts with exciting and locally focused menus, Lee has shown real staying power. His command of multiple cuisines—from French to Chinese to Peruvian to Scandinavian—is his strong suit. It's hard to pick a Toronto spot that can appeal better to diners with divergent tastes.
Nota Bene, 180 Queen Street West, 416-977-6400, notabenerestaurant.com
The Good Son

Chef Vittorio Colacitti competed on Top Chef Canada before opening The Good Son in spring 2015. An Italian-Canadian Toronto native, he eschews red sauce and pasta, but he is wed to his wood-burning oven and grill. Most dishes are kissed by fire, whether it's roasted black cod or the pizzas that appear on almost every table. Decor is self-consciously shabby-chic with mismatched wooden tables and chairs augmented by button-tufted banquettes and booths. But the food is bold and most plates are meant to be shared. The chef's stint at Thai & International Food Academy in Bangkok gives his food an Asian accent. He even makes a kimchee fried rice to accompany the unctuous bolgogi braised short ribs. Colacitti treats seasonal local products on the eclectic menu to a touch of smoke and bold seasonings.
The Good Son, 1096 Queen Street West, 416-551-0589, thegoodsontoronto.com
Richmond Station


Chef Carl Heinrich launched this Financial District farm-to-table gem in 2012, the same year he won season two of Top Chef Canada. Still an ingredient-focused restaurant, Richmond Station has a strong charcuterie component. Pickled vegetables appear across the menu, and the charcuterie plate (above) even includes a house-made head cheese. Our experience was atypical, of course, since we were sequestered in a small dining room with an extended wine tasting (see previous post).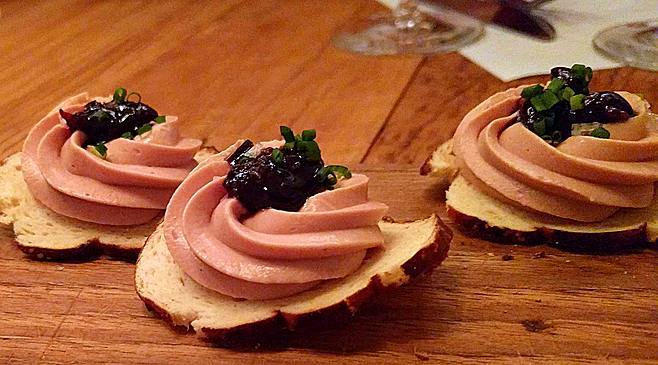 Nonetheless, some of the menu classics were featured on the pairing menu concocted by chef de cuisine Hayden Johnston. There's a hint of Jewish comfort food with this menu, including the delicious duck liver pâté on a toasted brioche. Johnston topped it with a small scoop of tart cherry mostarda and a sprinkle of Maldon finishing salt. Paired with an intense Charles Baker Riesling, it set up all the rich and deep flavors to follow.
The seasonal focus of Toronto restaurants meant that brassicas were big on most of the October menus. Richmond Station normally serves a cauliflower agnolotti with baby greens, pickled shiitake mushrooms, and fried sourdough. To accompany a Tawse Gamay Noir, Johnston adapted the dish to create the quintessence of Toronto fall cuisine. Shown below, the pasta was served with toothy cauliflower, brussels sprouts leaves, and juicy thin slices of dry-aged beef tenderloin.
Richmond Station, 1 Richmond Street West, 647-748-1444, richmondstation.ca