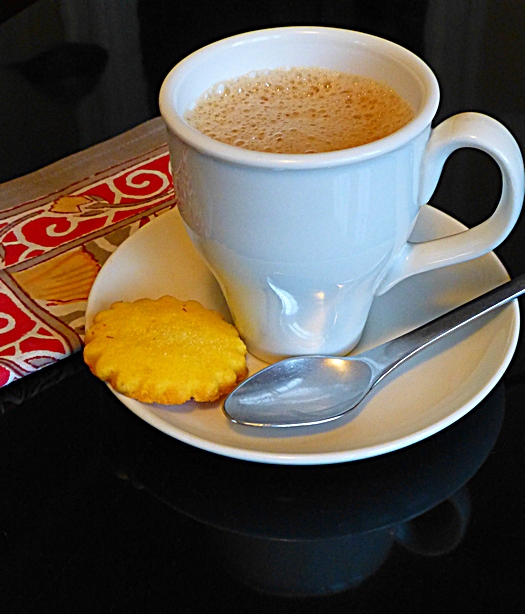 Peggy Regan of Salon de Té le Gryphon D'Or (www.gryphondor.com) in Montreal is the absolute mistress of shortbread, which you can enjoy at her tea room or order through the mail. When she gave us a shortbread recipe for Food Lovers' Guide to Montreal (see SOME BOOKS), she casually mentioned how the recipe could be adapted to add other flavors. She had in mind flavors like maple and almond.
We happen to love shortbread cookies as an accompaniment to Spanish sparkling wine, or cava. So we wondered how another signature Spanish flavor — saffron — might taste in shortbread. Since we travel often to Spain, we tend to buy saffron when we come across a good deal or when we're in Consuegra, the premier saffron town. And roughly once a year we purchase a full ounce (that's 28+ grams) of premium saffron from Afghanistan from Vanilla Saffron (www.saffron.com) in San Francisco. So we almost always have a lot of saffron on hand.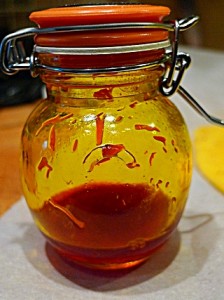 We experimented a bit to perfect this shortbread. Saffron gives up its color and flavor sparingly to fat, so to get a lovely golden color and intense flavor for the dough, we had to make a saffron extract using grain alcohol. (Overproof rum or vodka works just as well.) The shortbread recipe takes hints from a number of chefs and bakers. Grinding the sugar (we use a coffee/spice grinder) speeds the absorption of sugar into the butter. The use of a blend of cake flour and all-purpose flour is a trick many bakers use for a more tender shortbread. The optional crumbled saffron creates little flecks in the cookies and makes the saffron flavor even more intense.
And if you don't want to open a bottle of cava, the shortbread is great with hot coffee.
SAFFRON SHORTBREAD COOKIES
Makes 3 dozen cookies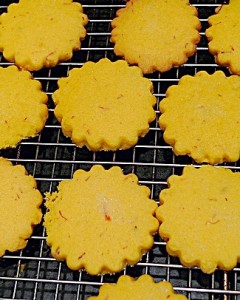 Ingredients
1 cup (2 sticks) butter at room temperature (230 grams)
1/2 cup granulated sugar, ground in blender or food processor (100 grams)
1 egg yolk
1 teaspoon homemade saffron extract (see below)
1 cup all-purpose flour (140 grams)
1 cup cake flour (120 grams)
1/2 teaspoon baking powder
1/2 teaspoon fine sea salt
1 teaspoon saffron threads, crumbled (optional)
extra granulated sugar for sprinkling
Directions
Using power mixer and large bowl, beat butter until fluffy. Add sugar and beat for 5-10 minutes until fluffy and mixture no longer feels gritty between thumb and forefinger. (Scrape down bowl often.) Beat in egg yolk and saffron extract until well mixed.
In a separate bowl combine all-purpose flour, cake flour, baking powder, salt, and crumbled saffron threads (if using). Whisk thoroughly to blend.
Add flour mixture to butter-sugar mixture a little at a time, mixing in with wooden spoon or spatula. When flour appears to be fully incorporated, beat with mixer on low for 15 seconds to ensure uniform dispersion in the dough.
Mixture will be very soft. Turn out onto parchment paper and top with a second layer of paper. Press into disk and roll out about 1/4 inch thick. Place rolled-out dough in refrigerator for 30 minutes until firm.
Set oven for 325F (165C). Cut cookies into desired shape. (We use a 1 3/4-inch fluted circle.) Work quickly before dough softens. Place on ungreased cookie sheet and sprinkle each cookie with granulated sugar. Bake for 15-17 minutes, until cookies just barely begin to brown on bottom.
Remove to wire racks to cool.
SAFFRON EXTRACT
1 teaspoon saffron threads
2 tablespoons neutral spirit (150 proof or higher)
Combine in small bottle. Extract can be used immediately but gains potency after a day of steeping. In tightly sealed bottle kept away from light, extract should retain its potency for a month or more.