Guidebooks to Italy have a maddening tendency to completely ignore one of my favorite areas for gastronomic tourism: the region of Friuli-Venezia Giulia in the northeast corner of the country. Sharing a northern border with Austria and an eastern border with Slovenia, Friuli has both a dialect and a cuisine with strong Germanic influences. The local version of Italian is full of the hard Rs and the chewy "sch" sounds of central Europe, and the menus are laden with pork and a bevy of mitteleuropan dumplings masquerading as gnocchi. Many of the dishes draw their depth of flavor from cream, butter, or smoked fish.
But most food in Friuli is based on whatever is freshest from the fields. Right now that happens to be asparagus. Friuli is famed for growing Italy's finest asparagus, and during the last half of April through May, every restaurant from the elegant dining rooms in Udine and Trieste to the most casual countryside osterias goes mad for spargs, as asparagus is called in the local dialect.
Many preparations require no recipe. Wherever I go in Friuli this time of year, I find small bundles of lightly steamed asparagus wrapped in the local San Daniele prosciutto and browned in butter. Or just as likely, large plates of steamed white and green asparagus topped with shaved Montasio, the local aged cow's milk cheese. (The Friulanos grow a lot of white asparagus, too, hilling it up with dirt in the traditional manner rather than growing under black plastic.)
I use the city of Udine as a base for traveling in Friuli, and I'd be remiss if I didn't mention my favorite restaurant for contemporary cuisine, Trattoria Agli Amici (via Liguria 250, +39 0432-565-411). But when it comes to asparagus cookery, no one matches Trattoria Al Grop in the neighboring village of Tavagnacco (via Matteotti 1, +39 0432-660-240), now run by Simona and Silvia del Fabbro, the fifth generation of the family to operate their temple of asparagus in the shadow of the belltower of Sant'Antonio Abate. In season, they offer a nine-course asparagus menu.
Here's an adaptation of their dreamy, creamy asparagus soup as made by their mother Angela. She cooks her own cannellini (white kidney beans) from scratch, but canned beans work just as well.
ASPARAGUS AND ORZO SOUP
Serves 6 as soup course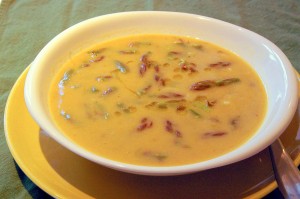 Ingredients
2 lb. fresh asparagus
1 16-ounce can of cannellini (white kidney) beans
1 quart beef stock, divided
1/3 cup orzo (rice-sized pasta)
1 tablespoon unsalted butter
2 tablespoons light cream
salt and pepper, to taste
olive oil for drizzling
Directions
1. Wash asparagus and snap off about 1 inch from tough ends and discard. Peel asparagus stalks from base to about 1 inch below the flower tips. Break stalks in half.
2 . Break top halves of stalks into short lengths, each about the size of the asparagus tip. Set aside.
3. Chop bottom halves of stalks into short lengths. Add to 4-quart saucepan with the beans and 1 cup of broth. Bring to boil, cover and simmer for 15 minutes. Remove from heat and puree in food processor or pass though coarse blade of a food mill.
4. Return puree to saucepan and stir in remaining broth. Add asparagus tops, orzo, butter and cream. Season to taste with salt and freshly ground black pepper. Bring to boil, then reduce heat, cover, and simmer about 15 minutes.
5. Serve with a fine thread of olive oil on top.