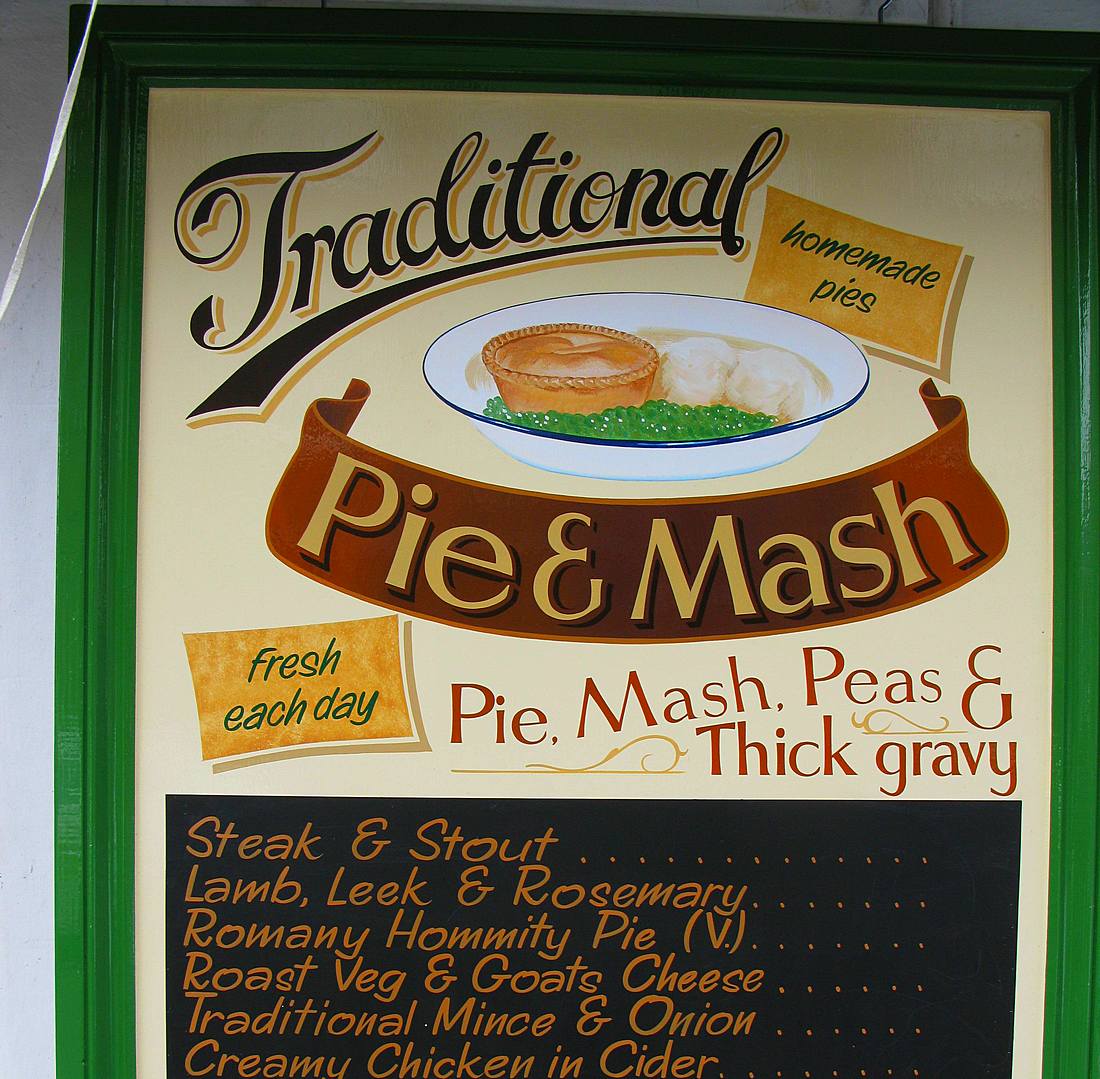 I sometimes find myself doing business in big international cities where the cost of living far exceeds my budget. The challenge at lunch is to eat well without breaking the bank. In Paris that could be a croque monsieur or a sidewalk hot dog on a baguette. I'd opt for a square of pan pizza in Rome. My preference in Madrid is a thick wedge of tortilla española (Spanish potato-onion omelet) and a beer. In London (and many other British cities), the solution is a meat pie.
Back when Simple Simon met a pie man, a British meat pie cost a penny. In the cafe of a department store like Selfridges, Marks & Spencer, or John Lewis, a meat pie will now set you back about £10. That's a bit over $12 at the current exchange rate. A meat pie is one of the cheapest full meals in London. As a general rule, they have a flaky crust filled with plenty of meat, vegetables, and thick gravy. On cold and rainy days (which are so rare in London, right?), they are gastronomic revelations that make a Yank sorry for every mean thing he's ever said or thought about British food.
Outstanding meat pie spots

Not all department store pies are bargains, but the Welsh lamb shank pie in the Gallery restaurant at Fortnum & Mason (181 Piccadilly, London; +44 20.7734.8040; www.fortnumandmason.com) justifies its £19.50 price tag ($24). Deeply savory and encased in a delicate puff pastry crust, it is a very civilized way to partake of what is basically a workingman's dish. You get to sit at a real table with linens and metal cutlery, after all.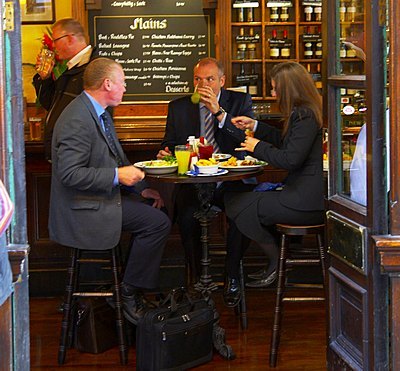 For a superb compromise between a humble pie and an exalted one, it's hard to beat the Coal Hole (91-92 Strand, +44 20.7379.9883, nicholsonspubs.co.uk). This classic high street Victorian pub boasts a serious kitchen and a cellar full of cask ales. In the last year, Coal Hole has embraced a new culinary identity as a "speciality pie house." That means the kitchen downstairs in the old coal cellar bakes a variety of meat pies, most of them selling for £12.75 to £13.95 ($15-$17). On my last visit, I enjoyed a beef and ale pie and a pint of ale. That's another good thing about British gastronomy: a "pint" is 20 fluid ounces.
CHICKEN, LEEK, AND BACON PIE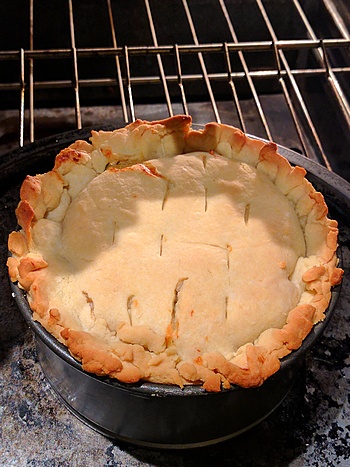 This classic British meat pie is a distant cousin to an American chicken pot pie yet tastes completely different. This version can be made in a springform pan or in a souffle dish. It serves four with a salad. For less messy serving, prepare one day ahead and refrigerate. Remove pie whole from pan and cut into quarters. Reheat each quarter in a separate serving dish.
Ingredients
Pie crust
2 cups flour
10 tablespoons butter, chilled and diced
1 egg yolk
pinch salt
ice water
Filling
2 tablespoons butter
3/4 teaspoon olive oil
2 leeks, white only, thinly sliced
4 strips bacon, chopped in 1-inch pieces
2 cups diced roast chicken (about 12 oz.)
1/2 teaspoon dried thyme
6 tablespoons flour
1 cup chicken stock
1 cup milk
salt and pepper to taste
Directions
For crust
Place flour and butter in a food processor with steel blade. Process until mixture resembles breadcrumbs. Add egg yolk, a pinch of salt and just enough water just to bring dough together (about a tablespoon). Pulse until mixture comes together. Remove from food processor, roll into ball, and wrap in plastic wrap. Let rest for 30 minutes. (Refrigerate if kitchen is warm.)
For filling
Meanwhile, make the filling. Place butter and olive oil in a large frying pan over medium heat. Add leeks and cook until softened, about 2 minutes. Add bacon and continue cooking for 5 minutes. Stir in chicken and thyme,
Place flour in bowl. Slowly stir in chicken stock and whisk to dissolve. Stir in milk. Add mixture to pan with chicken, bacon, and leeks. Bring to a simmer, stirring continuously until sauce thickens. Set aside to cool.
Set oven to 400ºF.
Divide dough into four pieces. Combine three pieces and roll out to 11-inch circumference. Line 6-inch springform pan, draping extra dough over edge. Spoon the chicken and leek mixture into the pie case.
Roll out remaining dough into 7-inch circle. Lay on top of filling. Crimp the edges of the pie and place in the oven over a drip pan to bake until pastry is golden and crisp and filling is cooked through, about 30-35 minutes.