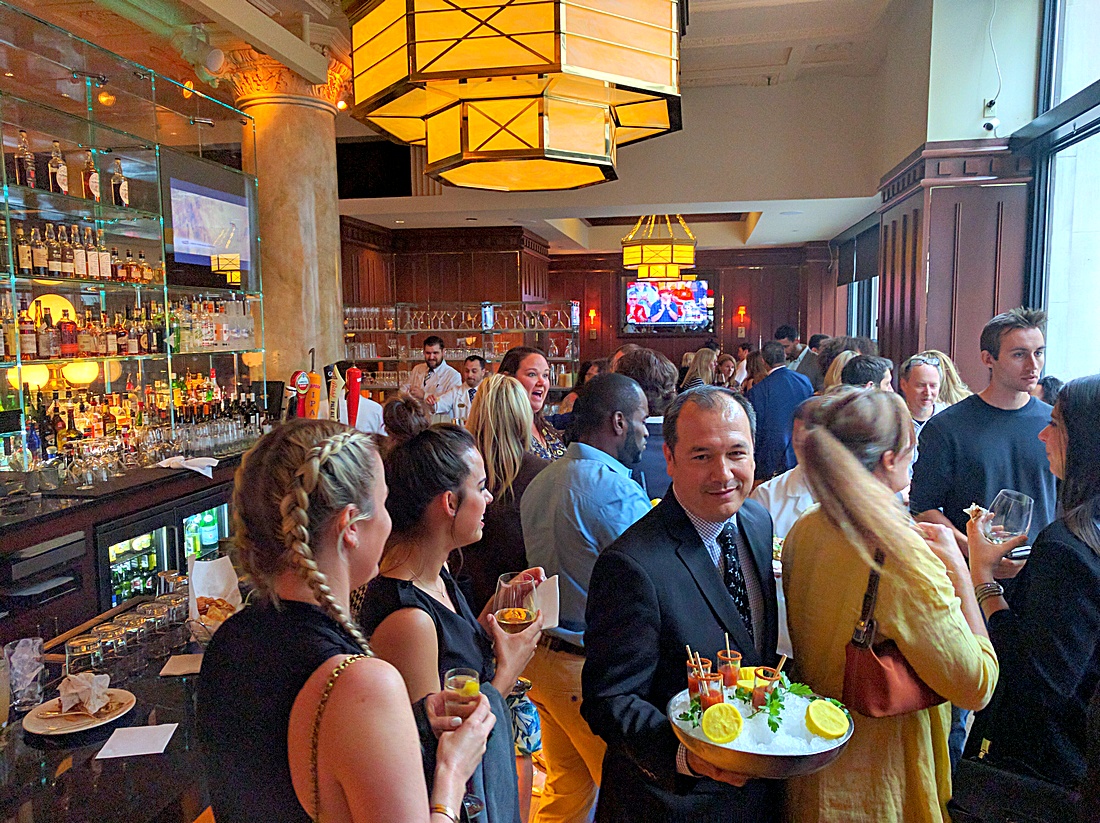 Grill 23 in Boston's historic Salada Tea building launched 30 years ago to make sure that the business guys in Back Bay had a proper steakhouse where they could seal new ventures over a big, juicy slabs of beef. It's still under the same ownership, but left the old steak-and-martini steakhouse formula behind years ago. With its succession of smart and inventive chefs, Grill 23 keeps refining what a steakhouse should be. These days the kitchen operates under corporate culinary director Eric Brennan, and just last week he launched an ambitious new bar menu with a party (above).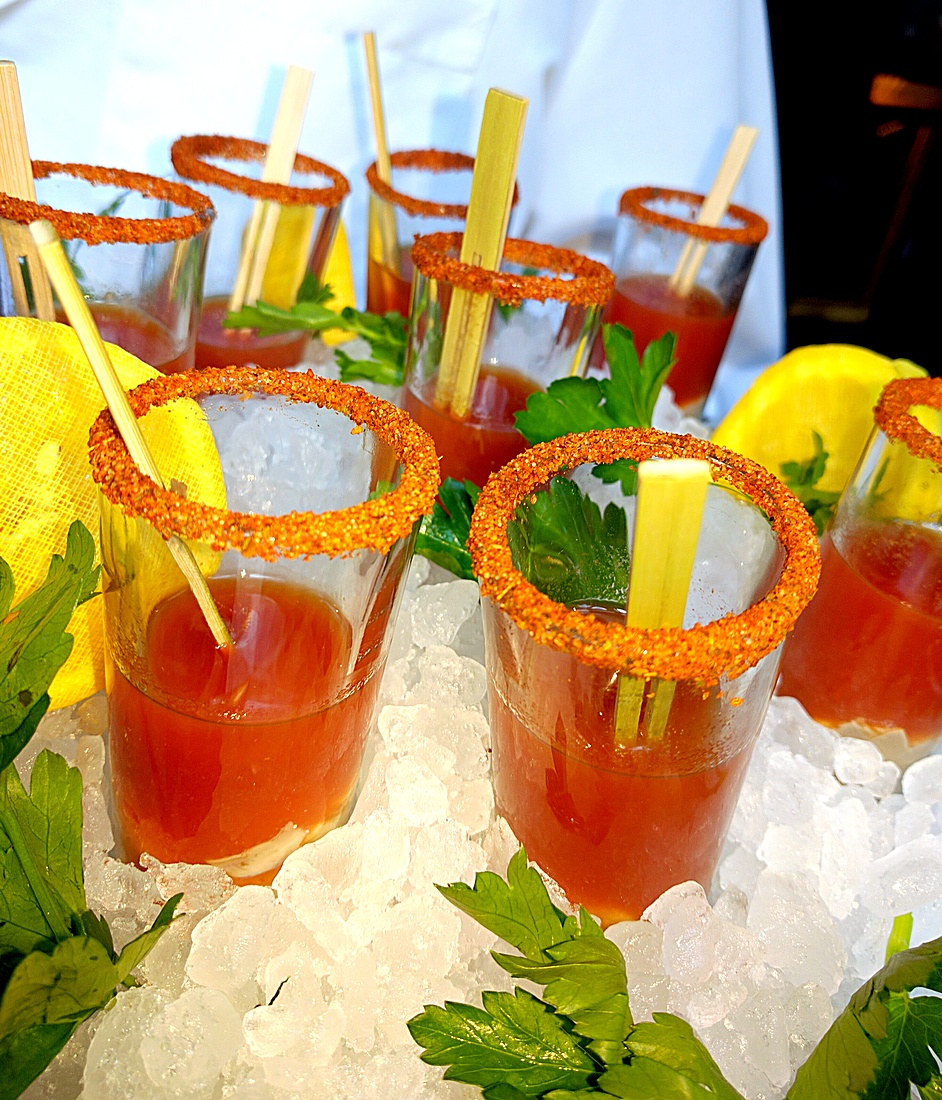 Since Grill 23 has only had a discreet bar area since 2014, the restaurant isn't locked into tradition. The new menu is a smart cross between steakhouse classics and contemporary bites. It's been years since we've seen deviled ham on chive biscuits on anyone's menu north of the Mason-Dixon line—or dared to order a crab and artichoke dip with slices of grilled baguette. At the same time, Brennan has introduced a thoroughly decadent foie gras slider on a cinnamon-sugar-dusted apple cider doughnut with a dab of jalapeno jelly. (It's great with a classic Manhattan, by the way.) The bar also serves a tasty Grill 23 Six Shooter—six shot glasses, each containing a Cotuit oyster marinating in a spicy blend of beer and lime juice with a spice and salt rim.
The charcuterie and cheese choices are almost a requirement of a contemporary bar, and the flatiron steak and steak tips are definitive steakhouse bar plates. But Brennan exercises some imagination with the burgers, serving the beef burger with truffle cheddar, black garlic, and "oven cured" (read: partially dried and extra sweet) tomato. The lamb burger comes with a small round of fried eggplant, some chevre, and a saffron tomato jam. Brennan was kind enough to share the recipe. Grill 23 is at 161 Berkeley St., Boston; 617-542-2255; www.grill23.com.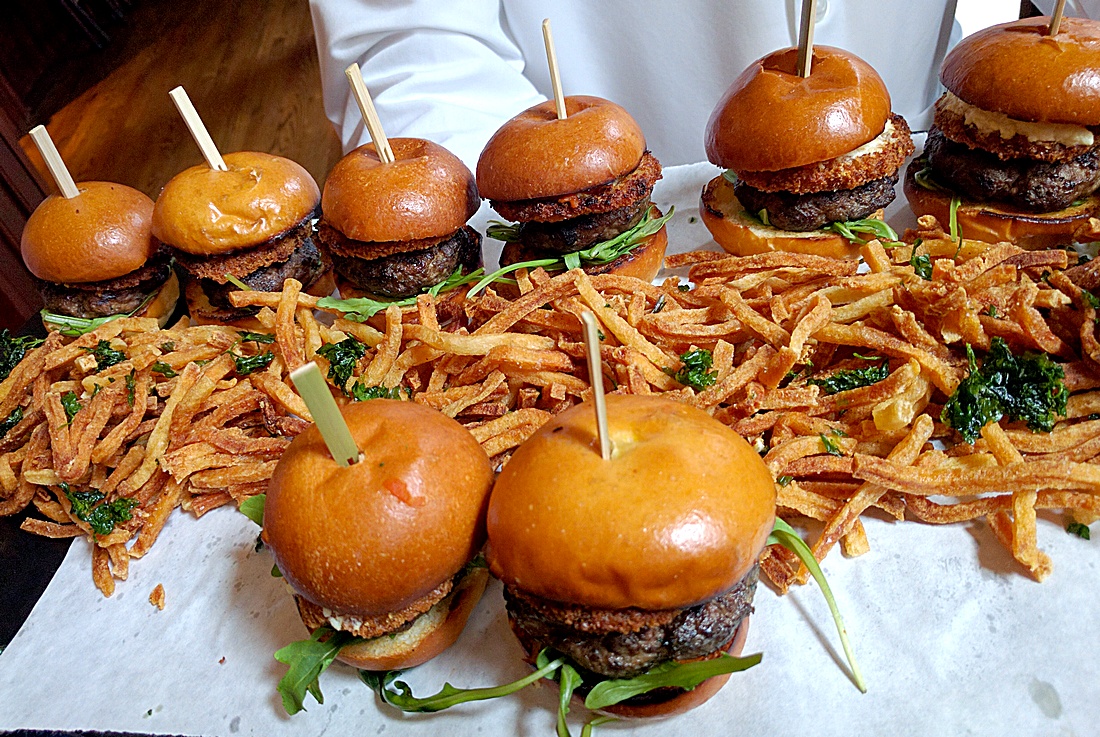 LAMB BURGER WITH SAFFRON TOMATO JAM
Makes four 8 oz. burgers
Ingredients
For the burger
2 lbs ground lamb
3 garlic cloves
2 Tbsp olive oil
2 Tbsp Dijon mustard
1 Tbsp rosemary, minced
Salt and pepper to taste
For the jam
2 1/2 lbs tomatoes, peeled, seeded, and chopped
1 tsp saffron, bloomed in 1/4 cup sherry
2 1/2 Tbsp sugar
1 Tbsp salt
1 Tbsp olive oil
Directions
To make the burgers, slowly roast the garlic cloves in the olive oil on the stovetop until soft and light golden.
Puree the garlic mixture with mustard and rosemary and thoroughly combine with ground lamb.
Make a small patty and taste for salt and pepper; adjust seasoning if necessary.
To make the jam, stew the all ingredients over low heat. Once the tomatoes have completely broken down and liquid has become fully incorporated, set aside and allow to cool.
Divide the lamb mixture into four equal patties and grill.
Assemble the burgers by topping the patties with a slice of fried, breaded eggplant, fresh goat cheese, arugula, and a spoonful of the saffron tomato jam on a griddled brioche bun.