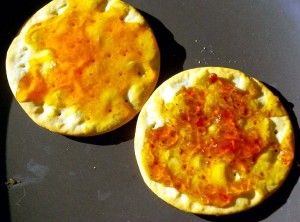 As we made our version of the Cayman pepper jelly, we were a little concerned about the color. Ours seemed to have a lovely amber hue, while the original was darker and more opaque. Once our jars had rested and the jelly had set, we came to the moment of truth. How did it compare to the Cayman product we so admired?
We spread water crackers with each. As we had observed, our jelly (on the left) was paler and more translucent. It also appeared to have fewer bits of pepper pulp in suspension. We sniffed. Ours had a slightly acrid nose. The original smelled sweeter and darker—almost like French onion soup. That should have been the tip-off.
Then we tasted. Ours was still sharper, maybe even a little hotter than the original. It also had a distinct flavor of raw peppers—both sweet peppers and chiles. The original was smoother, with a long finish of roasted garlic and caramelized onions next to the fruity flavors of the family of peppers that includes habañero, Scotch bonnet, and the mild Cayman seasoning pepper.
Final judgment: Our jelly will be fine as a marinade ingredient, but we won't be eating it on crackers just yet.
We're guessing that the secret Cayman recipe calls for cooking the peppers with onion and garlic before proceeding with the next step. Oh well—the people at Pepper Patch spent four years working out the kinks in their recipe. We seem to have mastered the right amounts of thyme, allspice, cloves and cinnamon. Our biggest challenge will be to get the pepper mix right. The sweet bell peppers, no matter how ripe, are the wrong flavor. We will need a whole lot more Cayman seasoning peppers before we try this again. Check in next fall, after we've harvested the garden.