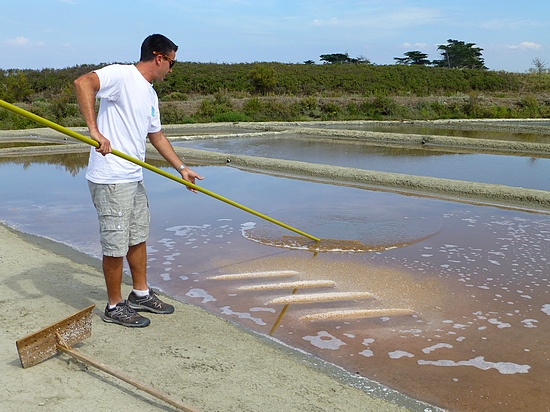 Sea salt may be hot, but it's hardly new. Since the 12th century, the "sauniers" on the Île de Ré have been literally raking it in. These days about 85 members of the Cooperative of the Sauniers of Île de Ré use the same traditional methods to harvest more than 2,600 tons of salt each summer. With its long, sunny days and mild breezes, this island off the west coast of France near La Rochelle has the perfect conditions for salt production, according to Hervé Rault, who learned the craft from his grandfather. Rault (pictured above) also has a steady job maintaining the dikes and marshes, but harvesting salt is his passion. "I do this after my other work," he says, "just for fun.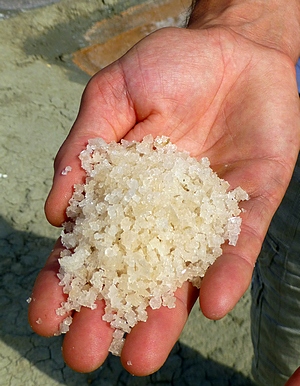 The whole process takes only two or three days, he explains as he leads a small group on a tour of his salt marsh plot. But that doesn't mean it's easy. Rault begins by opening a small stone dam to allow sea water to enter a reservoir big enough to hold about a three weeks' supply. From there, water is pumped into a second reservoir until it is filled to about 20-30 cm (8-12 inches). To speed evaporation, the water circulates constantly and is eventually pumped into a third reservoir. By this point, the ever-diminishing water is only about 1 cm (0.4 inches) deep.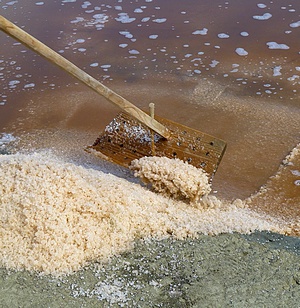 Rault uses a very long-handled wooden rake to bend into the harvest. He pushes away the shallow water to uncover the coarse gray grains that have formed on the clay bottom. Then he quickly grabs a shorter-handled rake with drain holes to pull them into little piles along the shore. The coarse salt is the bulk of the harvest. Like all sauniers, Rault keeps an eye out for finer grains that form on the surface of the water so that he can gently skim them off with a fine-mesh basket on a long pole.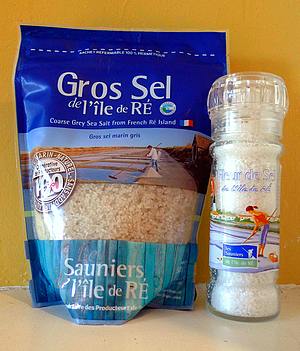 Rault recommends using the coarse salt for cooking while reserving the more delicate fleur de sel for use on the table. The natural Île de Ré salt has a pronounced minerality and the suggestion of a slightly toasted flavor. It definitely brings out the sweetness of the luscious melons and tomatoes that are happily in season during the salt harvest. Sea salt is sold all over the Île de Ré. The sauniers cooperative (Route de la Prée, outside the village of Ars-en-Ré) sells both gray salt and fleur de sel direct to the public along with a "pebble" of gray salt ready to be added to one liter (just over a quart) of cooking water.