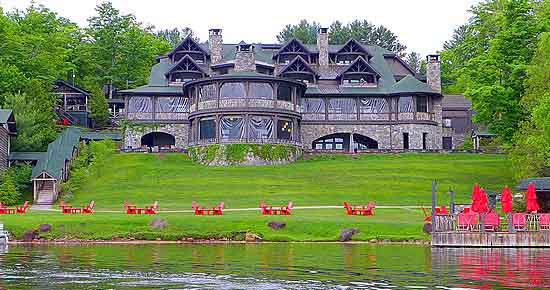 Rainy weather showed me just how good the rebuilt Lake Placid Lodge really is. I say "rebuilt" because the original 1880s rustic lodge turned 1940s resort hotel burned down in December 2005. An exemplar of the Adirondacks rustic style, it had been a great example of American vernacular vacation architecture. The owners rebuilt, opening in 2008, and I'd put off a visit for fear the new wouldn't live up to the old. Then Truman Jones — a talented chef I met some years ago when he worked for Gordon Ramsay — took over the kitchen and Cape Air launched 90-minute flights between Boston and Saranac Lake, a half-hour drive from Lake Placid.
It was only raining lightly when I flew up, and the pilot did his best to minimize the Peggy-Sue moments going in and out of weather. It was still raining lightly when I arrived, so I went out in the lodge's classic style diesel runabout for a quick tour of the lake. Hence the view from the water (above) with plastic over the porches to keep them dry.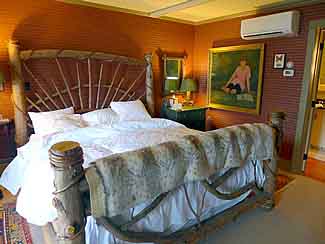 I was barely settled into my sumptuous lakeside room (two-sided wood-burning fireplace, hand-carved bed, private porch overlooking the lake) when the heavens let loose. The rain didn't let up for the next two days, which is how I discovered how much I like the lodge and how true it remains to its roots. Rather than go kayaking on the lake or hiking in the woods, I hung around the property and discovered a thousand little craftsmen touches that make the current Lake Placid Lodge a worthy successor to the original.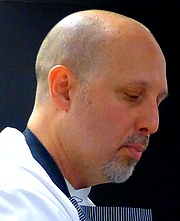 With the weather putting a true damper on outdoor activities, the lodge offered an unscheduled cooking lesson (almost always available on request) with chef Jones (left). About a half dozen of us signed up. The menu was lamb two ways with spring vegetables. Morel mushrooms and wild ramps foraged on the lodge property were paired with green peas, fava beans, and cherry tomatoes roasted for 45 minutes in a 250F oven with garlic. The peas, favas, and ramps were all quickly blanched by dipping in boiling water for about 10 seconds, then in ice water. The morels had been carefully scrubbed under running water, then roasted lightly in the oven. Ultimately, Jones simmered the vegetables in some vegetable stock, finishing with a little butter and salt to glaze.
The lamb portion of the lesson was more unconventional. He began with a whole saddle of lamb and demonstrated very slowly how to bone it to separate the two tenderloins next to the spine and then the two loins. He reserved the tenderloins to make tartare, and placed the loins in sealed plastic bags with a little olive oil, thyme, and a few cloves of garlic to cook sous vide to medium-rare. A little carrot purée on the plate (below) gave the food a colorful background.