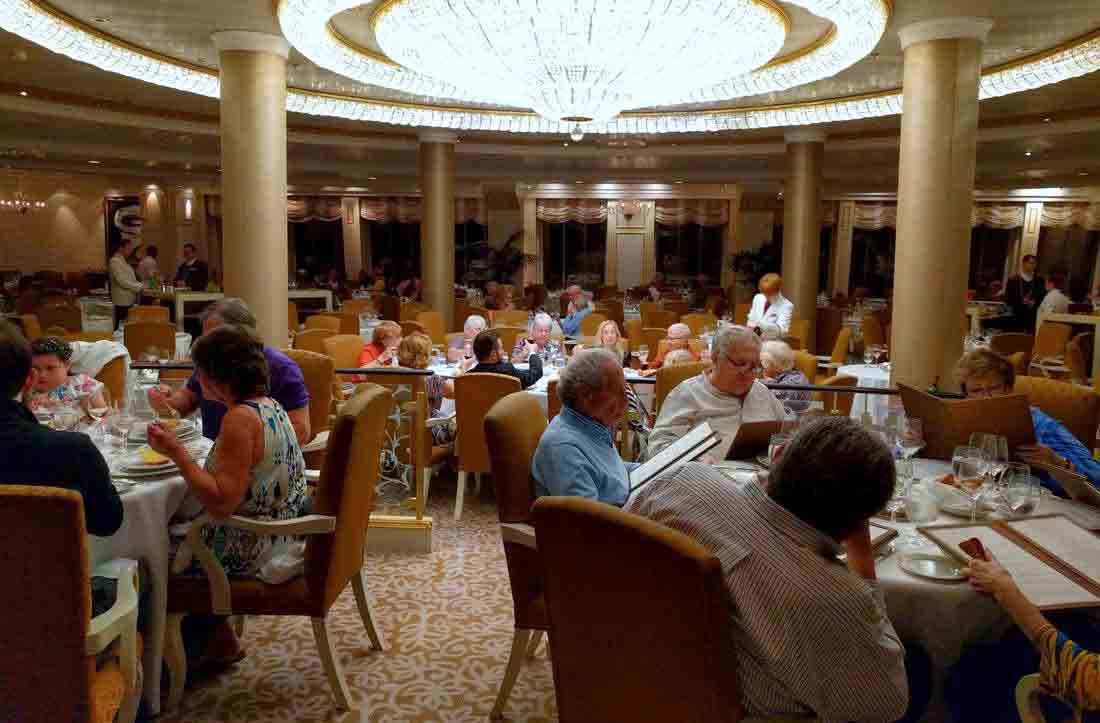 Experienced cruisers expect a Grand Dining Room—and that's exactly what Oceania Cruises (oceaniacruises.com) calls its spacious and glittering Continental dining venue. It has the requisite fine linens and crystal chandeliers. A full armada of water and wine glasses gleam on the tables. The menu borrows a little from Italy and a lot from France. It includes a few Jacques Pepin signature bistro dishes (steak-frites, roast chicken, poached salmon). Or diners can go fancier with lobster bisque and venison medallions. The menu even proffers spa-inspired "healthy living choices," such as steamed artichokes, chicken consommé, and simple roasted fish. In short, there's a little something for everyone in a very pleasant and lively room with excellent service. Although the GDR is larger than most other restaurants on board the Marina, it is only one of many fine dining choices.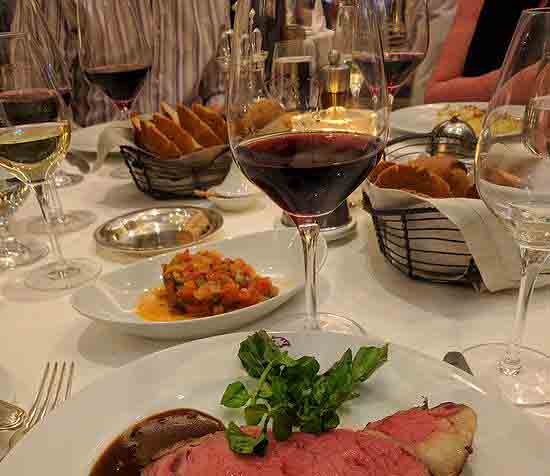 Dinner with a French accent at Jacques
Although he consults to the entire Oceania dining program, Jacques Pepin's personal stamp is most pronounced in the restaurant that bears his name. Jacques serves what might be called the greatest hits of French cuisine, from baked escargots with garlic butter or foie gras terrine with candied black cherries to bouillabaisse or baked onion soup topped with stringy Gruyère. The classic preparation of Dover sole makes superb dinner theater—the waiter fillets it tableside before serving. The dessert menu is a delectable class in French pronunciation: baba au rhum, pot de crème, mousse au chocolat, tarte au pommes, and—of course—crème brûlée a la lavande.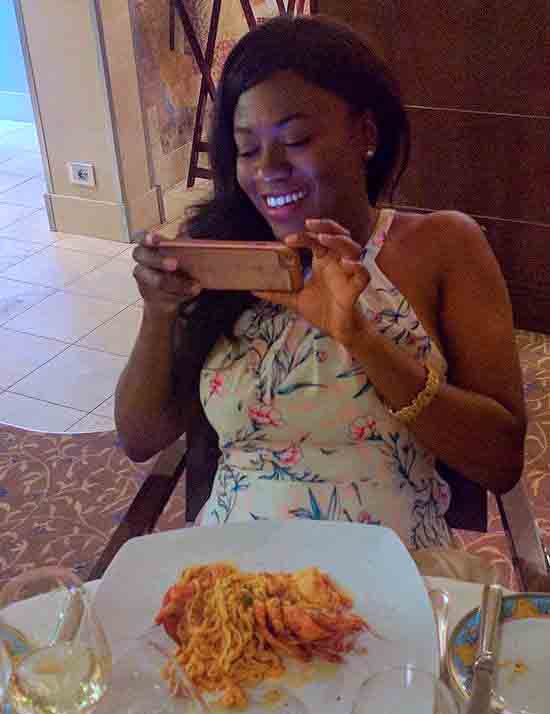 Mangiare come un italiano at Toscana
The menu at Toscana is nominally Tuscan, but the kitchen balances the Tuscan grill with a choice of no less than ten pastas. They are all beautifully executed in generous portions, making them suitable as secondi instead of primi. The risottos (asparagus or lobster) arrive with the rice slightly soupy and al dente. (Bravo!) The grilled veal chop with wild mushrooms is a quintessential representation of the Tuscan countryside. One of the most popular dishes at Toscana (besides the incredible breads) is the lobster fra diavolo served over fresh tagliolini. Presentation is so striking that even in the romantically low light, it's hard to resist taking a photo (above).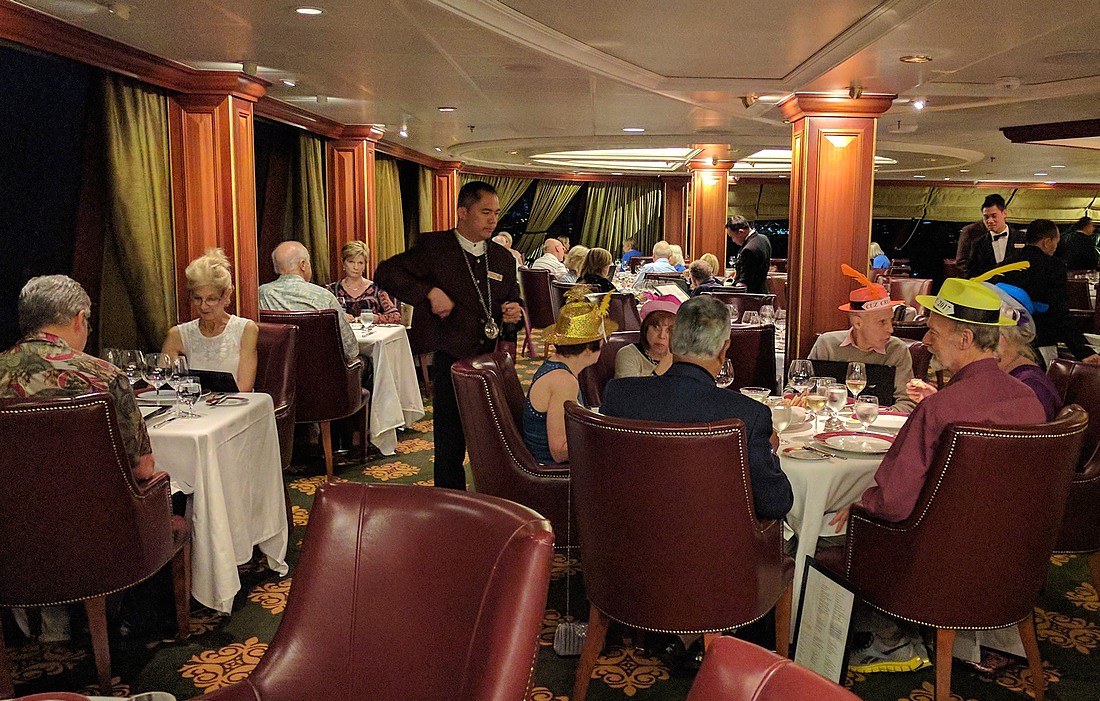 Polo Grill celebrates American steakhouse
The steakhouse is possibly North America's greatest contribution to the worldwide constellation of restaurant types. Polo Grill is arguably better than many steakhouses found back on land. It serves generously cut and perfectly cooked beef, veal, and lamb. (Three people at our table one night ordered filet mignon—one medium rare, one medium, and one medium well. They arrived at the table exactly cooked, which is no mean feat since meat keeps cooking between kitchen and table.) Polo also has the full range of rich salads—Caesar prepared at the table among them.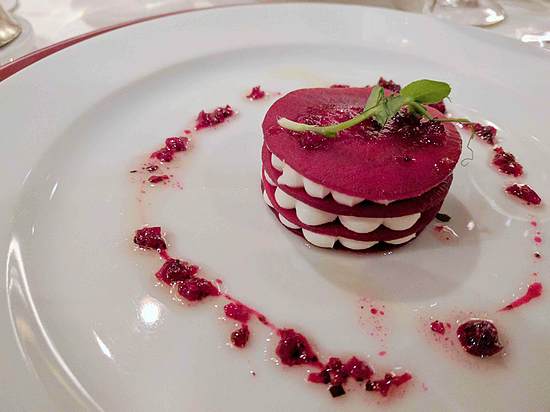 But Polo truly excels in the attention paid to sides and appetizers. The napoleon of roasted beet layered with garlic goat cheese and dressed with a Champagne and truffle vinaigrette (above) was a work of art that tasted as good as it looked. Side dishes even included lobster mac and cheese. Huge porterhouse steaks are a big hit at Polo, but it seemed like every table had at least one person wearing a bib and a satisfied smile while tucking into an entire steamed Maine lobster.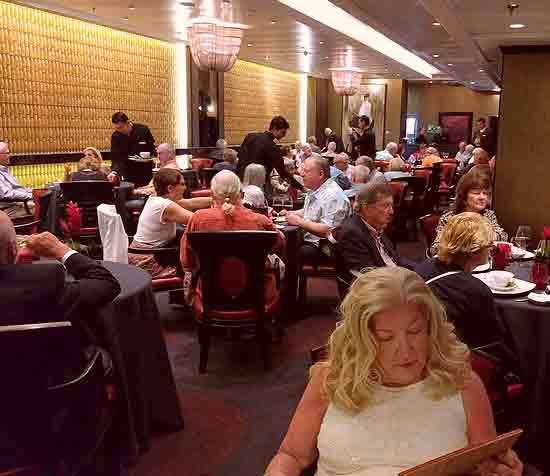 Red Ginger conjures flavors of East Asia
All the specialty restaurants can be booked by advance reservation, and some passengers make those reservations when they buy their cruise tickets. As a result, Red Ginger is one of the hardest reservations to score aboard the Marina. With glittering gold walls, a proliferation of shiny lacquer, and the dramatic spot lighting, it is also perhaps the most glam of the shipboard dining rooms. The sharing plate of appetizers called "Skewers, Sushi, and Tempura" sets the pan-Asian tone for the menu. It's easy to mix a Southeast Asian spicy duck and watermelon salad with a second starter of Japanese tuna tataki, as shown below.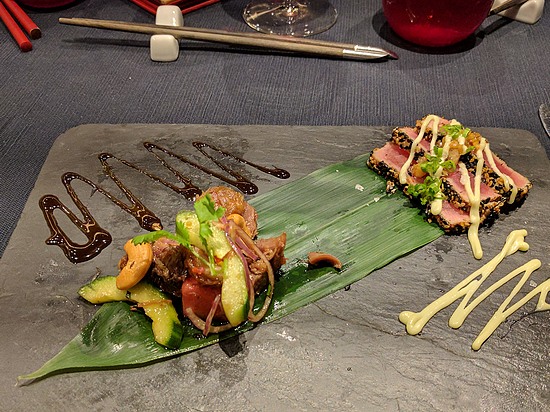 The main courses at Red Ginger are similarly international. They range from rib-eye beef prepared as Korean bulgogi to a roasted rack of lamb rubbed with seven spices. The lobster that's such a big hit in Polo, Toscana, and even Jacques, makes a cameo at Red Ginger as lobster pad Thai. The tamarind and lime make it sweet and tart at the same time—an excellent way to treat the rich flavor of lobster. One of the culinary classes focuses on Red Ginger favorites. The lobster pad Thai recipe below is exactly as it's taught.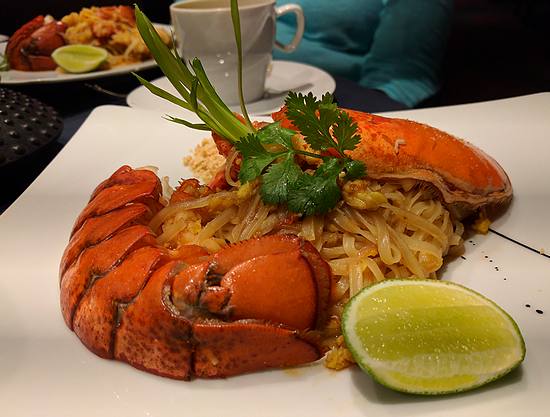 LOBSTER PAD THAI

Serves 2
Ingredients
For sauce
1/4 cup tamarind juice
2 tablespoons each palm sugar, fish sauce, nam prik pao (Thai chili-garlic paste), and creamy peanut butter
1 tablespoon rice wine vinegar
1 tablespoon ginger juice
For pad Thai
2 tablespoons peanut oil
2 cloves garlic, minced
2 tablespoons ginger juice
1/4 cup scallions, thinly sliced on diagonal
1/4 cup leeks, thinly sliced on diagonal
1 cup lobster pieces
2 eggs, beaten
4 cups rice noodles, softened
1/2 cup bean sprouts
2 tablespoons toasted sesame oil
4 lime wedges
1/4 cup chopped roasted peanuts
Directions
Whisk together all the sauce ingredients until smooth. If needed, thin with warm water. Reserve.
Line up the ingredients in order, with 1/2 cup of the prepared sauce between the eggs and the noodles.
In a wok over high, heat the peanut oil. When the oil is hot, begin adding the garlic, ginger, scallions and leeks to the wok in sequence. Use two spatulas and continuously toss to cook evenly and keep ingredients from burning at high heat. Slide the vegetables up the sides of the wok and sear the lobster. Slide the lobster up the sides of the wok and add the egg to scramble.
When the egg is just cooked, bring back the vegetables and lobster and add the ½ cup of the sauce, noodles and bean sprouts. Using the spatulas, gently toss the ingredients to cover them with sauce, adding more if needed, being careful not to break the noodles. When heated through, divide among two serving dishes. Finish with the sesame oil, lime wedges and peanuts.