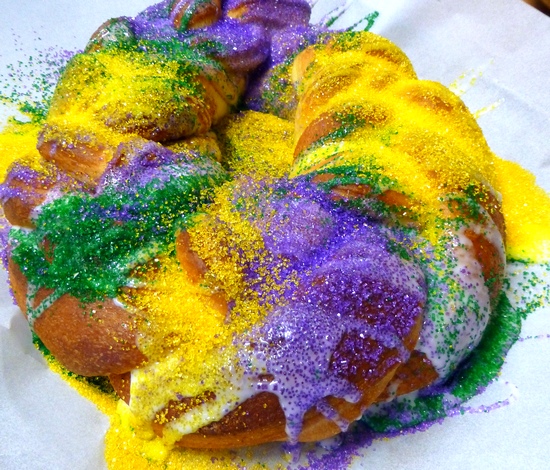 If Mardi Gras has a signature food, it has to be the king cake, which is actually more like a big, braided cinnamon roll than a cake. It's topped with white icing and dusted with colored sugar, usually in the traditional Mardi Gras colors of purple, green, and gold. The cake was originally served at Epiphany, but was so tasty that cooks kept making it through Mardi Gras.
I found a knockout version this year at Sweet Olive Bakery (251-990-8883; sweetolive.org), a European-style artisanal bakery in Fairhope, Alabama. It's located in the Windmill Market (85 N. Bancroft St.), an old car dealership and service garage that has found new life as a foodie destination (other occupants include a great barbecue joint and a locavore market). The Windmill is only 18 miles from Mobile, where the first Mardi Gras in America was celebrated in 1703. Mobile still puts on a great party with 65 balls and 35 parades in a three-week period.
I have no idea how many king cakes are consumed during that time, but many of them are made by Jennifer Haffner, the owner and head baker at Sweet Olive. She was kind enough to share her recipe and since I don't want to wait a year to try it, I thought that a king cake would add a perfect festive note for Easter brunch.
By the way, tradition calls for inserting a small plastic baby (representing the Baby Jesus) into the cooked cake. Whoever gets that slice has to host next year's party—or at least bring the king cake!
KING CAKE
Jennifer's recipe makes three cakes. She stresses that all the ingredients must be cold since the mix time for brioche is quite long. Be sure to start this recipe far ahead to allow for the dough to rise.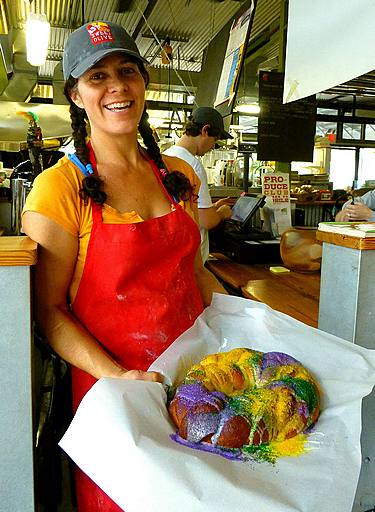 Cake
1 1/2 cups butter
5 1/2 cups flour
1/4 cup cold water
6 cold eggs
1 tablespoon salt
6 tablespoons sugar
1 1/2 teaspoons yeast
Filling
1 cup sugar
1 teaspoon cinnamon
Glaze
1 lb. confectioner's sugar
5 tablespoons milk
1. Flatten the butter with a rolling pin until it is pliable and place it in the refrigerator until needed.
2. Place all ingredients for the cake except the butter into the bowl of an electric mixer. Begin mixing on lowest speed until the ingredients are just barely incorporated. Turn the mixer up slightly and mix for 5 to 7 minutes, until the dough is well developed.
3. Add the butter in pieces, while the machine is mixing, until all the butter is incorporated. Mix for an additional 8 to 10 minutes.
4. Place dough in a bowl lightly sprayed with oil or pan spray. Cover dough with plastic wrap, tucking the plastic around the dough. Let it stand at room temperature for an hour. Fold the dough over on itself, cover bowl with plastic wrap, refrigerate at least 4 hours.
5. Divide the dough into 3 pieces.
6. Using 1 piece of dough, roll into a rectangle about a quarter inch thick. Brush the dough with egg wash. Combine cinnamon and sugar for filling in a small bowl. Sprinkle the mixture over the dough.
7. Cut the rectangle into 3 long strips. Braid the 3 strips and attach the ends to form an oval. Spray with oil or pan spray and cover with plastic wrap. Let rise in a warm place for 2 hours.
8. Bake in a preheated 350 degree oven for 25-30 minutes, or until golden. Let sit until completely cool.
9. Put confectioner's sugar in a small bowl and add milk a tablespoon at a time until desired consistency. Glaze should be thick but should drizzle easily off a spoon. Drizzle glaze over cooled cake and decorate with colored sprinkles of your choice.