Asparagus is notoriously difficult to pair with wine because sulfur-bearing compounds in the stalks produce a chemical bouquet that clashes mightily with the tannins in red wine or in whites aged in oak. Eat asparagus and drink your average pinot noir or barrel-aged chardonnay and the wine will literally taste like garbage.
The French solve the problem by pairing asparagus with Loire Valley whites or white Sancerre-wines based on Sauvignon Blanc that never see a whiff of oak. But just as Friuli grows some of the best asparagus in Europe (see If it's asparagus it must be Friuli), the northeast corner of Italy also produces the best wine to pair with it. Since 2008 it's been on the market as Friulano, though in Friuli some people still call it Tocai Friulano. (The Hungarians got all huffy about "tocai," so the Italians had to change the name.)
Recent genetic research reveals that Friulano is first cousin to Sauvignon Blanc and is the grape known in France as Sauvignon Vert or Sauvignonasse. In France, it makes a thin wine with a "green" taste. In Friuli, where it's considered a native grape, it makes a noble, forthright, steely white wine that is the perfect match to asparagus. (The acids also cut nicely through unctuous sauces like hollandaise).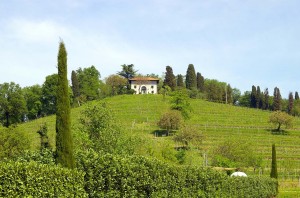 Although Friulano is considered one of the best white wines in all of Italy, it is little known in North America. But I'm beginning to find some examples in better liquor stores near my home in Cambridge. The most intense and steely Friulano comes from the Colli Orientali region on the far eastern edge of Friuli-Venezia Giulia. My favorite is produced by Giorgio Colutta and sold under the Colutta label as Friulano Annata (about $16). Joe Bastianich (son of chef Lidia) also makes a very good version for around $1 more. Both are widely distributed.