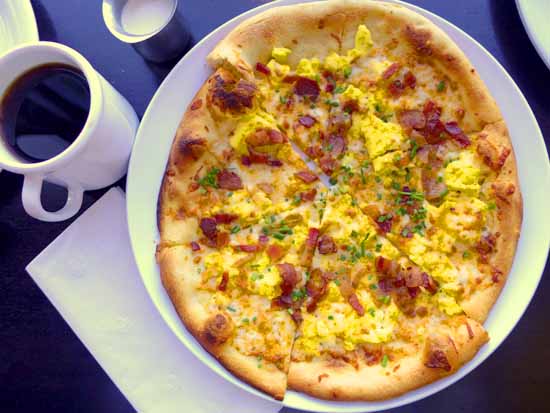 Over the years we've bypassed a lot of Wolfgang Puck Express eateries in many an airport in our quest to find restaurants and meals that truly speak of their place. But finally we found ourselves in the right place at the right time: LAX at breakfast. Or more specifically, LAX Terminal 7, the location of one of the two Wolfgang Puck Express restaurants at the sprawling airport (the other is at Terminal 2). Although Puck long ago went global with his fine dining, we think that his casual yet inventive food epitomizes the lifestyle of southern California, where he's been based since 1975.
His Breakfast Pizza, which is big enough for two to share, is an easy-to-eat remix of of the bacon-egg-toast breakfast. The nicely chewy thin crust is topped with scrambled eggs, mozzarella, cheddar, bacon, caramelized onions, and chopped chives. It's available to eat in or take out. The kitchen exercises restraint with the toppings, making it possible to consume the pizza in cramped airplane seats without mishap. But we had enough time before our flight to sit down and relax in the restaurant and spread out over breakfast.
"Would you like some dessert?" our waiter asked us when we had finished. "A nice latte would be perfect."
He was right.