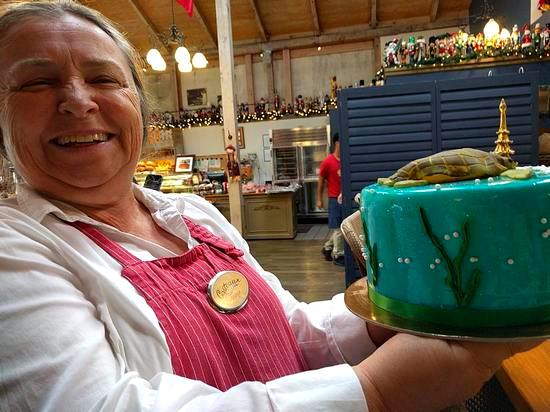 The most famous of Persian poet Omar Khayyam's quatrains suggests that "paradise enough" consists of a loaf of bread, a jug of wine, and his beloved beside him in the wilderness. Healdsburg has dozens of potential wine suppliers to the paradise picnic, but the loaf have to come from Costeaux French Bakery (417 Healdsburg Ave., Healdsburg, 707-433-1913, costeaux.com).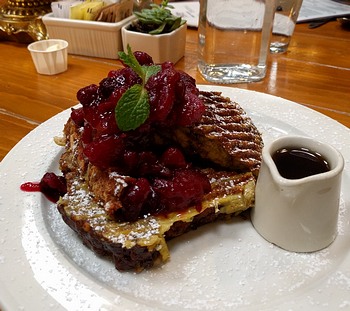 We were already well-acquainted with Costeaux's breads before we ever stepped foot in the downtown bakery and cafe. Honor Mansion makes most of its breakfast goodies from scratch, but there's no homecooked substitute for the Cinnamon Walnut loaf from Costeaux. (We know. We tried and failed to get the recipe.) It's a hand-rolled eggy bread dense with chopped walnuts and aromatic cinnamon. Sweet icing glazes the top of each loaf. The bread is surprisingly versatile. Costeaux's cafe uses the Cinnamon Walnut bread for French toast, bread pudding, and in sweet and savory sandwiches. (It makes a mean croque monsieur.)
The bakery is a Healdsburg fixture. Founded in 1923, it was sold to Karl and Nancy Seppi in 1981. Their son Will is now in charge. A few years back, he started displaying Nutcracker figures at Christmas. Soon Costeaux became the shelter for unwanted Nutcrackers. Now more than 500 line the walls and every available flat space during the holiday. Known as much for its big, luscious breakfasts in the cafe, Costeaux carries the torch for traditional French pastry such as croissants and pain au chocolat. The bakery is also celebrated for its exquisite custom cakes. A staff member holds one proudly at the top of the post.
If you want to see the Nutcrackers (below), be sure to visit by January 6, 2018. They go back into storage after Epiphany.