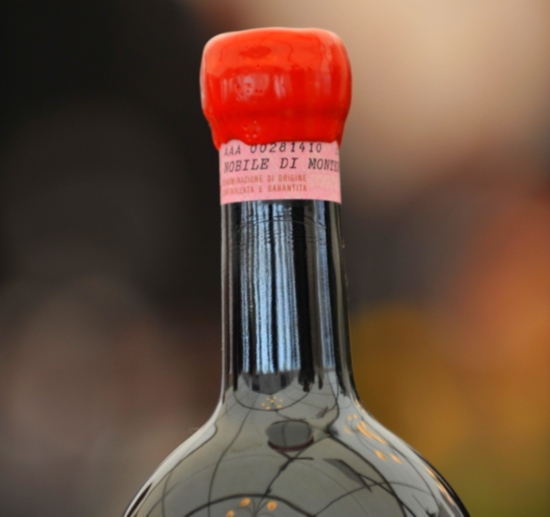 Judging by the wines from the nine producers who visited Boston, Montepulciano winemakers have returned to native Tuscan blending grapes. DOCG rules permit up to 30 percent non-Sangiovese grapes in Vino Nobile. In truth, more than half the wines I tasted were more than 90 percent Sangiovese. And those producers blending in other grapes have largely stopped using Merlot. Instead, they opt for Canaiolo (which softens the acidity of Sangiovese), Colorino (which provides color and structure), and Mammolo (which gives a velvety violet note).
Since each producer presented three to five wines between the technical tasting and a dinner, my full tasting notes would be overkill here. Suffice it to say that Montepulciano superstars Boscarelli (poderiboscarelli.com), Dei (cantinedei.com), and Poliziano (www.carlettipoliziano.com)—along with Antinori-owned La Braccesca—continue to define modern Vino Nobile di Montepulciano. Each presented a Rosso di Montepulciano with the spicy, fresh strawberry notes of young, unoaked Sangiovese, a voluptuous Vino Nobile with overtones of prunes and mulberries, and a muscular Riserva that added tobacco and leather notes to the full fruit.
But two less heralded producers surprised me with wines that showed greater fruit concentration and sharply defined flavor profiles that seemed to vault them into another category altogether.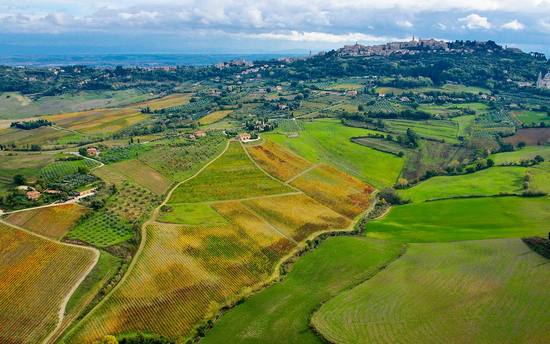 Montemercurio fulfills founder's vision
Operated by three young Anselmi brothers (aged 28, 30, and 33), Montemercurio (montemercurio.com) sits in the northern sector of the region. The aerial view above looks back toward town over the winery's vineyards. It is the model of romantic Tuscan wine country. The first three hectares of vineyards were planted by grandfather Damo in the early 1960s, and they represent a field blend of mostly Sangiovese with some other Tuscan grapes (including a bit of Barbera). Another seven hectares have been added in the decades since, including some vineyards of white varietals for making Vin Santo.

Damo Anselmi passed on after the harvest in 2006. The family established the winery the following year and named its flagship wine after the founder. It is treated as an elite wine from the outset. The oldest vineyards are hand-picked, and destemmed and sorted by hand before being placed in small open vats for spontaneous fermentation. The skins remain for a minimum of 18 days to a maximum of 28 days, depending on the harvest. Racked off the skins, the wine is transferred to 1,000 liter Slavonian oak casks for two years. It is coarsely filtered but not clarified before bottling. It continues to age at least a year in bottle before release.
At about $50 per bottle, this wine is a steal. The nose explodes with intense blackberry and blackcurrant aromas and just a hint of violets. More full-bodied than many Sangiovese wines, it has a luscious structure with fully ripe tannins. Open early to let it breathe, and set out a plate of roast boar.
Starting last fall, Montemercurio also makes a stupendous olive oil—grassy and brassy with just a touch of bitterness like a good southern Spanish oil.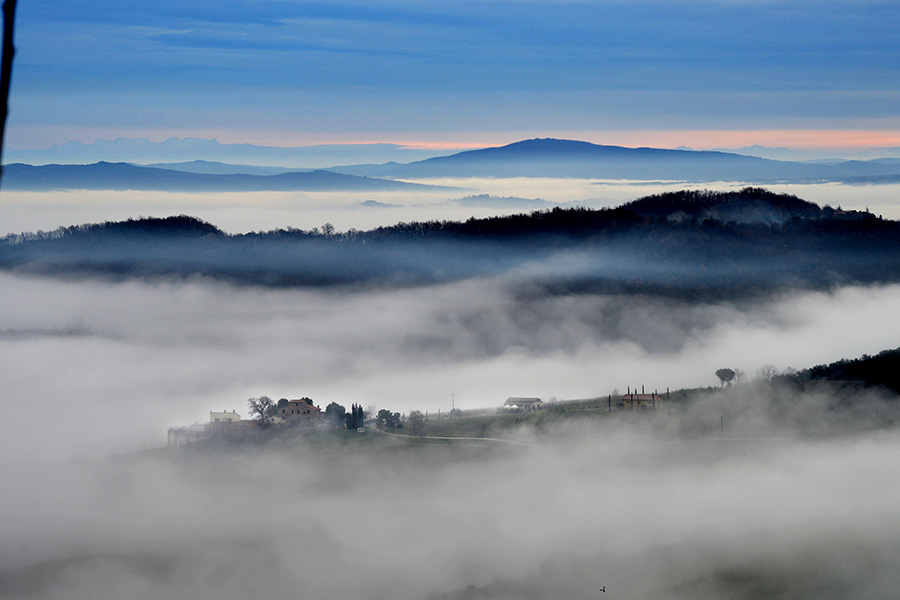 Salcheto sets sustainability benchmark
Those clouds lying on the dormant winter vineyards of Salcheto (salcheto.it) provide the blanket of moisture that the tuff-clay soil holds for the growing season. For the rest of the year, the climate is dry and well-ventilated. Salcheto adds no sulfites during vinification and the entire operation has been biodynamic since 2009. (It is not Demeter-certified, but is one of a dozen Montepulciano producers certified as organic.) Salcheto takes sustainability two important steps further. It generates all its own power for the winer, and recycles and manages its own water supply.
Salcheto is relatively young. It was founded in 1984 and produced its first wine in 1990. Since 2003, it has been consolidated under the multinational Lavinia corporation but is still operated by former owner Michele Manelli, who has made the wines since 1997. The capital injection helped create a strikingly elegant winery and turned the 13th century farmhouse on the estate into a nine-bedroom B&B.

All that is just window dressing. The real story is the wine. Salcheto's basic red, a Rosso di Montepulciano called "Obvius," is a big, brash young wine. It is saucy and tart and full of fruit. Salcheto boasts that it is made with fruit and nothing else—no added yeasts or even water. It's fermented in steel and sold after months in the bottle. It shows what biodynamic farming can accomplish with the grape—and it commands a high price for Rosso, about $13.
Salco sets a high standard
Salcheto tends to over-ripen its Sangiovese, even partially drying part of the harvest. They don't take the practice to an extreme, so the wines have none of the cooked grape caramel of Amarone, for example. But the flavors, sugars, and acidity are all concentrated in the Vino Nobile wines. My favorite is made with grapes selected from the Salco vineyard, which is planted in an early-ripening clone. (The vines are tied up with willow branches. "Salice" in Italian, the willow is "Salco" in the local dialect.) Listing around $35 but projecting a cellar life of 12-15 years, this is a must for any serious lover of Sangiovese. The nose is full of fresh herbs, mint, and wildflowers. The taste is full-bodied fruit with overtones of blueberries and black raspberries. The finish is smooth and elegant.