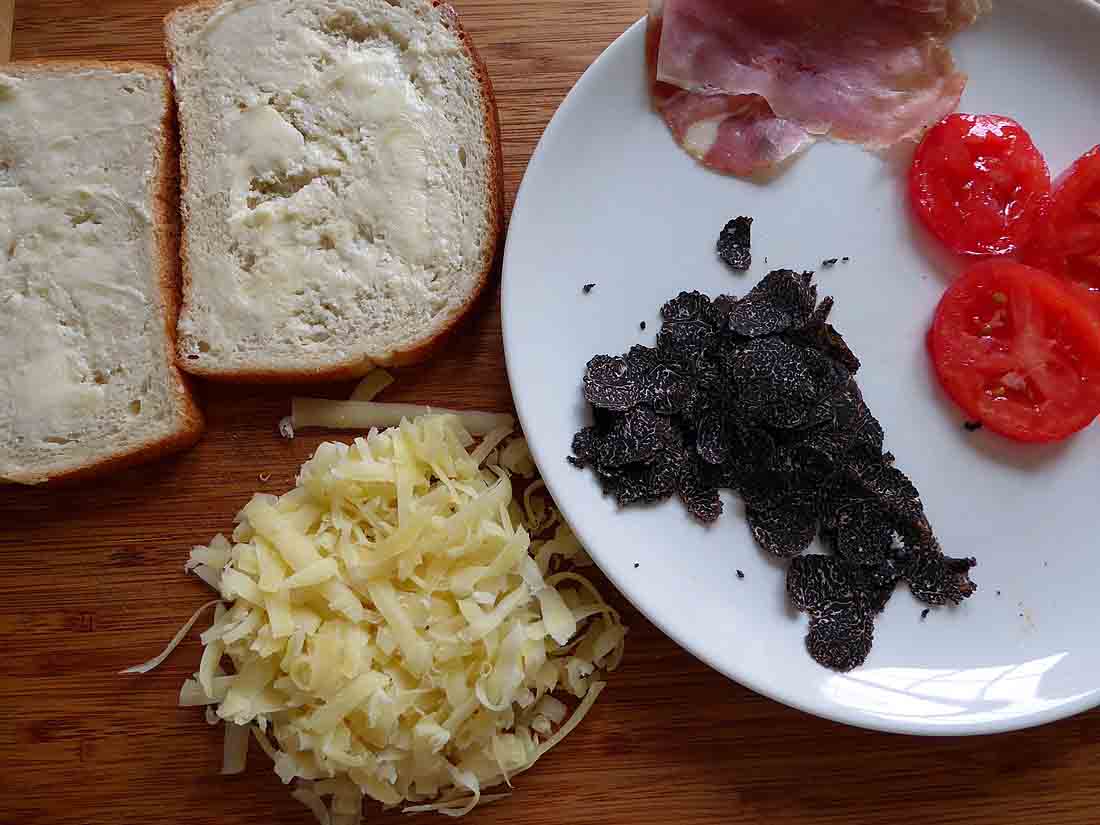 Some foodies love to play the "last supper" game: What would you want to eat for your last meal on earth? Pat and I are in accord on this one. It would probably be this elegantly simple grilled cheese sandwich with Comté, prosciutto, ripe tomato and truffle. Cooked just enough to brown the bread in butter (an omelet pan is perfect for the task), the Comté brings out all the high, resinous notes in the black truffle. You could die happy just biting into the sandwich, which gives you a strong whiff of truffle just before you actually taste it.
In the interest of research, we tried this sandwich in the purist form—just Comté and truffle—before adding the prosciutto and tomato. The basic sandwich shown here is very, very good. But it's only good enough for a last lunch, not a last supper. We chose Comté, by the way, because it's the standard cheese for making a great croque monsieur. Although we've never been able to lay hands on Patricia Wells' book, Simply Truffles, we've read that she includes a recipe for a truffled croque monsieur. Any cheese that can stand up to béchamel sauce, we figure, can stand up to black truffles. The addition of prosciutto was also in homage to the croque monsieur. Using paper-thin prosciutto gives a lot of flavor without interfering with the toothiness of the truffle. Like the burger, we think this dish is the apotheosis of an American classic.
ULTIMATE GRILLED CHEESE WITH TRUFFLE

Makes 1 grilled cheese sandwich
2 slices excellent white sandwich bread
butter (lots of butter)
2 oz. aged Comté cheese, coarsely grated
1 slice prosciutto large enough to cover bread
1 ripe tomato, skin removed, cut into 1/4-inch slices
10 grams black truffle, thinly shaved
Butter both slices of bread. On one buttered side, place half the cheese, then a layer of prosciutto, the truffles, the tomato slices, and then the remaining cheese. Top with other slice of bread, butter side toward filling.
In an omelet pan, melt a knob of butter and swirl it around the pan to coat. Place sandwich carefully into pan and press gently with a spatula. Cover with a pot lid and let cook over medium heat for up to 90 seconds. Remove lid and flip sandwich over. Top should now be golden brown. Place lid back on and cook another 45-60 seconds until other side is browned and cheese is just melted. Remove from pan and cut on the diagonal. Eat while hot. Alternate bites with sips of cold Chablis.
Try not to die just yet. Gluttony is one of the seven deadly sins.