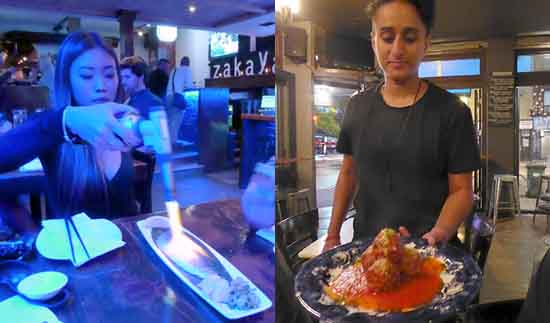 There are certainly fancier coffee shops than Café Diplomatico (594 College St., 416-534-4637, cafediplomatico.ca), but few that so consistently screen European soccer matches on the TVs. Since 1968, it's been one of the principal landmarks of Toronto's Little Italy. Ironically, that's just about the time that the neighborhood was beginning to lose its accent.
We met Kevin Dupree, owner of the Culinary Adventure Co. (647-955-8357, www.culinaryadventureco.com), in front of "The Dip" for a walk around the neighborhood along College Street between Euclid Avenue and Shaw Street. Dupree's company offers a full menu of neighborhood sampling tours and a number of other gastronomic activities—including a summertime canoe trip to the Toronto islands with a master chef who prepares a picnic.
But this particular evening, we concentrated on Little Italy. He explained that Italian immigration to Toronto began around 1880 and slowed to a trickle after 1930. The residential part of the neighborhood remained Italian into the 1960s, and it's still full of Italian bars, coffee shops, and restaurants.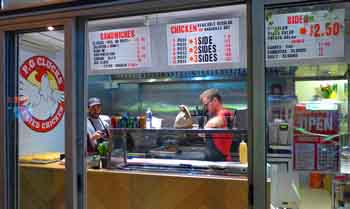 That preponderance of eating and drinking establishments made this stretch of College Street a nightlife destination, and other cuisines have moved in to create a dynamic multicultural mix. We ducked into a streetfront stall—P.G. Clucks—selling "Nashville-style" fried chicken sandwiches. (They're fiery hot with spices.) And we spent a while at Hapa Izakaya (602 College St., 647-748-4272, hapaizakaya.com), a Toronto offshoot of the Vancouver-based chain of hip Japanese bar-restaurants. Dark and loud, our area was bathed in the blue glow of UV lamps—which made the white menus glow in the dark. The sake sampler was eye-opening, and the whole mackerel warmed up with blowtorch blast (see top image) was delicate and delicious.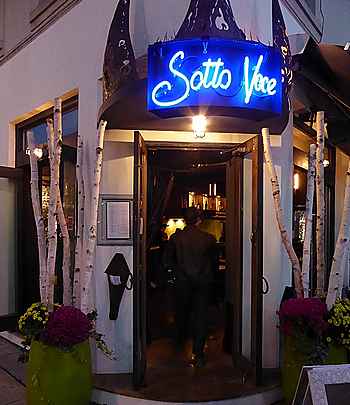 But we really felt the soul of Little Italy in the spot across the street from the Dip. Sotto Voce Wine and Pasta Bar (595 College St., 416-536-4564, sottovoce.ca) has been around for about 20 years, and it's still serving the recipes of the Sicilian grandmother of one of the owners. The wine list is strongest on southern Italian wines, and the pasta plates feature red sauce without shame. We enjoyed some superb Sicilian meatballs made with pine nuts and currants and a bowl of gnocchi with wild boar ragu. The "fanciest" dish of the night was Gamberoni a la Puttanesca—spaghetti with tiger shrimp in a tomato sauce redolent of anchovies, garlic, black olives, and capers. It's actually a modern Neapolitan dish that's taken hold on both sides of the Atlantic.
The recipe below is not from Sotto Voce. It's our own adaptation of many different approaches to puttanesca, but it has the same kind of umami punch as the one we enjoyed in Toronto.
SHRIMP PUTTANESCA
2 tablespoons extra-virgin olive oil
1 medium onion, chopped
pinch of salt
can of anchovies (2 ounces)
1 head of garlic, cloves separated, peeled, and minced
6 ounce can of tomato paste
1/2 cup red wine
1/2 teaspoon red pepper flakes
26-ounce can or box of crushed tomatoes
1/4 cup capers (drained)
1/2 cup pitted Kalamata olives, chopped
12 ounces spaghetti
Grated zest and juice of 1 lemon
8 ounces tiger shrimp tails with shells
In large pot, heat olive oil. Add chopped onions and pinch of salt. Cook at medium heat until onion begins to soften (about 5 minutes). Add anchovies and garlic, mashing up the anchovies with a spatula. Continue cooking about 3 minutes until garlic has softened. Add tomato paste, wine, and pepper flakes and stir well to mix. Add tomatoes, capers, and olives. Bring to a simmer. Cover and cook gently with occasional stirring for about a half hour. It will become thick and saucy.
Bring a large pot of salted water to a boil to cook spaghetti. When pasta goes into the water, add the lemon zest and juice to the slowly bubbling sauce. Add the shrimp and raise heat until the pot just barely bubbles.
When spaghetti is al dente (7-8 minutes), drain it, reserving some cooking liquid. Add drained spaghetti to shrimp puttanesca sauce and mix well. Add reserved cooking liquid as needed to thin.
Serve hot in bowls.