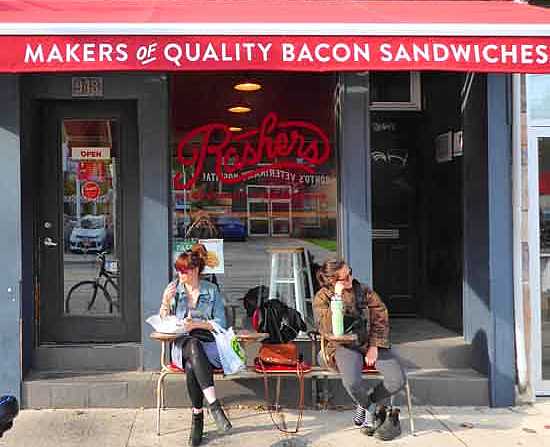 There's something to be said for doing one thing and doing it well. Rashers opened in Toronto's Leslieville neighborhood in 2012 with a laser focus on the bacon sandwich. Owners John Clark and Richard Mulley firmly believe that bacon is more than a trendy garnish or a handy meat for foodie experimentation. In the Rashers universe, bacon is a culinary building block. Not just for BLTs anymore, bacon is the foundation for a whole range of sandwiches. It is a new standard under which hand-held cuisine can march forward into a gastronomic future.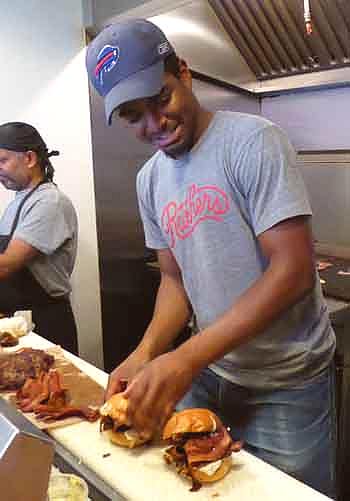 The Leslieville storefront (948 Queen St. East, 416-710-8220, www.rashers.ca) is as minimal as the menu. Hardly more than 20 feet wide at the street, it consists of a few high stools lined up along a window counter. The grill dominates the back of the room, and when you walk in, it smells like heaven. Or breakfast. Actually, it smells like bacon, and it's not uncommon for a certain amount of smoke to be rising from the sizzling grill. (There's a second location in Little Portugal at 182 Ossington Ave., 647-346-8230.)
This being Toronto, peameal bacon appears in several of the sandwich choices. Perth Pork Products, a Slow Food farm a few hours west of Toronto that specializes in heritage breeds, brines the bacon for Rashers. The Hogtown grilled cheese, for example, features peameal bacon with cheddar cheese and ale mustard on multigrain bread. For a buck more, you can add a fried egg. In fact, Rashers encourages clients to mix up the offerings to build their own bacon sandwiches.
A world of bacon
Rashers actually embraces bacon in all its forms. In addition to peameal, the shop also builds sandwiches with strip bacon ("streaky bacon" to the Irish and Brits) and English bacon. That last is cured in a similar fashion to peameal bacon but is cut from the back of the loin so that the medallion of meat is surrounded by a nice ring of fat.
When we stopped in for an afternoon snack (so to speak), many of the folks ordering takeout seemed to be partial to the brie and bacon sandwich. It contains a heap of bacon strips, a generous slice of brie, and a topping of caramelized onions. The cooks slather the warm bun with garlic aioli. That all seemed a bit much for 4 p.m., so we went with the Rashers version of a classic BLT. The shop's twist on tradition is to serve it on a ciabatta bun spread with beer mayo.
We were in Hogtown heaven.