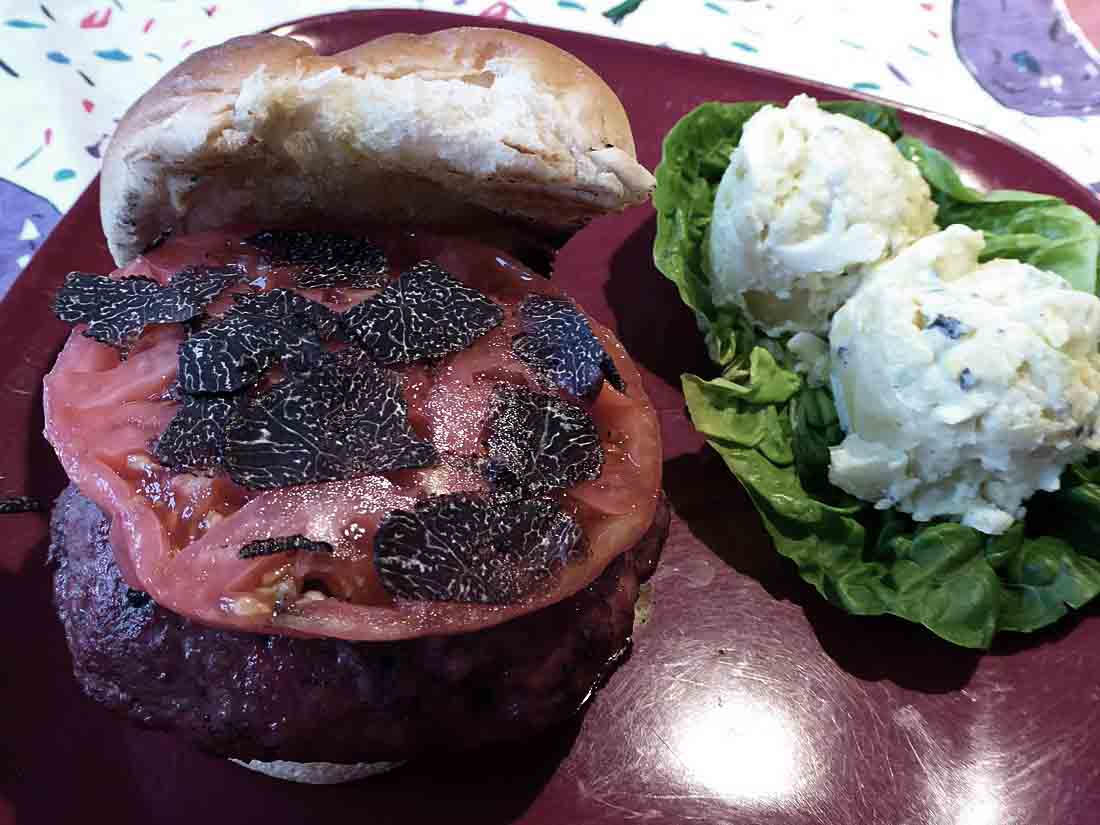 Several high-end restaurants (we're talking about you, Daniel Boulud) serve a magnificent wintertime hamburger with foie gras and shaved French black truffle on top. We can't top that. When we decided to take our Australian truffle bounty and see if we could build a summer burger, we were inspired by the great bacon burger we ate last year at Cured in San Antonio. (Here's the recipe.)
We knew the truffle would respond well to a bit of fat and to acid, so we plumped up the ground beef with some fattier ground pork and added a thick slice of heirloom tomato on top. Not caring to heat up the house making brioche buns (and we're not that good at baking bread), we purchased some great potato buns from Vermont Bread Company (www.vermontbread.com). One of the keys to maximum truffle flavor is to cook the burgers very rare. To double the decadence, serve with potato salad made with truffle aioli.
OUR ULTIMATE TRUFFLE BURGER

Makes 2 burgers
3/4 lb. freshly ground round (85% lean)
1/4 lb. freshly ground pork
1/2 teaspoon salt
1/2 teaspoon coarsely ground black pepper
10 grams finely grated black truffle
2 hamburger potato buns
2 thick slices ripe heirloom tomato
10 grams black truffle to shave
At least four hours before cooking, combine beef, pork, salt, pepper, and grated black truffle. Knead the mass to mix thoroughly. Form into a ball, wrap in plastic wrap, and refrigerate until ready to cook.
When hardwood charcoal is fully lit on one side of the grill, unwrap the meat mixture and form into two thick patties of equal weight. Place on grill on side away from fire and cover grill. Cook three minutes. Open grill and flip burgers. Cover again and cook 2 minutes. Check internal temperature with a thermometer probe. It should be 140°-145°F (60°-63°C). Remove from grill and quickly toast the buns over the hot coals—maybe 15 seconds.
Place a burger on each bun. Top with tomato slice. Shave black truffle over the top. Swoon as you eat. This burger calls for a decent negociant red Burgundy or a Brunello di Montalcino.