Few culinary terms have been so abused in recent years as "balsamic vinegar." A generation ago, the only people who knew true balsamic vinegar were either wealthy gastronomes or members of old-fashioned families in the Modena and Reggio Emilia districts of Italy's region of Emilia Romagna — best known even then for Parmigiano Reggiano cheese and prosciutto di Parma.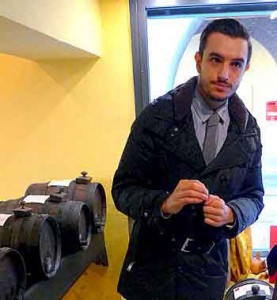 "It was a traditional family product," explains Simone Tintori (left) of La Vecchia Dispensa in Castelvetro di Modena (Piazza Roma 3, +39 059-790-401, www.lavecchiadispensa.it), a fourth-generation commercial producer of the two controlled types of Balsamic Vinegar of Modena (aceto balsamico di Modena). "And everything you have been told about it is probably wrong."
The two categories of protected Modena vinegar are IGP and DOP, and it's helpful to understand the differences so you get what you pay for. The Aceto Balsamico Tradizionale di Modena DOP must be made from wine vinegar and grape must (from any of seven grapes, but usually Trebbiano) and must be aged in wood in the province of Modena and bottled there. Furthermore, it has to pass taste tests by the consortium of traditional producers and must be sold in a traditionally styled 100ml bottle that cannot have any reference to age on the label.
The other protected type is Aceto Balsamico de Modena IGP (without the "Tradizionale"). The IGP is a geographic designation under European Union law. The permitted ingredients are wine vinegar and grape must, but the producer is also allowed to use grape must concentrate and to add caramel coloring. The vinegar also must be aged and bottled in the province of Modena and pass a set of laboratory tests before it can be bottled with the IGP label.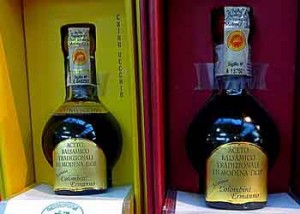 The mechanics of making balsamic vinegar are not particularly complicated. Grape must and wine vinegar are combined. The most expensive products may have as much as 70 percent grape must with just 30 percent vinegar, while the cheapest could have as little as 20 percent grape must. The mixture is aged in wooden barrels—usually a sequence of increasingly smaller barrels for the DOP product and usually in large wooden casks for the IGP. Over time, some vinegar evaporates, concentrating the vinegar that remains behind. The barrels are used repeatedly over decades, so little flavor of the wood is imparted to the vinegar. The best of the products become almost syrupy in their viscosity, as the sugars from the original grapes become more and more concentrated.
While Aceto Balsamico Tradizionale di Modena DOP tends to be fairly consistent from producer to producer (and generally costs $75-$200 for a 100 ml bottle), Aceto Balsamico de Modena IGP bottlings vary a lot in both quality and price. The least expensive use grape must concentrate, which is a little like making a marinara sauce using tomato paste but no fresh tomatoes. It's tomato-y, but not the real sugo. That said, it can be a tasty and useful vinegar—just not the gustatory powerhouse of a DOP or a better IGP vinegar.
With a deeply concentrated mix of fruitiness and complex spice, the DOP vinegar is principally for use as a drop or two on a steak, roast, or hunk of incredible cheese. For salads and cooking, most of us are happy with the modestly sweet and tangy IGP product—if we can get a good one.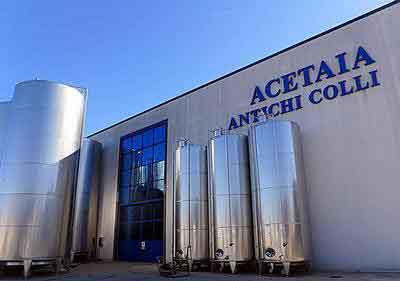 After visiting La Vecchia Dispensa in Castelvetro (old castle), I went a few kilometers down the road to visit Antichi Colli in Castelnuovo, or "new castle" (Via Rio dei Gamberi, 2, +39 059 533 1332, www.antichicolli.it). A complex of vast stainless steel tanks with an attic of aging barrels, this large firm mostly produces IGP vinegars. Interestingly, they only use concentrated grape must in the lowest grade, which retails at about $10 per 250ml bottle. Their IGP vinegars go up in price to around $120 per 250ml bottle.
So what should you look for? First, look for the IGP insignia or the DOP seal. Second, reject any product stamped with the number of years it has been aged (if it has the seal and a claim of years of aging, it's a fraud). Third, if you're looking for flavor complexity, skip any vinegar that lists "concentrated must" or caramel coloring as an ingredient. They are legitimate, but usually lower-quality. Finally, taste it if you can. For salad dressing and the like, we use a Whole Foods-branded IGP Balsamic Vinegar of Modena that's both reasonably priced and versatile in the kitchen (and is made with concentrated must). We keep the DOP for drizzling on really old Parmigiano Reggiano cheese….