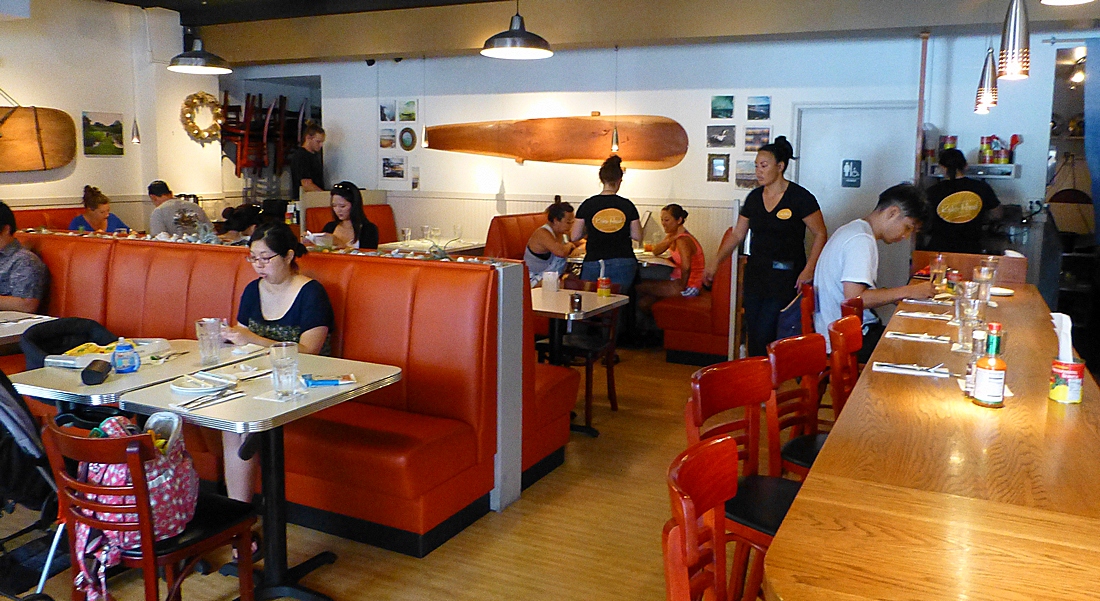 New York-born chef Lee Anne Wong cooked in restaurants around the world before settling on Oahu and opening Koko Head Cafe in Honolulu's Kaimuki neighborhood in 2014 (1145c 12th Ave, Honolulu; 808-732-8920, kokoheadcafe.com). She may have been a newcomer, but she had an unerring sense of what people would want to eat when they gather for brunch in this very Hawaiian take on a modern diner, right down to the varnished plywood counter and orange vinyl banquettes.
She also seems to belong to the school that holds that brunch really should hold you all day. Wong's inventive dishes range from kimchi bacon cheddar scones to a hearty congee with bacon, ham, Portuguese sausage, cheddar cheese, scallions, and cinnamon-bacon croutons.
But I was most taken with her "Skillets," which come to the table in small, piping-hot cast iron pans. The Chicky and Eggs, for example, highlights her easy way with Euro-Asian fusion dishes. It features Japanese-style fried chicken, French-style scrambled eggs, house-made pickles, and maple Tabasco sauce.
Wong's version of the Hawaiian staple Loco Moco, demonstrates how quickly she absorbed local foodways and made them her own. Introduced on the Big Island in 1949, the extremely filling Loco Moco features a hamburger patty on white rice, topped with brown gravy and a fried egg. Wong calls her take on the comfort dish Koko Moco. She uses local grass-fed beef for the patty and high-quality sushi rice cooked in garlic oil until it develops a crunchy crust as the base. In addition to the gravy (in this case, a meatless mushroom version) and a local egg cooked sunny side up, Wong gives the whole dish a shot in the arm with garnishes of scallions, toasted sesame seeds, peppery togarashi (a Japanese spice mix with hot red pepper), and tempura-fried kimchi.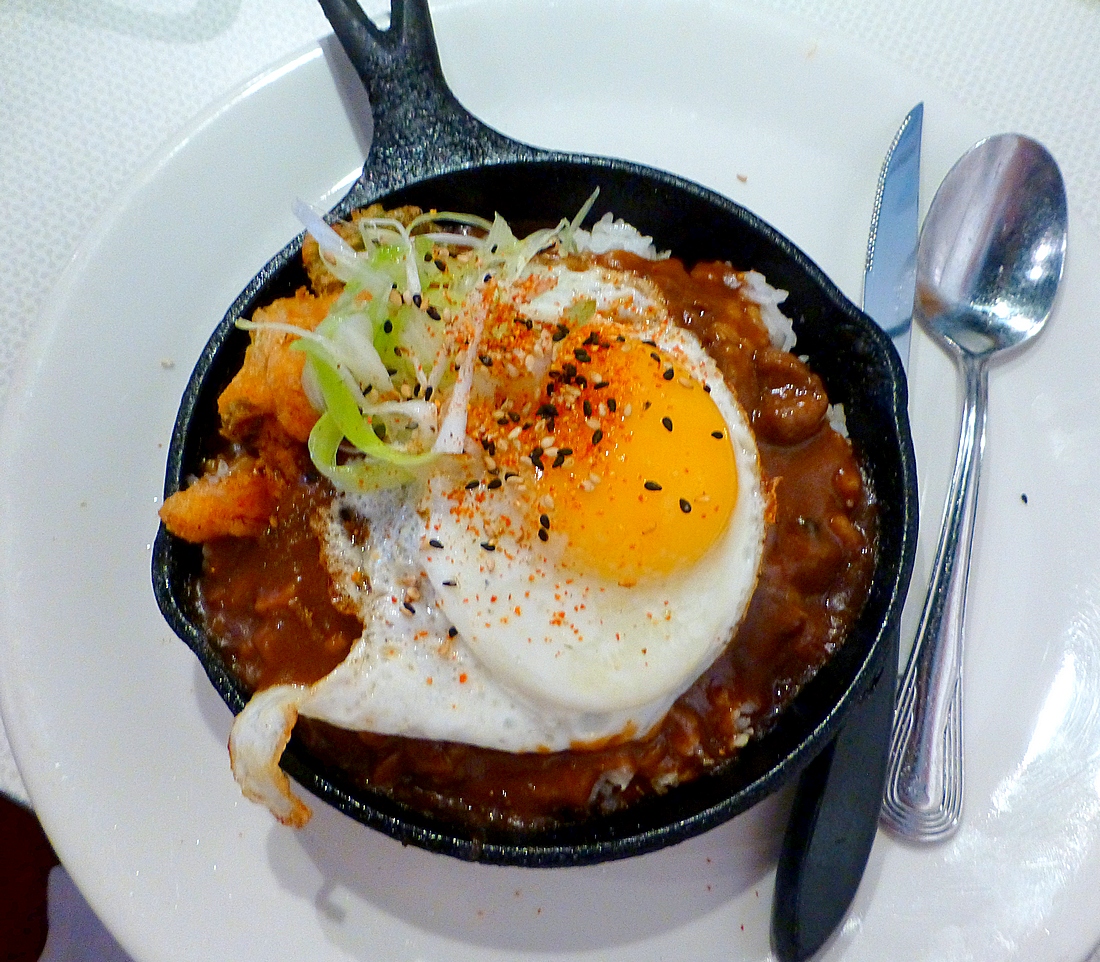 KOKO MOCO
Serves 4
Beef Patties
1 1/2 lbs high quality grass-fed ground beef
1 tablespoon shoyu (Japanese soy sauce)
1 tablespoon Worcestershire sauce
1/2 teaspoon ground black pepper
salt
In a small bowl combine the shoyu, Worcestershire, and black pepper, mixing well. Pour over the ground beef and massage with your hands until well-mixed, being careful to not over work the meat. Form the beef into four 6-ounce patties, about 4″ in diameter and 1/2″ thick. Refrigerate covered until needed
Garlic Oil
12 large cloves peeled garlic, smashed/crushed
1 cup vegetable oil
Combine the oil and garlic cloves in a small pan or pot. Simmer on low heat until the garlic begins to turn golden and the oil is fragrant, about 20-30 minutes. Allow the oil to cool to room temperature. Remove the garlic cloves and save for another use.
Savory Mushroom Gravy
1 cup dried shiitake mushrooms soaked overnight in 4 cups water
6 tablespoons butter
1 cup finely minced yellow onions
1 tablespoon finely minced garlic
2/3 cup all purpose flour
3 tablespoons Maggi seasoning
3 tablespoons mushroom soy sauce
1/2 tablespoon sugar
1 teaspoon ground black pepper
3 cups cremini mushrooms, quartered, trimmed, stems reserved
1 cup heavy cream
1 tablespoon dried sage or 3 tablespoons fresh sage, minced
oil for sautéing mushrooms
Remove the rehydrated shiitake mushrooms from the soaking liquid, squeezing out excess liquid. Reserve the mushroom water. Remove the stems from the rehydrated shiitakes, set aside. Slice the mushrooms into 1/4″ thick slices, set aside.
In a medium saucepan, melt the butter over medium-high heat and saute the onions for 5 minutes until they begin to soften, stirring often with a wooden spoon. Add the minced garlic and cook for one minute more. Sprinkle the flour over the mixture and stir well until incorporated, it will become thick like a dough. Slowly add in the mushroom soaking liquid, stirring out any lumps (use a whisk) until all of the liquid has been added. Continue to whisk and cook over medium heat for 3 minutes. Add the Maggi, mushroom soy, sugar, and black pepper.
Combine the shiitake mushroom stems and the cremini mushroom trimmings and stems and add to the cup of cream. Add the minced sage, bring to a simmer over medium-high heat. Reduce to low heat and cook until the stems are tender, about 5 minutes. Puree the cream and mushroom mixture on high in a blender until it is a smooth puree. Add the puree to the mushroom gravy pot.
Bring the mushroom gravy to a boil, whisking until smooth. Check for seasoning and adjust as necessary. Puree the gravy in the blender on high in small batches (be careful to only fill the blender pitcher halfway and keep the lid held tightly on with a toweled hand). Return the finished gravy to a clean pot.
In a large sauté pan, heat up a few tablespoons of oil over high heat and add the quartered cremini mushrooms. Season with salt and pepper. Cook the mushrooms for 2-3 minutes, stirring often. Add the sliced shiitake mushrooms to the pan and cook, stir frying vigorously for another 3 minutes until all of the mushrooms are cooked and tender. Drain on paper towels then add the cooked mushrooms to the mushroom gravy. Keep warm or refrigerate until needed.
Assembling Koko Moco
4 six-inch cast iron skillets or a small 6-8″ nonstick pan.
4 six-ounce beef patties
garlic oil
4 cups steamed white rice
1 teaspoon finely minced garlic
4 large eggs
1 green onion, minced
salt
togarashi
toasted sesame seeds
Heat the skillets on high heat until they begin to lightly smoke. If using a small nonstick pan you will need to fry four batches of rice, or you can use a large nonstick pan and cut the rice in quarters once finished. Add a tablespoon of oil to the skillets and press one cup of rice into the bottom of each skillet. Reduce heat to medium-high and cook until lightly golden brown. Add a 1/4 teaspoon of fresh minced garlic on the top of the rice and gently stir in. Season the rice with salt.
Separately: Season the beef patties with salt and pepper. Grill or griddle the beef patties to desired temperature.
Fry the eggs individually sunny side up in a nonstick pan using garlic oil to fry; season with salt and pepper.
Warm the gravy in a small pot. To assemble, place the cooked burger patty on top of the seasoned garlic rice. Ladle a generous portion of gravy over the burger (1/2 to 1 cup). Top with a fried egg and garnish with sliced green onion, togarashi, salt and toasted sesame seeds. Serve immediately.