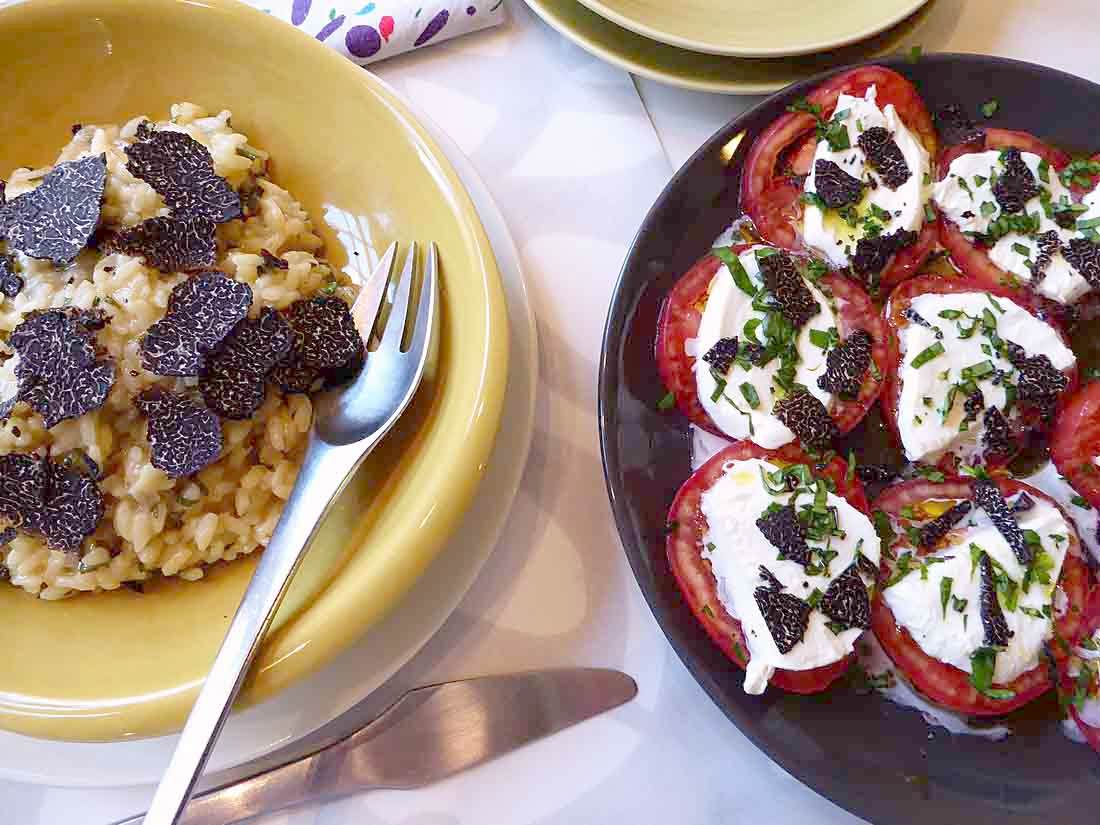 What a luxury to shave truffles over some of our favorite summer dishes! I was surprised when several chefs suggested black truffles on a Caprese salad, but if the tomatoes have enough acidic zing, it's a match made in heaven. Our own tomatoes aren't quite ripe yet, so I have to resort to hoop house or hot house varieties. One trick to restore the "fresh tomato" flavor to these typically bland fruits is to give them a tiny sprinkle of salt, sugar, and citric acid. Citric acid is sometimes sold as "sour salt," and is readily available in Indian grocery stores. (I mix up the seasoning in a ratio of 20 parts salt to 5 parts sugar and 1 part citric acid and store it it an airtight jar.)
But what to eat with Caprese? The natural choice for us is a lemon risotto, lightly adapted to the herbs we have on hand this time of year. It's best with a very grassy flavored olive oil. Instead of mint and basil, you could substitute fresh lemon thyme and rosemary.
LEMON RISOTTO WITH BLACK TRUFFLES

Serves 2 as an entree, 4 as an appetizer
sprig of fresh mint
sprig of fresh basil
grated zest of 1 lemon
2 tablespoons olive oil
2 shallots, minced
1 cup arborio rice
1/4 cup white wine
1 1/4 cups strong chicken broth
juice of 1 lemon
1/2 cup grated Parmigiano-Reggiano cheese
20 grams black truffle
Remove stems from herbs and combine the leaves with grated lemon zest. Chop very finely and set aside.
In 2-3 quart pressure cooker, heat olive oil over medium heat. Add shallots and cook until translucent. Add rice and stir until well coated with oil. Raise heat to high and add white wine. Stir to keep from burning until wine is absorbed. Add chicken broth, stirring well. When pot begins to simmer, tighten lid and cook on medium pressure for exactly 8 minutes, turning down heat to keep pressure steady.
Remove from heat and run pot under cold water to decompress. Remove lid and place pot back on low heat. Stir in lemon juice and test rice for doneness. (It should be al dente in the middle but rather creamy.) When rice is desired texture, add grated cheese and reserved herbs and lemon peel.
Place in bowls and shave half the truffle over the top. Serve with a Caprese salad over which you have shaved the other half truffle.