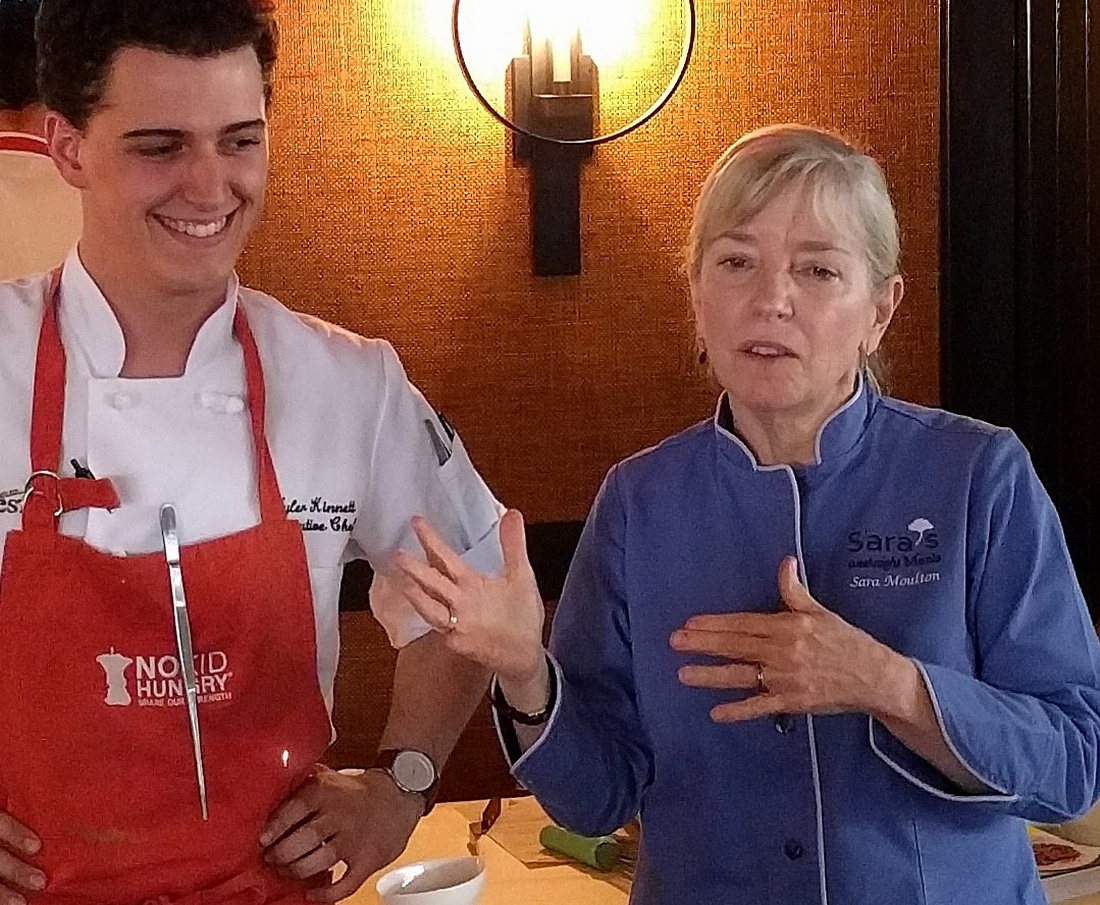 Ever the prodigal daughter, chef Sara Moulton returned to her roots at Harvest Restaurant in Cambridge, Mass., for the launch of her latest cookbook, Sara Moulton's Home Cooking 101: How to Make Everything Taste Better.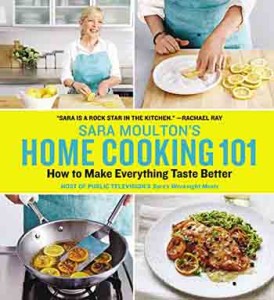 For readers who only know Moulton from her television work—a pioneer host for nearly 10 years on the Food Network and more recently the host of "Sara's Weeknight Meals" on public television, the woman has serious chops. She worked for seven years as a restaurant chef, cooked with Julia Child in her home for dinner parties, spent four years testing and developing recipes for the late, lamented Gourmet magazine, and ran Gourmet's dining room for more than two decades.
But she started at Harvest in Cambridge—a brainchild of Modernist architect Ben Thompson and his equally avant garde wife Jane. Harvest opened in 1975, and some of the biggest names in Boston-area cooking worked in the kitchen, including Lydia Shire, Chris Schlesinger, Frank McClelland, Barbara Lynch, Jimmy Burke…. Above, that's Sara Moulton with Harvest's current executive chef Tyler Kinnett, who interpreted some recipes for Moulton's new book at the launch luncheon.
Since the weather was still chilly, Kinnett did a tasty turn on Moulton's "Pea Vichyssoise with Smoked Salmon" by serving it as a warm soup with a swirl of crème fraiche instead of garnishing with crumbled chevre. He also added crisp roasted diced potatoes instead of the crunchy wasabi peas that Moulton calls for to add zing to the cold version. Kinnett cold-smoked the salmon himself to keep the flavor very mild and delicate as a perfect counterpoint to the sweet peas.
Moulton was good enough to let us pass along the original recipe, though we suggest you buy the book so you're not stuck with a one-course meal. Here's the link on Amazon.
The photo below is Tyler Kinnett's version as he served it at Harvest. The recipe is for Sara's cold pea soup, which looks very similar. One caveat on technique: Don't over-blend the soup or the potatoes will give it the texture of wallpaper paste.
PEA VICHYSSOISE WITH SMOKED SALMON
Serves 4 (7-8 cups)
Ingredients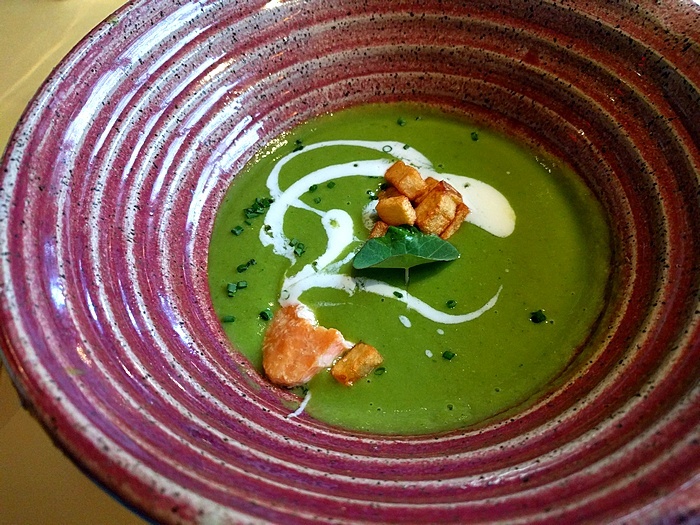 2 cups medium chopped leeks, white parts only
1 cup medium-chopped peeled russet (baking) potatoes
1 cup medium-chopped peeled boiling potatoes
2 garlic cloves, crushed and peeled
2 cups chicken or vegetable stock
2 cups fresh or defrosted frozen peas
2 1/2 cups lowfat buttermilk
Kosher salt and freshly ground pepper
4 ounces smoked salmon, medium chopped
4 ounces fresh goat cheese (or feta), crumbled
1/2 cup wasabi peas
Directions
Combine the leeks, potatoes, and garlic in a medium saucepan. Add 2 cups of water and the stock, bring the liquid to a boil, reduce the heat, and simmer until the potatoes are very tender, about 15 minutes. Add the green peas, bring the liquid back to a boil, and simmer until the peas are tender, about 2 minutes.
Fill a blender about one-third full with some of the soup mixture, add some of the buttermilk, and puree until smooth. Repeat the procedure until completely pureed, transferring each batch to a bowl. Season to taste with salt and pepper and chill well.
Ladle the soup into four bowls. Top each portion with one-fourth of the salmon, goat cheese, and wasabi peas.

Reprinted with permission from Sara Moulton's Home Cooking 101: How to Make Everything Taste Better (Oxmoor House, 2016)