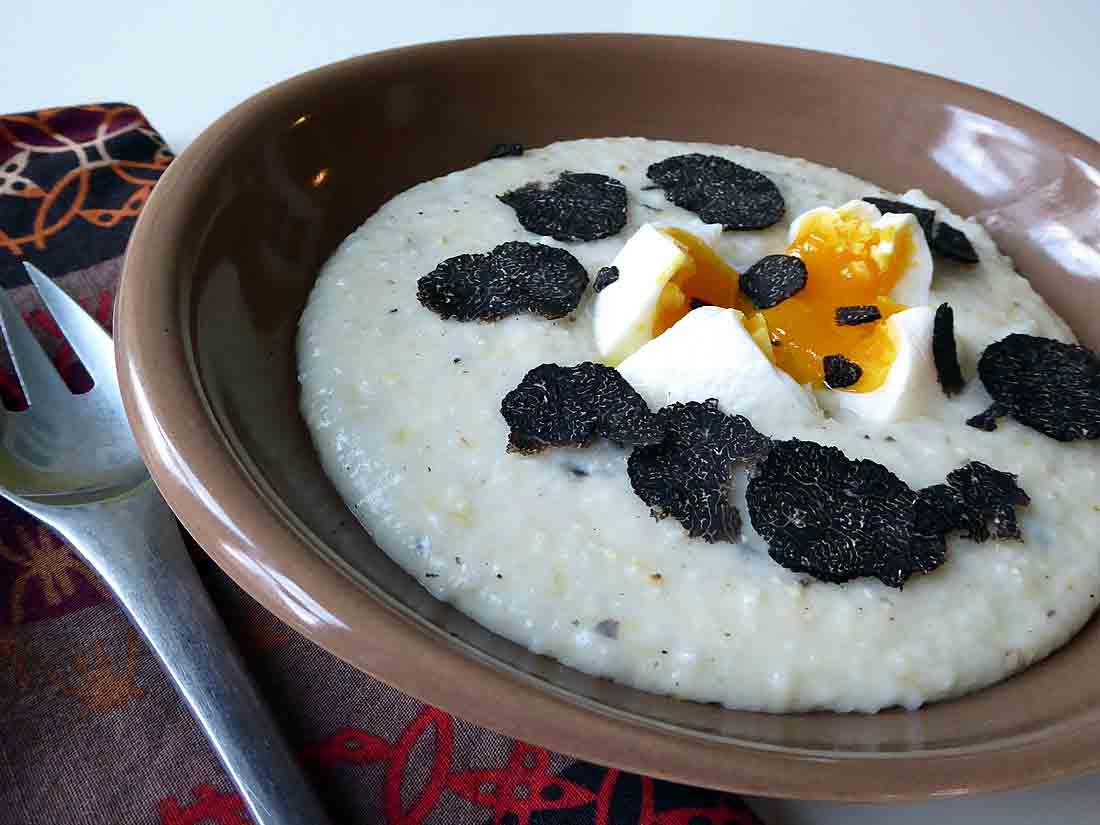 As Pat and I developed ways to use black truffles, we generally opted for the simplest and most straightforward combinations. Keeping in mind that truffles pair well with corn—and that northern Italians sometimes eat truffles on polenta—we decided to try truffles with some of the best grits we've been able to lay hands on. We'll be writing shortly about our food and drink visit to central Kentucky, where we had the good fortune to drive from Lexington out to Midway to visit Weisenberger Mill. This is a truly old-fashioned mill that has been stone-grinding grain for six generations, starting in 1865. Living in Yankeeville, we have a hard time finding good white grits, but now know we can order them online from Weisenberger at www.weisenberger.com. Their grits are ground from locally grown non-GMO corn. They even put the name of the farm on the package. Ours came from the Rogers Farm in Hardin County, Kentucky.
For this truffle dish, we made the grits according to the directions on the package. It really doesn't get any easier than that. The eggs that we poached had been stored in a sealed container with a truffle for about three days to pick up the truffle aroma. Along with being simple, it looks great on the table with sunflowers from the garden. Don't forget to order your Australian black truffles from The Truffle and Wine Company's USA office at truffleandwineusa.com/.
BLACK TRUFFLE GRITS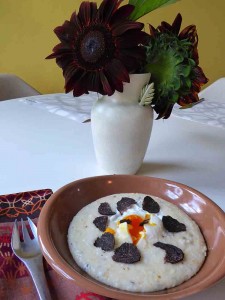 Serves 2
2 cups water
1 teaspoon salt
1/2 cup grits
salt and butter to taste
1 teaspoon salt
1 tablespoon vinegar
2 eggs
10 grams black truffle
In a medium saucepan, bring water to boil and add salt. Stir water to create a swirling motion and pout in grits. Bring to boil while continuing to stir. Reduce heat and cover. Cook 15-20 minutes, stirring occasionally.
Meanwhile, heat 2 inches of water in a large, deep frying pan. (A cast iron chicken cooker is perfect.) Bring to boil, reduce heat, and cover until grits are done. When grits are ready, season to taste with additional salt and butter.
Add 1 teaspoon salt and vinegar to water in deep frying pan. Break each egg into a shallow bowl and lower into simmering water. Let cook about 3 minutes, or until whites are largely set and yolk is still runny.
Spoon grits into two serving bowls. Using a slotted spoon, lift each poached egg onto grits. Shave truffle over top and break the yolks to flow over grits.