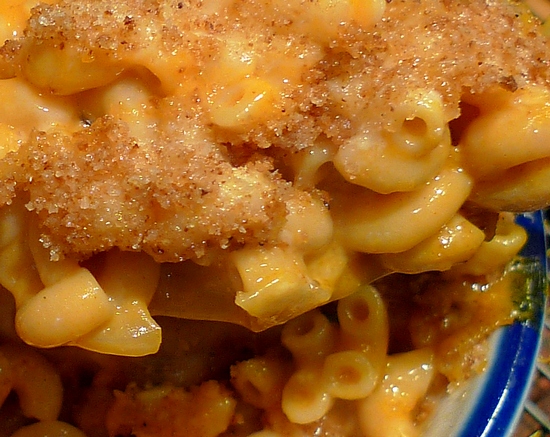 We encounter a lot of great food when we work on researching and updating our Food Lovers' books about the New England states. But a simple and delicious plate of carrot mac & cheese from Daily Planet in Burlington (15 Center St., 802-862-9647, www.dailyplanet15.com) stuck in our minds. We ate it one chilly night at the bar of this bohemian downtown favorite with a moderately priced contemporary locavore menu and wondered why we had never thought of it ourselves.
A quick Google search revealed that a number of cooks had thought about such a dish. But most of the recipes we could find used either grated carrot or puréed cooked carrots and seemed designed to fool the kids into eating a vegetable. The Daily Planet version was more elegant. The carrots gave the dish a pale golden color and a subtle earthy flavor that had not been smothered in an excess of cheese.
We never got around to coming up with our own version, but this cold and snowy New England winter had us craving comfort foods. One day in our local Whole Foods, we took a look at the fresh juices and had an inspiration. Did Daily Planet substitute carrot juice for the milk while making the base bechamel sauce? It would certainly explain the fresh carrot flavor and the grown-up texture.
We gave it a try, and found the following recipe makes a good carrot mac & cheese that doesn't taste like Gerber puréed carrots.
CARROT MAC & CHEESE
Serves 2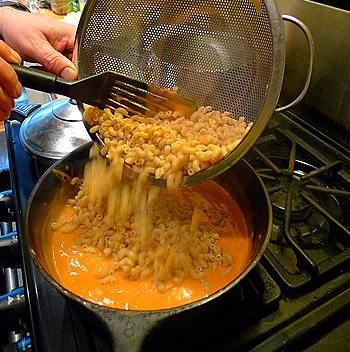 Ingredients
6 oz (1 cup) elbow macaroni
2 teaspoons butter
1/3 cup fine bread crumbs
1 1/2 tablespoons butter
1 1/2 tablespoons flour
14 oz. (1 2/3 cups) carrot juice
1/2 medium onion, finely minced
pinch of paprika
bay leaf
1 3/4 cup grated sharp cheddar cheese, divided
salt and pepper to taste
Directions
1. Set oven at 350°F. Grease deep 1-quart casserole dish. Set a large pot of water on high heat to bring to boil.
2. Cook elbow macaroni per directions until al dente.
3. While macaroni is cooking, melt 2 teaspoons butter and add to bread crumbs. Stir until crumbs are well-coated.
4. In a large saucepan, melt 1 1/2 tablespoons of butter and stir in flour until well-mixed. Whisk in carrot juice and stir in minced onion, paprika, and bay leaf. Let simmer, stirring to avoid sticking on the bottom, until bechamel thickens.
5. Stir in 1 1/4 cup grated cheese. Add salt and pepper to taste.
6. Add macaroni to cheese sauce. Place half of mixture in casserole dish and sprinkle with half of remaining cheese. Spoon remaining macaroni mix into dish, and sprinkle remaining cheese on top. Cover with toasted bread crumbs and bake until crumbs are lightly browned (about 30 minutes).