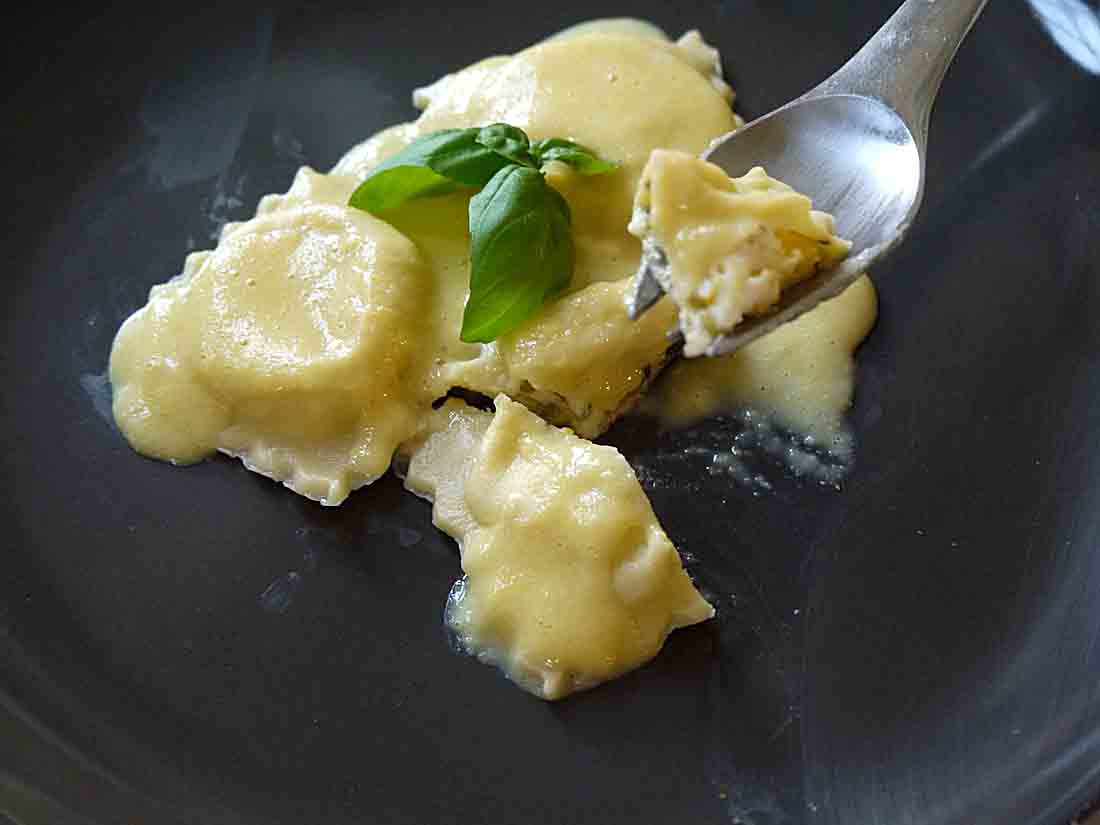 I received a shipment of truffles from the Truffle and Wine Company (truffleandwineusa.com) early this month. The truffles are spectacular, but it's not like I can tuck them away to use weeks from now. They have to be eaten quickly, which means developing a bunch of ways to use them with summer produce. For the last 10 days, Pat and I have been cooking with black truffles, repeating some favorite dishes and trying to create some new ones. We'll be posting new recipes in quick succession in case you want to order some truffles yourself before the season ends next month.
When I was working on the Robb Report story, I spoke to a number of American chefs who exulted in using the Australian black truffles with summer dishes, but few were as passionate as Craig Strong of Studio at Montage Laguna Beach, who says that the combination of sweet corn and black truffle "just explodes in your mouth." Then he told me about the corn agnolotti he served last summer….
I knew I couldn't possibly replicate the dish that Strong had made at Studio, but it wasn't too much of a stretch to follow his principles to create a home version. In this case, I stuffed the ravioli with a mix of lightly sauteed onion and fresh corn kernels, cooled and mixed with a soft but tangy goat cheese and shaved black truffle. The sauce, following Strong's concept, was a corn foam, which is easier than it sounds. In the picture, it's topped with a sprig of basil. For a good overview of making ravioli with a power mixer and a ravioli tray, see Julie Deily's demo on YouTube. The rolling process is exactly the same with a hand-cranked pasta machine, which I prefer for the additional control.
CORN RAVIOLI WITH BLACK TRUFFLES AND CORN FOAM

For pasta
190 grams flour (about 1 1/3 cups)
1/2 teaspoon salt
1 tablespoon extra virgin olive oil
2 large eggs, room temperature
For filling and sauce
6 ears corn
1 yellow onion, diced
1 tablespoon butter
2/3 cup milk
1 tablespoon cornstarch
black truffle (20 grams)
Make pasta by placing flour in a mound on the counter, and making a well in the center. Add salt and olive oil to the well, then break eggs into the well. Using a fork, mix liquids into the flour, gathering up stray bits before they get away. Knead on counter until earlobe texture, divide into thirds, and roll through pasta machine until thin enough to drape over a ravioli form. Dust lightly with flour and reserve.
Cut kernels off the cobs. Reserve one cup and add the remainder to heavy duty frying pan with onion and butter. Cook on low heat until onion is translucent and corn is tender.
Place reserved kernels in saucepan with milk and bring to a simmer. Meantime, scrape the corn cobs to "milk" them and add this essence of corn to the simmering kernels. When corn is tender, remove to blender and puree. Dissolve the cornstarch in a little water and add to the puree. Blend briefly to mix thoroughly.
Grate truffle with microplane grater and add to corn and cheese mixture. Fill ravioli forms and drape another sheet over the top. Roll with rolling pin to release a dozen square ravioli. Repeat to make three dozen ravioli in all. (Save any leftover filling for an omelet.)
Bring large pot of water to boil. Add generous amount of salt and hold at vigorous simmer while preparing the corn foam.
To make foam, strain the corn-milk-cornstarch mixture to remove excess fiber and bring to a simmer in a small, deep saucepan, stirring constantly so it doesn't stick. When the mixture has thickened, beat vigorously with an immersion blender, a whisk, or (my favorite) an old-fashioned egg beater. (The egg beater whips the most air into the mixture, creating a stable foam.)
Turn up the hot water to a vigorous boil and cook ravioli about three minutes after they float to the top.
Remove from water, drain quickly, and serve with hot corn foam.