Too bad the great French gourmand Christian Millau didn't live long enough to visit Ryan and Bev Campbell's Backhouse in Niagara-on-the-Lake (242 Mary St.; 289-272-1242; backhouse.xyz). In 1968, Millau revolutionized the way the French (and, given the era, the world) regarded haute cuisine when he announced that he had discovered "the best restaurant in the world" in the provincial town of Roanne. He might have said something similar had he discovered this grill-centric, hyper-locavore restaurant in a shopping strip at the edge of this Lake Ontario resort village.
"Best restaurant in the world" is hyperbole, of course. But the comparison to Les Frères Troisgros is more than fair. Backhouse serves brilliant food far from the metropolitan restaurant scene. Asador Etxebarri in the small village of Atxondo in Spain's Basque country might be an even closer comparison. Etxebarri's chef Bittor Arguinzoniz cooks everything with open flame and coals. So does Ryan Campbell, one of the most talented and obsessive chefs we've ever met. He uses the trimmings from local peach and cherry orchards that would otherwise be burned as slash.
Light my fire

Campbell knows the appeal of the grill, and he places the five-foot cooking box front and center in the restaurant. Diners can opt to sit at conventional tables—or line up in seats along the bar facing the fire. We chose the bar for a tasting menu. We wanted to watch Campbell work the apparatus and poke the logs while wearing his heavy leather blacksmith's apron. He is so organized and calm that his motions seemed almost meditative.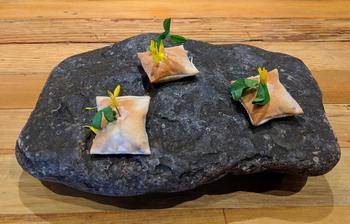 That's probably because so much of the menu is prepared ahead. Locavore cooking in a cold climate means lots of smoking, drying, pickling, and even freezing products during their seasonal glut. Most of us associate open-fire cookery with quick roasting. Not Campbell. The chickens hanging in the back of the fireplace are cooking ahead for the first step in his "bird on a wire" dish. For our opener, we ate these pastry purses filled with chicken liver mousse and tomatillo chutney. He paired the dish with barrel-fermented sparkling hard cider.
As soon as we finished this earthy combination, we found ourselves looking at a small bowl of fresh curds and whey with just a dash of maple syrup and a beautiful viola flower floating on top. The milk came from Sheldon Creek Farms, a single-herd microdairy. The combination was ethereal and a bright counterpoint to the chicken liver starter. We thought we'd caught our breath, but immediately Campbell set out a tiny ramekin of fried egg white mousse with a confit egg yolk topped with trout caviar. We couldn't help but think of the pintxos creativos of Spain's San Sebastian. In effect, the liver purses, curds and whey, and "Meg's Egg," as Campbell calls it, formed a trio of canapes that hinted at the restaurant's range.
Bread and veggies

After a short pause, another trio of dishes appeared in a sudden flurry. Campbell treats his sourdough breads with house-cultured butter as a course unto itself, as well he should. His sourdough starter, affectionately known as "Roxane," has been with him for years. The bread and butter clean the palate for the intense vegetable dishes that follow.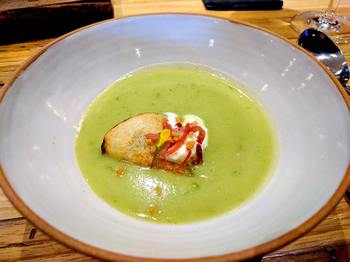 The first was a wild leek and potato soup, thick and green, served with a sourdough brioche toast float, a dab of crème fraiche, and thin matchsticks of homemade prosciutto. (Campbell buys only whole animals and does his own butchering. Nothing goes to waste.) Since local asparagus was still in season, he completed the trio with a plate of wood-roasted Niagara asparagus, a smear of black garlic aioli and another smear of garlic mustard. (He makes his own condiments, of course.)
The meat of the matter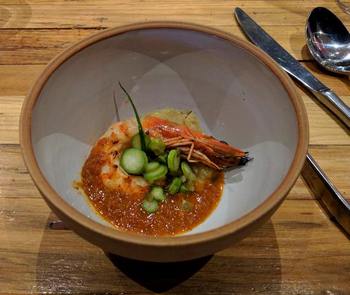 Without getting too precious about it, Campbell treats animal proteins with an almost religious regard for the creatures. He said it took him two years to rise to the top of the wait list to be allowed to buy First Ontario farmed shrimp. The farm only produces about 300 pounds per week, and Campbell gives each Pacific white shrimp a place of honor atop local grits in this small bowl.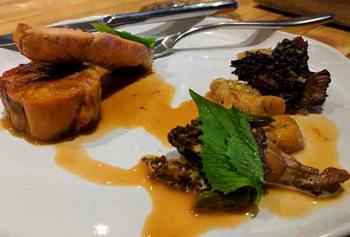 Our tasting menu moved on to a variation of the "bird on a wire" dish—so called because Campbell slow roasts heritage chickens strung on a wire in the back of a firebox. He then picks the meat and presses the smoky flesh into a tubular sausage. Thick slices are quickly grilled over the open fire before he plates them with a chicken leg, wood-roasted locally foraged wild mushrooms, and homemade gnocchi. The dish might be the apotheosis of poultry. The glass of Gamay Noir from a local virtual winery (13th Street) didn't hurt either.
Desserts at Backhouse are seasonally inspired. We were dining in late spring, and maple was Campbell's inspiration. (We never asked if he uses sugar, but we suspect that maple is his sweetener of choice because it's local.) He presented a sweet potato custard, a melt-in-the-mouth shortbread, and a crumbly spice cake—all scented and sweetened with maple. Alas, we were too sated to try the plate of Ontario cheeses.
—
For an overview of attractions, restaurants, and lodging on the Niagara Peninsula, see Visit Niagara (visitniagaracanada.com).