I don't know what Paul McCartney, Mick Jagger, Sting, or Eric Clapton liked to eat when they came to relax and record on Montserrat. But George Martin was particularly fond of a good pork tenderloin with creamy mushroom sauce.
In the late 1970s, Martin was seduced by the unspoiled beauty and tranquil pace of life on the tiny Caribbean island. He opened AIR Studio in 1979, and for about a decade a steady stream of the top names in the music business came here to record with the producer extraordinaire. Almost 80 albums were created on Montserrat before AIR closed in 1989 after the destruction of Hurricane Hugo.
But Olveston House, Martin's breezy and unpretentious island retreat, remains. Martin and his family would enjoy the property for several months a year. Although Martin died back in early March, the walls covered with silver, gold, and platinum records and framed photos by Linda McCartney seem to conjure his presence at every turn. When the Martins are not in residence, Olveston House operates as a six-bedroom guest house and restaurant. The menu features homey British style dishes such as the pork tenderloin alongside somewhat spicier island fare including garlic shrimp, another Martin favorite.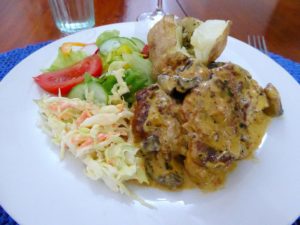 When I asked Margaret Wilson, who was overseeing the dining room, for the recipe for the pork tenderloin she told me that Martin's grandson, also named George, likes it so much that he had the cook show him how to make it so that he could prepare it at home.
"It's really very simple," she said—and she's right. Here is the recipe exactly as she gave it to me:
"Slice the pork tenderloin into 3/4 inch to 1 inch slices, press them into a mixture of flour, paprika, salt, and black pepper. We always make a pot of garlic, herbs, and butter which we use to fry everything in. So we sear the meat on both sides in the garlic butter and add some sliced mushrooms. When the mushrooms look cooked, add a good slosh of white wine. When the flames die down add some heavy cream and simmer till the sauce thickens. This does not take long, be careful not to overcook the pork.
Serve immediately."
And be sure to listen to the Beatles while you cook and enjoy the dish.