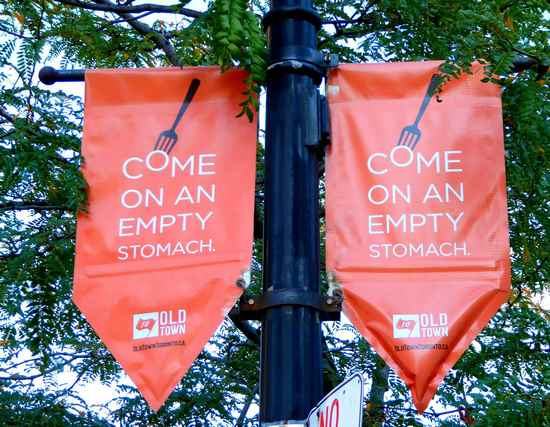 Toronto is like the grandmother who always wants to feed you. In fact, banners hanging from Old Town light poles actually exhort visitors to bring their appetites. After a whirlwind visit to Canada's biggest city just before Canadian Thanksgiving, we have to conclude that Toronto is a good place to "come on an empty stomach." Torontonians have cultivated a sophisticated contemporary gastronomic scene that draws on foodways from all over Europe and Asia. Great little ethnic restaurants dot the streets of the neighborhoods. At the same time, many of the best restaurants feature market-driven contemporary cuisine that showcases the best products from Canadian farms and orchards.
Historic market continues to thrive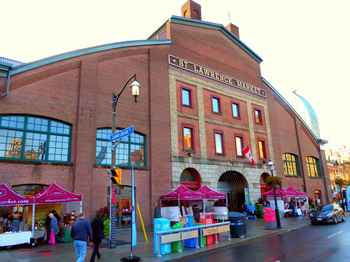 Toronto has had a permanent central food market since 1830—four years before the town was even called Toronto. Today's St. Lawrence Market was built around Old City Hall and opened in 1902. The facade of Old City Hall is still visible inside the market, and the former offices were converted into meeting and display space in the 1970s.
The bustling food market, with its main entrance on Front Street at the corner of Jarvis, continues to flourish. The busiest day is Saturday, when both the main market and the adjacent farmers' market open at 5 a.m. Closed on Sunday and Monday, St. Lawrence Market opens at 8 a.m. Tuesday through Friday, and closes late in the afternoon. (For full details on hours and special events, see www.stlawrencemarket.com.)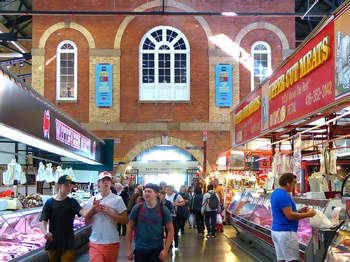 We always like to check out fresh food markets wherever we visit. It tells us volumes about local specialties and about what might be in season. We visited on our first afternoon in town to get a preview of what might be on the menus during our stay. A quick perusal of the butcher stalls suggests that Torontonians are keen on "tomahawk" steaks (a very large ribeye), filet mignon wrapped in bacon (on sale at six for $35), racks of Ontario beef back ribs, Ontario lamb, and (of course) peameal bacon. (More about that in the next post.)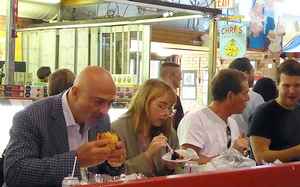 The produce aisles had plenty of exotic vegetables from South America, California, and Asia. But even in October, Ontario growers were still harvesting strawberries and currants along with seasonal apples. Bakeries also abound in the market, and some of them make sandwiches. Many shoppers were also diners, sitting on stools at narrow shelves to enjoy their meals. Some take their food outdoors to the picnic tables outside the market's lower level.
Farmers' market dominates Saturday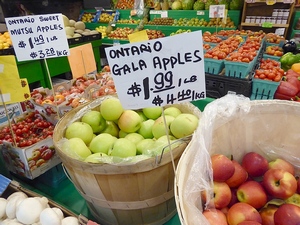 Nothing beats the Saturday farmers' market for getting a reading on local products. With the old North Market building torn down and the site under construction, a voluminous white tent south of St. Lawrence Market on Esplanade houses the farmers' market. When the weather cooperates, many vendors set up on surrounding sidewalks, and fall offerings included big bouquets of flowers and heaps of pumpkins, squashes, and gourds. Growers come to the market from a considerable distance. Shop for chicken or duck eggs, and you'll likely buy from a woman wearing the long print dress and simple lace bonnet associated with some of the Mennonite and Amish sects.