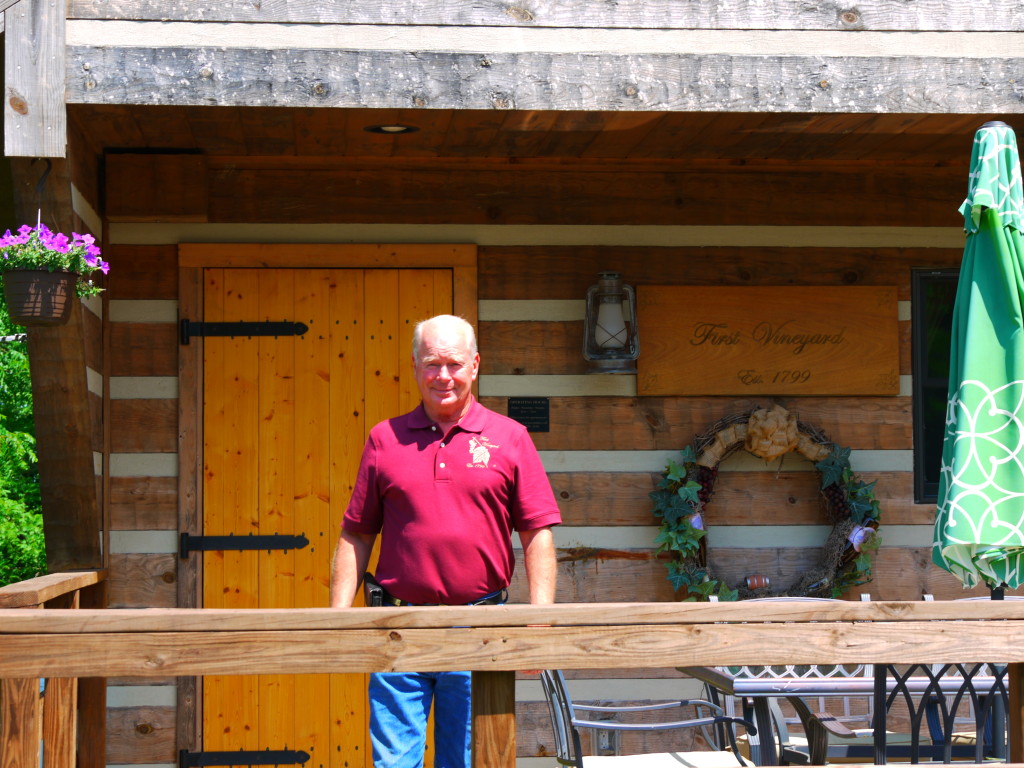 The first libations that come to mind in north-central Kentucky are likely to be bourbon, and, if you're a craft brew fan, beer. But the first commercial winery licensed in the Midwest and adjacent South was actually in Jessamine County, Kentucky in 1799. (Franciscans, of course, were making wine in the missions along the Rio Grande and in California a century and a half earlier.) The current owner of the land, Tom Beall, has rescued that tidbit of history by resuming production at First Vineyard (5800 Sugar Creek Pike, Nicholasville, Kentucky; 859-885-9359; www.firstvineyard.net).
John James Dufour hailed from a wine-making family in the French-speaking part of Switzerland. In the 1790s, he purchased a piece on land on the Great Bend in the Kentucky River that had been first surveyed by Daniel Boone in 1783. Dufour published his business plan for a vineyard in the Kentucky Gazette in 1798. A year later, he was licensed as a winery and planted his terraces above the river.
Dufour managed to produce a few small vintages, but a killing freeze in 1809 put his Kentucky property out of business. He and some relatives launched Second Vineyard in Vevray, Indiana, which became America's first successful commercial winery. Dufour's book, The American Vine-Dressers Guide, Being a Treatise on the Cultivation of the Vine, and the Process of Wine-Making, Adapted to the Soil and Climate of the United States, published in 1826, was the bible for aspiring wine-makers throughout the middle of the country.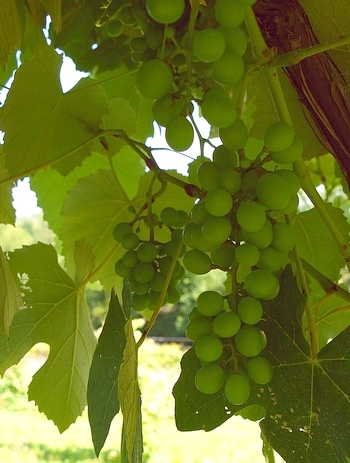 There are a slew of details to the story, and some very handsome, if steeply terraced land to look at if you visit First Vineyard, where Tom Beall (above, on the tasting room porch) is again producing wine on Dufour's site, mostly from French-American hybrid grapes and native fruits. The wines are actually crafted on contract by another Kentucky winery using First Vineyard's fruit.
In researching the history, Beall discovered that Dufour's main grape was probably the Alexander, not the Cape of Good Hope that he thought he was planting. The Alexander was named for James Alexander, who discovered it growing in William Penn's vineyard as an accidental hybrid between a North American native labrusca and a European vinifera wine grape. Alexander became popular in 19th century vineyards but most scholars had thought the variety lost. Beall, however, tracked some vines down to a USDA depository in the Finger Lakes. Starting from 40 cuttings in 2008, he has planted it extensively. It is a very vigorous grower and producer of fruit, but the vines are just beginning to mature so the taste test is still a few years away.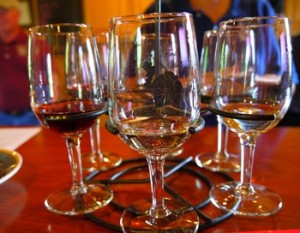 Meantime, Beall offers tastes of three wines for $3 in the picturesque log cabin tasting room. The most striking of the whites, made from American Diamond, has a brisk fruitiness,. The best of his reds is Chambourcin, a 19th century French hybrid of uncertain parentage. The nose has a distinct note of wild cherry and the aftertaste is lightly but pleasantly bitter with a bit of smokiness. It's a pretty good wine with barbecue.
The tasting room is generally open 1-7 p.m., Friday-Sunday, but call first to make sure. The winery is less than 30 miles south of Lexington, but the rural road can be tricky in bad weather.