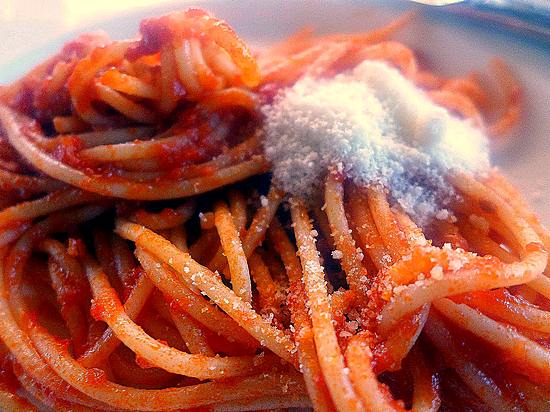 Pomodorina is tomato sauce rethought, and it's my most unexpected find on a recent research trip to Modena. We've already written about "What to buy in an Italian grocery store," but here's a product I'd definitely add.
Pomodorina has been the best-selling product of one of Italy's best food factories, Menù, since it was introduced in 1967. It's made only during the roughly six-week tomato harvest season and combines freshly harvested and cooked tomatoes with celery, carrots, onions, fresh basil, and some olive oil. Menù sells it as a base ingredient for sauces, but I discovered that some restaurants consider it good enough to sauce pasta on its own. That's spaghetti sauced with Pomodorina above, and it was delicious.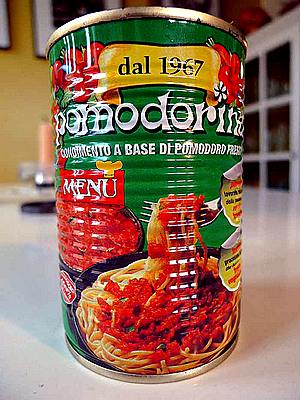 Menù (http://en.menu.it/) is based in Medollo near Modena and launched as a salami factory in 1932. In 1941, the company branched out to make a ragù meat sauce and moved into a variety of ready-to-eat foods for the catering industry by the mid-1950s. Today it sells more than 450 items from its catalog to more than 30,000 customers that range from small catering companies and restaurants to large institutions like school systems, corporate cafeterias, and restaurant chains. Pomodorina is shipped to the U.S. for the food trade but not for retail sale. But in Italy, home cooks can have it too. You'll find Pomodorina on the shelves of supermarkets, sometimes in the can (pictured here) and sometimes in a glass jar holding 750 milliliters, or about 28 fluid ounces.
I brought home a can and one night when we were in a hurry for dinner, I heated up the contents with absolutely no additions, tossed in some freshly cooked pasta, and served (as above) with grated Parmigiano Reggiano cheese. It was good enough that I'd serve it to company.