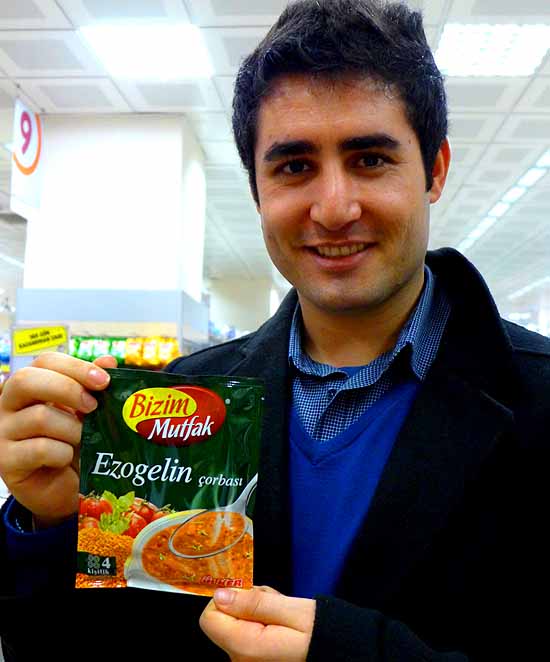 When we were in Istanbul last week, we were surprised to discover that it's common for unmarried men and women to live with their families well into their 30s. So when we asked our first guide, who is 30-something, what to buy in a grocery store, he was utterly clueless. His mother does all the cooking, and apparently all the shopping too. He's not even sure what's in her recipes.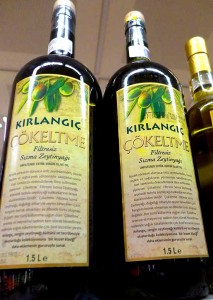 But our second guide proved a more modern young Turk. Yusuf Kilig works in Istanbul, far from his family's village in the south, and shares a flat with roommates. He knows his way around the kitchen, and the supermarket aisles as well. Yusuf had also worked for a few months at Walt Disney World in Orlando, and remembered vividly the foods he couldn't find at the local Publix. So off we went to Migros, where we discovered that vivid packaging helped ameliorate our inability to read Turkish.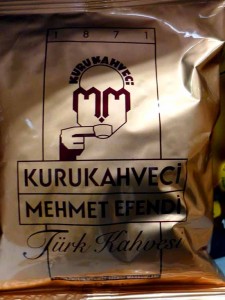 Because he grew up in an olive oil producing region, Yusuf is particularly knowledgeable (or at least opinionated) about which oils are best. He recommends the Kirangic Çökeltme extra-virgin oil as Turkey's finest. And he has strong feelings about the best Turkish coffee (Kurukahveci Mehmet Efendi).
Although he cooks a lot of simple meals from scratch, Yusuf is a big proponent of dried soups and spice mixes for dips. The classic red lentil soup of Turkey (ezogelin çorbasi) is widely available as a dried mix in pouches, and the spices to make a tomato dip (domates çeşnisi) or a yogurt dip (yoğurt çeşnisi) speed the process of getting an assortment of mezes on the table. They're often found together with the vast array of dried soup mixes, many of them made by the Turkish branch of the Swiss firm Knorr. One of our favorites proved to be manti soup – a yogurt broth with tiny pieces of pasta wrapping bits of ground lamb and mint. Yusuf, though, is partial to tarhana soup – an ancient dish made from a mixture of yogurt, cracked wheat, and vegetables that have been fermented together, then dried. Cooks all over Turkey rehydrate it and chop some red peppers on top to make soup.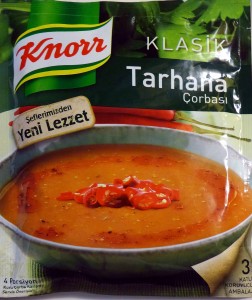 "It's what your mother makes for you when you're sick," says Yusuf.