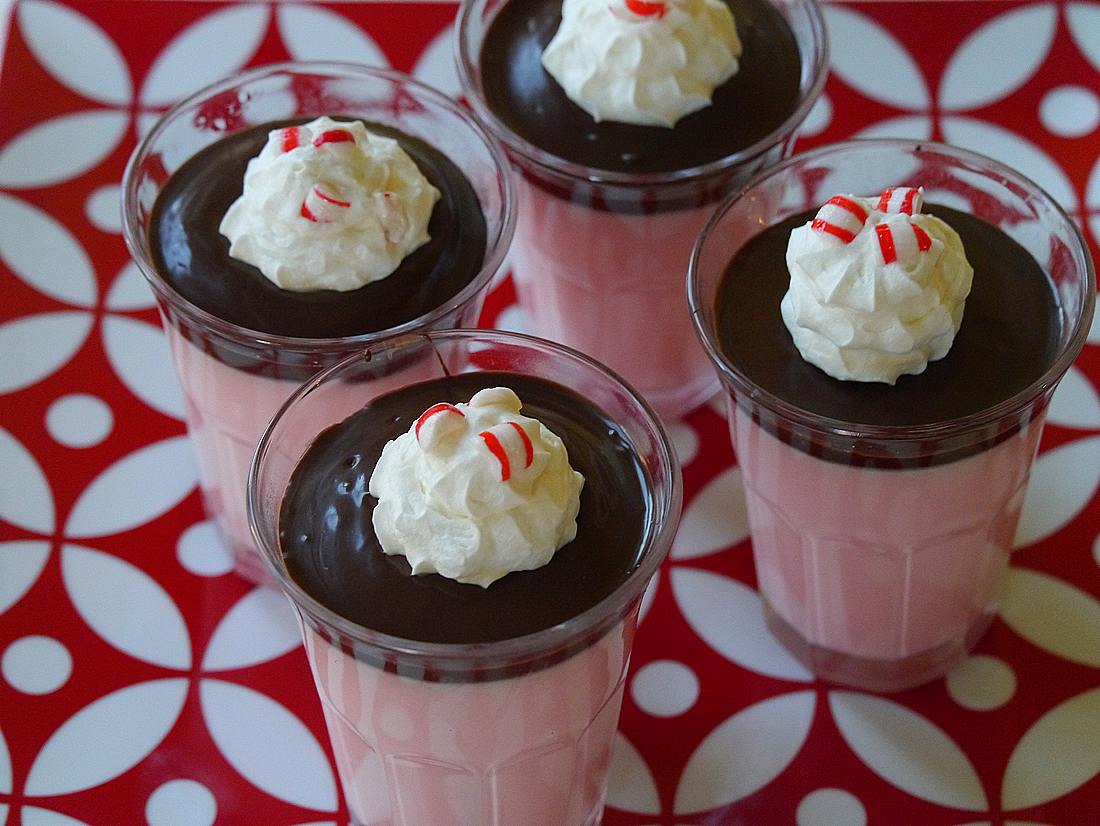 As I mentioned in the last post, Broussard's served a dynamite version of panna cotta tweaked for the holiday season. Not only was it an intense pink and redolent of peppermint, it also had a luscious chocolate topping. While my homemade attempt doesn't indulge in some stray raspberries as a garnish, it does boast that winning combination of peppermint and chocolate.
Many restaurant chefs offer panna cotta as a dessert option because making it doesn't require a pastry chef's skill set. In fact, it is about as easy as making Jell-O. Still, it's rich and satisfying and can be made to look fabulous. This recipe is a simple adaptation of the restaurant classic, but scaled down to dinner-party volume. To make it even easier, the chocolate layer is a commercial ganache in a jar. It's just the right texture.
PEPPERMINT PANNA COTTA
serves 6
Ingredients
2 cups heavy cream
3/8 cup (75 grams) granulated sugar
1 1/2 teaspoons gelatin
1 teaspoon peppermint extract
1/2 teaspoon vanilla extract
6-8 drops red food coloring
Hershey's Spreads chocolate
whipped cream
crushed Starlight mints or candy canes for garnish
Directions
Pour the cream into a saucepan and sprinkle the gelatin on top of the cream. Let it dissolve on the surface for at least 10 minutes.
Move pan to burner over medium heat. Begin stirring with a small whisk. When cream is warm, add the sugar and the two extracts. Continue stirring until the lumpy gelatin is completely dissolved and cream is smooth. Stir in food coloring and stir to distribute evenly. At no time should the mixture boil.
Remove pan from heat and pour warm cream into six juice glasses or clear tulip cups. Cover each with plastic wrap and refrigerate six hours to overnight to fully set the panna cotta.
Warm the Hershey's Spreads chocolate in a pan to liquefy. Pour a thin layer atop each glass of panna cotta and refrigerate until ready to serve.
Top each serving with a dollop of whipped cream and garnish with crushed peppermint candy.