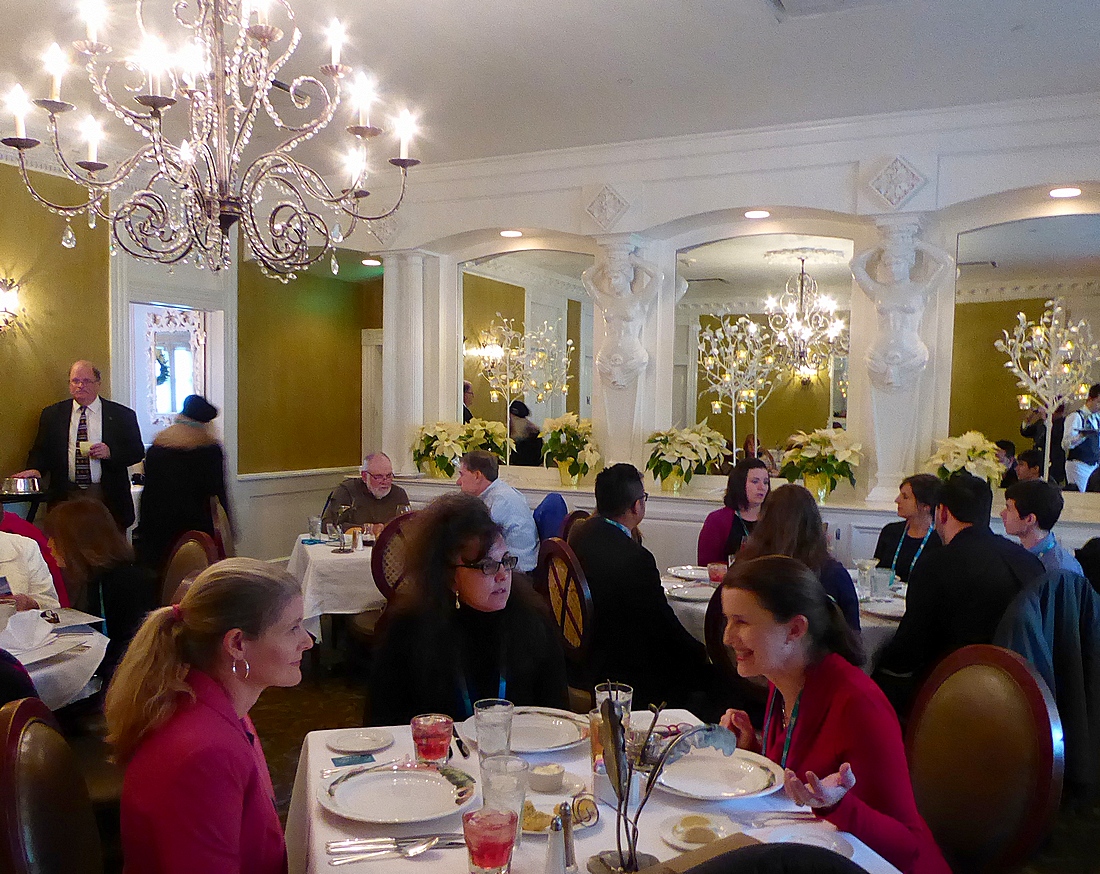 Enjoying a leisurely four-course Reveillon dinner (see previous post) is probably the best way to revel in the holiday spirit in New Orleans. But a fine meal is by no means limited to dinner—or to the historic French Quarter.
For office parties and ladies who lunch, many restaurants also offer midday holiday menus. Among them is Commander's Palace (1403 Washington Ave., 504-899-8221, commanderspalace.com). This dining institution is housed in a bright blue building in the Garden District, where American interlopers shunned by French Creole society built their own grand mansions in the 19th century. The St. Charles streetcar carries passengers from the edge of the French Quarter to the Garden District in trolleys decked with garlands.
Emile Commander opened Commander's Palace in the 1880s. It was already a landmark when the Brennan family acquired it in 1969. In truth, it's nearly impossible not to eat in a Brennan restaurant in New Orleans. The extended family has bred great restaurateurs the way the Bourbon family bred kings and queens. I'll admit, though, that trying to decipher the family tree and follow the twists and turns of family disagreements could give anyone dyspepsia.
"This is a holiday lunch at Commander's Palace," the maitre d' told me as he led me through a maze of dining rooms. "We can't guarantee what's going to happen."
Dining at a grande dame
Actually, they can guarantee a fine meal, which should start with a glass of Commander's Palace Cuvée Brut Blanc de Noir. It's made for the restaurant by Iron Horse Vineyard, a sparkling wine specialist in Sonoma's Green Valley. The Christmas Celebration lunch starts with turtle soup, followed by Sugarcane Lacquered South Texas Quail. I opted instead for the soup of the day. I figured that roasted pumpkin soup with whiskey and toasted pumpkin seeds seemed like a pot I could try to recreate back home in New England.
Some of New Orleans' most famous chefs have honed their skills in Commander's kitchen. Paul Prudhomme and Emeril Lagasse both served as executive chef during the 1970s and 1980s. Prudhomme created the Creole Bread Pudding Souffle that remains the restaurant's signature dessert (available à la carte or with the Christmas Celebration Lunch). For a dramatic end, it's finished tableside with warm whiskey cream.
ROASTED PUMPKIN WHISKEY SOUP
This isn't the restaurant's recipe, but it tastes very much the same. Any of the winter squashes can be substituted for pumpkin, though a nice sugar pie pumpkin makes a sweet, rich soup. Butternut squash also works well, and tends to be available all winter. I've given the directions here to make your own roasted pumpkin seeds, but snack jar pepitas are a lot less trouble.
Serves 8 as a soup course
Ingredients
3 pound pumpkin or butternut squash
3 tablespoons olive oil
sea salt
1/4 pound butter (1 stick)
2 leeks, washed, trimmed, and sliced into thin rounds
1 onion, roughly chopped
8 cups chicken stock
2 tablespoons whiskey
1 cup buttermilk
black pepper to taste
2 tablespoons minced parsley
Directions
Set oven at 375°F.
Trim off the stem and base of the squash or pumpkin. Cut top to bottom into six pieces. Remove seeds and reserve. Paint the flesh with olive oil and place on a roasting pan. Roast in oven 15-20 minutes or until flesh is tender and beginning to brown. Remove from oven and set aside. Turn oven down to 300°F.
To prepare pumpkin seeds, rinse thoroughly to remove all pulp, then place in pan with water to cover. Bring to boil and simmer for 10 minutes. Drain well and pat dry. Toss with remaining olive oil and spread in single layer on a baking sheet. Salt generously. Roast in about 45 minutes until crisp and brown. Reserve.
In large soup pot, melt half the butter. Add leeks and onion and sprinkle with pinch of salt. Cover pot and sweat leeks and onion over low heat about 20 minutes. Add a little water if needed to keep them from sticking to pan.
Scoop roasted pumpkin flesh away from skin and add to leeks and onion. Pour in the stock, season and bring to a boil. Simmer for 15 minutes, then let the soup cool. Add whiskey, buttermilk, and remaining butter and stir to dissolve. Purée in a blender and adjust seasoning with salt and black pepper. Reheat for serving.
Serve sprinkled with a few roasted pumpkin seeds and minced parsley.