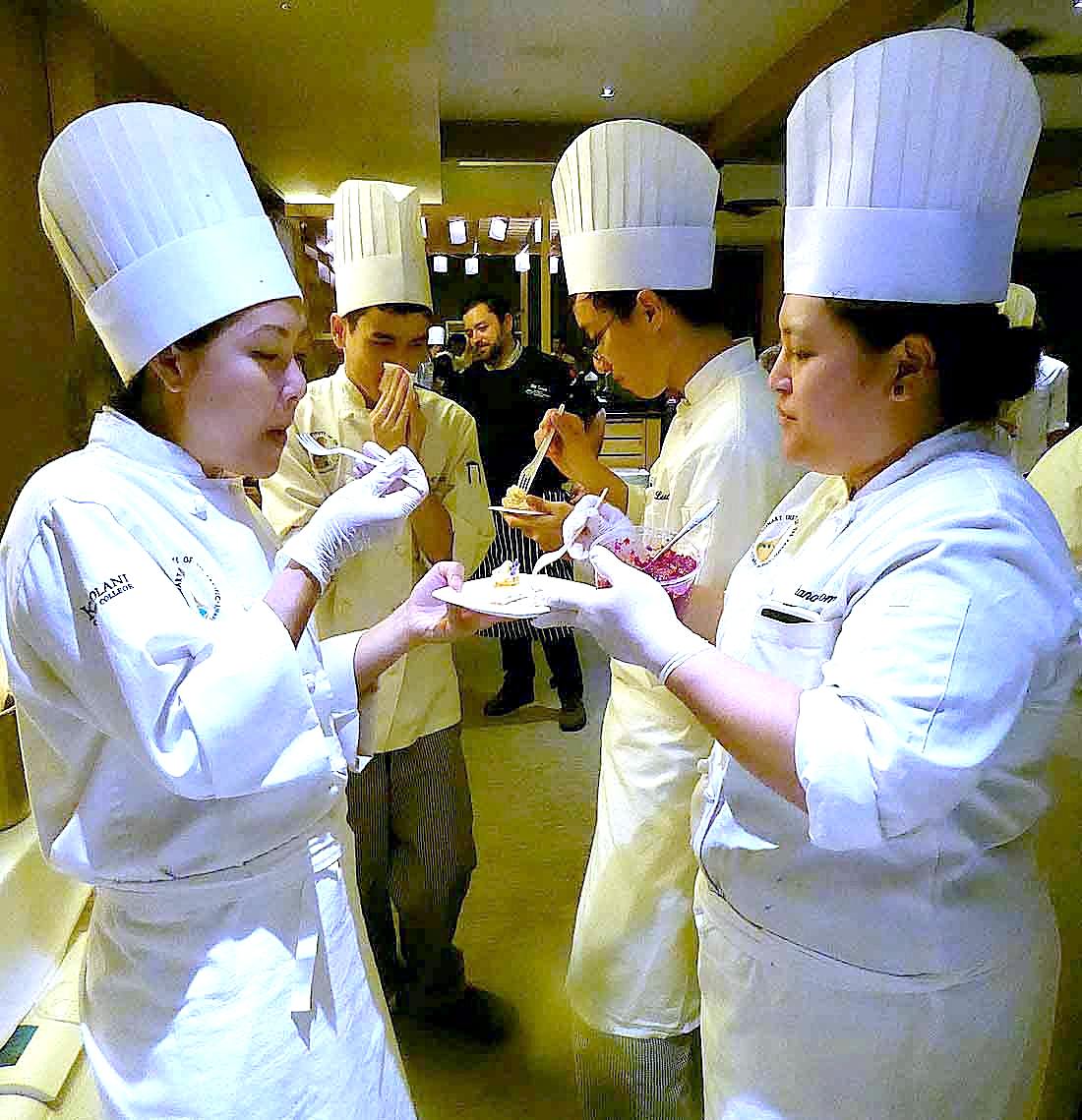 Of all the culinary students assisting guest chefs at the Chopstix & Cocktails event of the Hawaii Food & Wine Festival, those assigned to Bill Corbett certainly seemed to be having the most fun sampling dishes from the different tables (above).
The whimsy wasn't lost on guest chef Corbett himself. Named one of the Top 10 Pastry Chefs in America by Dessert Professional Magazine in 2013, Corbett is currently executive pastry chef for the Absinthe Group of restaurants in San Francisco. He turned a savory dish into a sweet by creating a Beet Cake with Fromage Blanc Frosting.
"It's kind of a joke," he told me. "At one time everyone in the Bay Area had the same beet salad on the menu: beets, goat cheese, walnuts, maybe fennel or citrus. So I figured why shouldn't the same thing be on the dessert menu."
Cut into small squares, Corbett's cake was better suited to fingers than chopsticks. With its rich red color, it would be a good addition to a holiday dinner. Note that the cake can be made ahead and frozen, which will help cut down on last-minute party preparations. Instead of fromage blanc, Corbett used a local goat cheese produced by Big Island Goat Dairy.
BEET CAKE WITH FROMAGE BLANC FROSTING
Chef Corbett notes that soft goat cheese works well as a substitute for fromage blanc, which can be harder to find.

For the cake
2 large eggs
2 3/4 cups sugar
1 1/4 cups olive oil
1 tablespoon vanilla extract
2 1/4 cups cake flour
1/2 tablespoon baking soda
1 teaspoon salt
2 1/4 cups beets, grated and squeezed of excess liquid
Preheat oven to 325°F. In a stand mixer fitted with a whisk attachment, whip eggs and sugar on medium speed to full volume. Drizzle in oil and vanilla while continuing to whisk.
Sift all of the dry ingredients, then add in three stages to the egg mixture. Once emulsified, fold in the beets. Split cake batter between two 12×18 (half sheet) pans lined with parchment paper.
Bake until cake springs back to the touch and slightly pulls away from the sides (about 1 hour). When almost fully cooled, wrap and freeze.

For the frosting
1 cup cream cheese, room temperature
2 1/2 cups confectioner's sugar
1 cup butter, soft
1 cup fromage blanc or goat cheese, room temperature
1 cup walnuts, toasted and chopped as garnish
In a mixer fitted with a paddle attachment, slowly mix cream cheese and half of the sugar until completely smooth. Add the butter and remaining sugar and continue mixing until smooth again. Pass fromage blanc through a wire strainer. (Goat cheese does not need straining.) Add fromage blanc or goat cheese to cream cheese/butter mixture and incorporate until smooth.
To assemble
Remove parchment from cakes while frozen. Cut each cake into two equally sized squares and place back in freezer.
Spread 1 1/2 cups of frosting evenly on each layer of cake, stacking as you go. Use an offset spatula dipped in hot water to smooth out each layer.
Spread a very thin layer of frosting on the cake to hold in crumbs and refrigerate until firm. Then frost the cake more thickly to finish and garnish with toasted walnuts. Cut cake into small squares with a clean knife dipped in hot water.