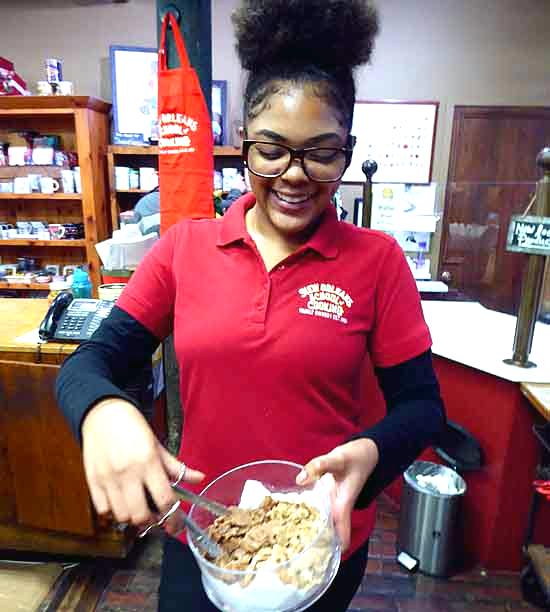 The New Orleans School of Cooking (524 St. Louis Street, 504-525-2665, www.nosoc.com) is located in an early 19th century molasses warehouse in the French Quarter. Every day of the week, its hands-on and demonstration classes introduce folks to the fine points of such Louisiana classics as jambalaya, shrimp remoulade, pralines, and bread pudding.
Its Louisiana General Store, located in the same building, is also the most convenient place to peruse a carefully curated selection of food products essential to Creole and Cajun cooking. The shelves are packed with the products preferred by—and in some cases developed by—the school's instructors.
I stopped in one afternoon and soon found myself engaged in conversation with staff member Cierra Briscoe (above). She is equally fascinated with food and fashion and will soon be studying fashion design in Los Angeles. She knew she would miss her native cuisine.
I asked Briscoe to recommend a half dozen products for my home kitchen. I suspect that she will also tuck them into her suitcase when she heads to LA. Here is her carefully considered list:

Big Kevin's Bayou Blend
This spice mixture is neither too hot nor too salty. It was created by Kevin Belton, a long-time instructor at the New Orleans School of Cooking. Briscoe likes to use it to season chicken and fish.
Cajun Trinity
The mix of green pepper, onion, and celery forms the base notes of Cajun cuisine. This is a quick way to add the essential flavor to soups, gumbos, and red beans and rice.
Cajun Power Garlic Sauce
It may not be part of the "trinity," but Briscoe uses this garlic sauce like a hot sauce. It adds extra flavor to her gumbos and her red beans and rice.

Gumbo Filé
One of the ways to thicken gumbo is to add this blend of dried and ground leaves from the sassafras tree.
Crystal Hot Sauce
Tabasco Sauce, created to liven up cuisine after the Civil War, is Louisiana's most famous hot sauce. Crystal Hot Sauce is a relative newcomer—introduced in 1923. Many New Orleanians, including Briscoe, prefer Crystal's milder, brighter flavor. "I use it on everything," Briscoe says.
New Orleans School of Cooking Vanilla Bean Blend
This is the school's proprietary vanilla. They use it to make pralines like the samples that Briscoe is handing out in the photo at the top of the post. The recipe is on the back of the bottle.