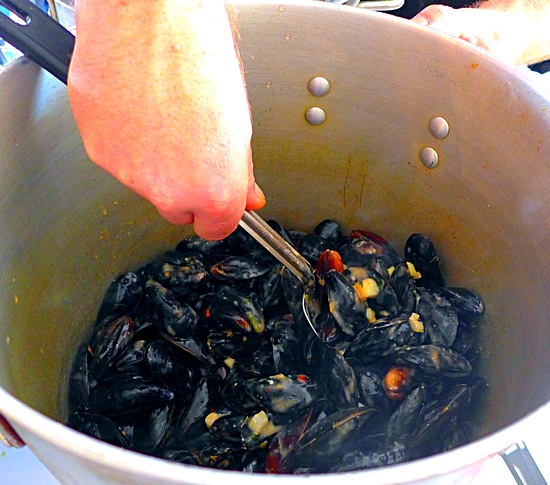 As a native Belgian and as the man who launched mussel aquaculture on Prince Edward
Island (see post), Joel Van Den Bremt has eaten his share of mussels over the years. When I asked him how he preferred to cook them, he thought a bit and told me, "steamed, but with the vegetables soft enough to eat. I like the vegetables, too." I agree with him. Some diners will pass the mussels to someone else at the table and just concentrate on the mussel-flavored broth. I prefer the three-bowl plan: one for the mussels, one of the spent shells, and a third for broth and vegetables. Although you can steam mussels in a dry pan, relying on their own juices, many people add raw vegetables to the pot. But by the time the mussels are cooked, the vegetables are neither cooked nor raw. If you keep cooking to finish the vegetables, the mussels will come out vulcanized. Joel's solution is to sauté the veggies first.
MUSSELS A LA JOEL
Serves 4 as an appetizer
Ingredients
1/4 lb butter, cut into pieces
6 shallots, minced
2 stalks celery, cut in 1/2-inch dice
1 large carrot (2-3 salad carrots), cut in 1/2-inch dice
2 cups white wine
5 lb. (about 3 quarts) live blue mussels
Directions
In large stockpot over medium heat, melt butter, and add shallots, celery, and carrots. Stir steadily and cook until vegetables begin to soften.
Add wine and mussels. Bring to a boil and cover pot. Steam for about 5 minutes, or until all the mussels have opened their shells.
Remove mussels to four bowls using slotted spoon. Ladle broth and vegetables into four smaller bowls.