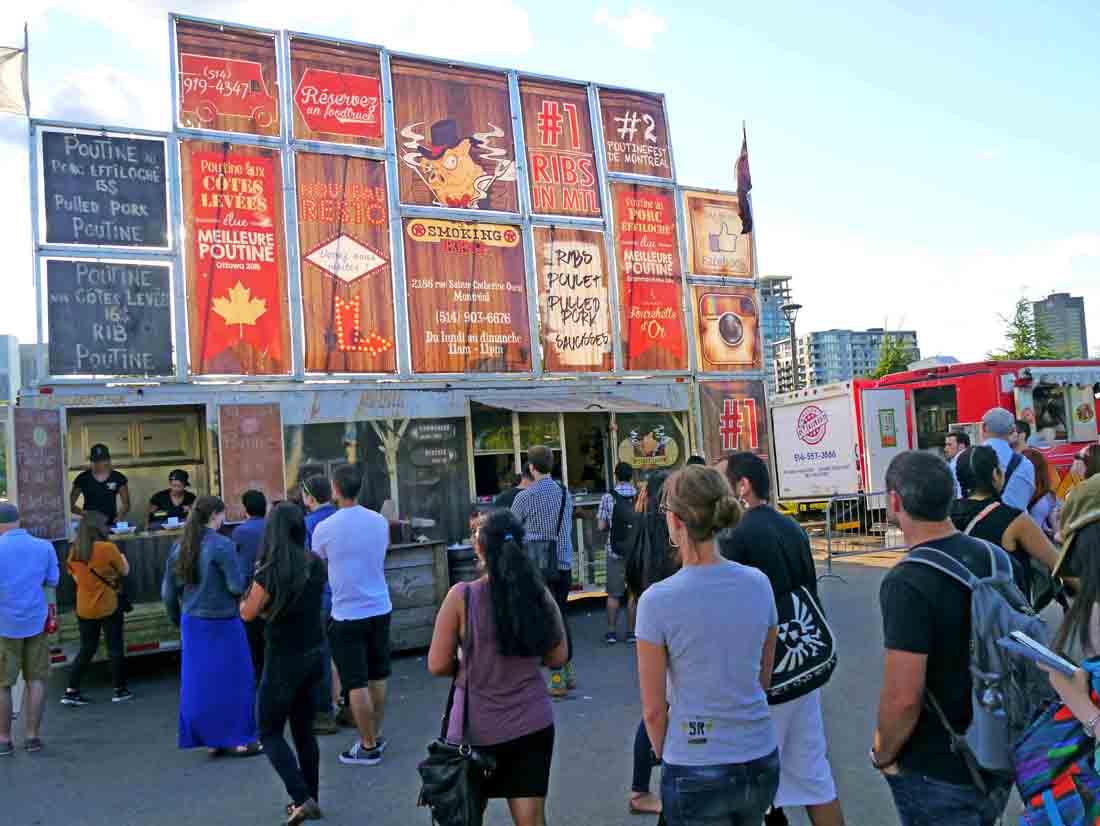 Certain foods seem destined to go together. Bacon and eggs. Peanut butter and jelly. Shrimp and grits. If you are Québecois, the gastronomic holy trinity is French fries, cheese curds, and gravy. The dish is called poutine (pronounced poo-TEEN). Roger Hubert says it has become "the meal" in Quebec. That's why he and his son Greg, proprietor of the Montreal restaurant Le Smoking BBQ, launched the first Poutinefest at Montreal's Old Port in fall 2015. It was such a success that they pulled out all the stops for an even splashier version at the end of June 2016. Featuring 18 food trucks with a panoply of poutine variations, the festival took place for three days on the Quai de l'Horloge (Clocktower Quay). Admission was free, but each truck set its own price for poutine.
The dish of French fries laced with fresh cheese curds and doused in brown gravy is the ultimate comfort food. Many Québecers swear by its curative properties when consumed after a long night of imbibing alcoholic beverages. (One poutine restaurant in Montreal stays open all night on weekends.)
The elemental poutine formula creates a mild, slightly salty dish with the squish of gravy-soaked fries and the tooth-squeak of fresh cheese curd. Poutine is so ubiquitous in Quebec (and beyond) that you'd think it had been around forever. But poutine was first served in a restaurant in Warwick in 1957. From that small town halfway between Montreal and Quebec City, it migrated to the provincial capital. The Ashton frites food truck in Québec City, which started serving poutine to the masses in 1972, popularized the dish. Since then, Chez Ashton has morphed into a province-wide chain of fast-food shops.
Poutine, the next generation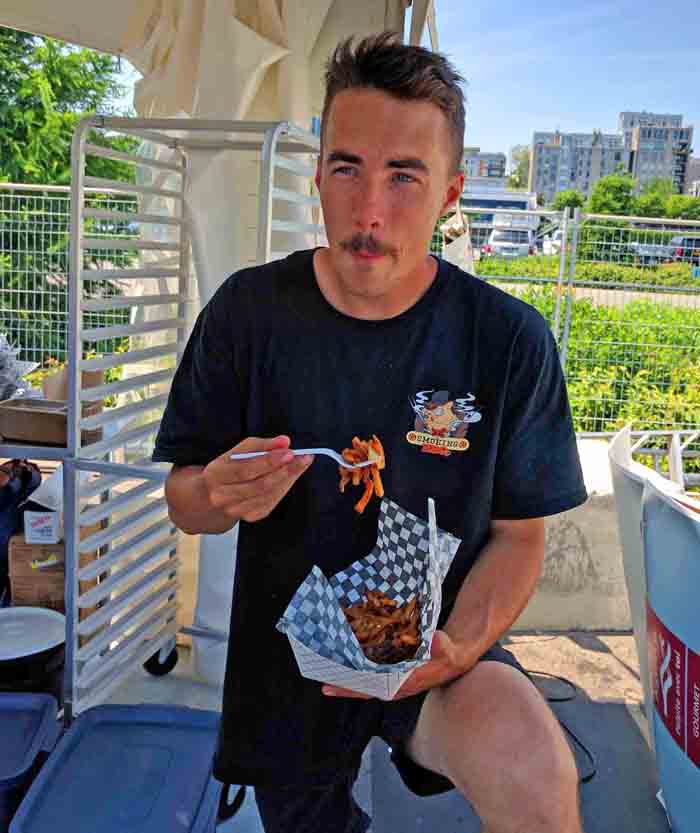 Whatever its rustic roots, we believe that poutine reached its apotheosis in Montreal when chefs with a nouveau bistro bent began adding such toppings as braised lamb shanks, confit duck leg, salmon roe, and even foie gras. A novelty at first, some restaurants now even feature a poutine of the day.
"People make crazy poutine," says Greg Hubert (left). "But everything done on the poutine is usually good."
The Poutinefest has returned poutine to its food truck roots. Greg offers four variations of barbecue poutine at Le Smoking BBQ (2186 Ste-Catherine West, Montreal, 514-903-6676, lesmokingbbq.com). His truck kept things simple and served just two at Poutinefest. His base poutine to which barbecued meats are added has a savory house gravy created from roasted meat and bone brown stock. For the barbecued beef short ribs version, he adds a house-made barbecue sauce on top.
Le Smoking BBQ truck's biggest seller at the festival, however, was the pulled pork poutine, as shown here. Underneath all that chopped and pulled pork in a sweet-sour barbecue sauce are the requisite fries, brown gravy, and squeaky cheese curds. The poutine base was delicious and mild, and made a great launching pad for the tangy pulled pork.
In truth, we could have stopped there. But in the spirit of investigative gastronomic journalism, we spent three days tasting our way through the truck offerings. Over the next few posts, we'll cover some of the most original. For updates on the 2017 festival, check the web site.