Montgomery, Alabama, likes to call itself the place where both the Civil War and the Civil Rights Movement started. But this historic city also looks forward as well as back. The handsome warehouses and other buildings along the riverfront have been spruced up as the Downtown Entertainment District. Central restaurant (129 Coosa St., 334-517-1121, www.central129coosa.com) epitomizes the style: It occupies an 1890s warehouse with high ceilings and warm, exposed-brick walls. An open kitchen brings the space to life as cooks execute the refined comfort food of tattooed and bearded executive chef Leonardo Maurelli III. Originally from Panama, Maurelli is a big proponent of Southern cuisine—as long as he can add his own innovations.
He has created a sophisticated twist on chicken and dumplings, substituting toothy potato gnocchi for the usually doughy dumplings and tossing the gnocchi with wood-roasted chicken, peas, carrots, and celery in an herbed veloute.
Chef Maurelli shared the recipe sized by single portions, and I've adapted it to make two servings.  The chicken, which is roasted with indirect heat from a wood fire, is brined for 24 hours in a standard brine (3 tablespoons kosher or sea salt, 2 tablespoons granulated white sugar, 6 cups of water). Maurelli removes the bird from the brine and lets it rest an hour before roasting.
CENTRAL'S CHICKEN AND DUMPLINGS
Maurelli makes his own potato gnocchi from scratch, but I generally substitute a very good commercial version. Maurelli's mirepoix is a standard ratio of 2 parts onion, 1 part carrot, and 1 part celery. See the veloute recipe below for my take on Central's rich veloute.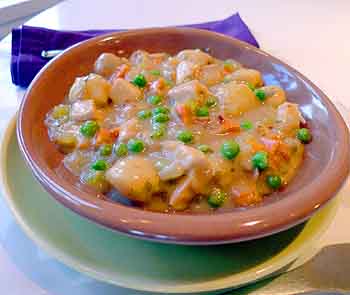 Makes 2 servings
Ingredients
8 ounces of potato gnocchi (blanched)
2 tablespoons water
1 cup mirepoix
1/4 cup extra virgin olive oil
1 shallot, sliced paper thin
3 cloves of garlic, sliced paper thin
6 ounces wood-roasted chicken breast, medium dice
1/2 cup green peas (frozen hold best)
2 tablespoons white wine
1 1/4 cups fine herb chicken veloute
Directions
Flash fry the gnocchi until crisp, about 3 minutes, and place on paper towels to remove excess grease.
Place water in small frying pan and add mirepoix. Turn heat on high and cook for about 45 seconds after water boils. Drain mirepoix and set aside.
In a separate skillet, over medium heat, place olive oil with finely sliced shallot and garlic. Sauté until caramelized (about 2 minutes). Add mirepoix, chicken, and peas and sauté. Deglaze skillet with white wine and cook off alcohol (about 1 minute).
Add veloute and bring to a simmer. Once sauce is simmering add the gnocchi, quickly toss and serve immediately to make sure the gnocchi are still crisp.
Garnish with local herbs, or micro greens.
CHICKEN VELOUTE
Maurelli usually uses a mix of thyme, rosemary, and parsley to season the veloute.

32 ounces chicken stock
6 tablespoons clarified butter
6 tablespoons all-purpose flour
3 ounces of chopped fresh herbs
Bring stock to a simmer.
In a separate skillet, heat butter and use a wooden spoon to blend in flour start to create a roux. Be careful not to brown the roux, but cook slowly until the raw flour taste is gone.
Once roux is done, slowly whisk in the stock one-quarter cup at a time. Whisk constantly to make sure there are no lumps. Simmer for 20 minutes, add fresh herbs, and let cool. I use leftover veloute as a cream sauce for dishes like chicken tetrazzini or simple sliced meat and gravy on toast or rice.