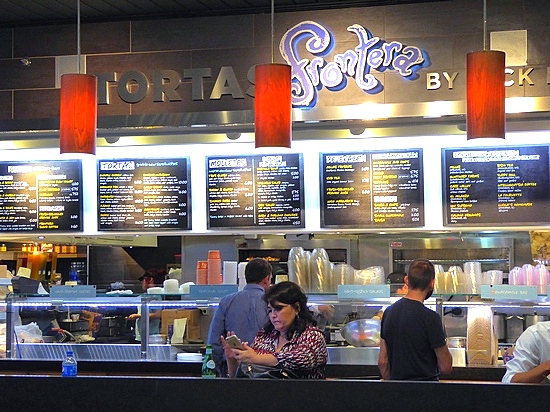 Maybe it's the feel-good endorphins released when we eat chile peppers, or perhaps it's just the simple combinations of strong flavors, but when we're truly stuck at the airport, nothing soothes our frazzled nerves better than good Mexican food. When American canceled our flight from Dallas to Albuquerque, we had time to discover the healing power of the chicken and green chile tamales at Pappasito's Cantina at DFW. (See this post for details.)
Yesterday, when American summarily canceled our flight from Chicago O'Hare to Lexington, Kentucky, we headed directly to Tortas Frontera by Rick Bayless. We've been fans of his food for years, and find that the recipes in his cookbooks are among some of the best for reproducing authentic Mexican dishes at home. It's nice to find a friendly face, so to speak, at the airport.
Tortas Frontera, as you might expect from the name, is basically a sandwich joint. But what sandwiches! We settled in at the food court with a spicy albondigas torta (a meatball sandwich), a smoked pork mollette (an open-faced sandwich), and a bowl of creamy corn and poblano chowder that was practically the definition of comfort food.
And we knew what we were getting, as Bayless lists the ingredients and often the local farms where he gets them. The food may be Mexican by culture, but it is, as his souvenir shirts say, "Hecho en Chicago." The meatballs incorporated pork and bacon from Gunthorp Farm in nearby LaGrange, Indiana, and they were served with Bayless's classic roasted tomato sauce and a little melted soft Cotija cheese. The mollette was a harmonious stack of sliced pork loin, melted Jack cheese, chipotle-fig spread, Cotija cheese and a little cilantro on half a bun. And that sublime chowder contained sweet corn, roasted green chiles, caramelized onion, and Cotija cheese. When we get home, we're going to check his cookbooks for the recipes.
We can recommend them all, with the caveat that when American is canceling flights willy-nilly, the lines get long and the service a little slow. But we could wait. We weren't going anywhere for 24 hours.
Branches of the restaurant are located in Terminal 1 at B11, Terminal 3 at K4, and Terminal 5 at M12.