The conjunction of strawberry season with this series of blogs about French cooking takes us back to our first introduction to lightened French cuisine, which was not in France at all but in the second largest French-speaking city in the world, Montreal. Les Halles opened in 1971 as a grand Escoffier-like townhouse palace of dining in a city best known to that point for its great baked beans with salt pork. When Dominique Crevoisier took over as chef in the early 1980s, he skillfully blended the haute with the nouvelle to create magical meals that didn't give the patrons gout. He gave us the best idea of what to do with leftover red wine: Turn it into a peppered syrup to serve on strawberries! He added his own touch by tossing the berries with grated lime zest, which is a surprising complement to the black pepper. Alas, Les Halles closed five years ago, but the dining revolution launched by Les Halles has made Montreal one of the great restaurant cities of North America. And every strawberry season Crevoisier's red wine-black pepper syrup lives on.
RED WINE-BLACK PEPPER SYRUP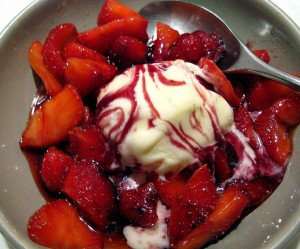 Ingredients
2 cups intense red wine (cabernet sauvignon, syrah, etc.)
2 Tablespoons black peppercorns
1/4 cup sugar
Directions
1. Combine ingredients in large skillet and bring to a boil. Reduce heat to simmer and cook, stirring frequently, until reduced to 1/3 cup of syrup.
2. Strain to remove peppercorns.
3. Cool and serve with sliced strawberries tossed with lime zest and a small scoop of vanilla ice cream.