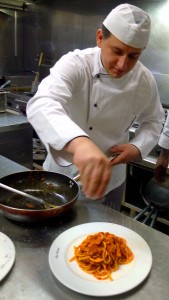 While Tsatsu Nicholas Awuku was teaching us to make bucatini cacio e pepe (see below), Alessandro Sillani, the chef of Ristorante-Caffe di Rienzo (Piazza del Pantheon 8/9, 06-686-9097, www.ristorantedirienzo.it), demonstrated the equally popular and almost as simple sauce for bucatini all'amatriciana. Tradition holds that this sugo (sauce) originated in Amatrice, a town in the mountains of Lazio on the border with Abruzzo. Many families from the region settled in Rome, adding this dish to the capital's own cuisine.
Sillani heated olive oil in a large frying pan, sautéed sliced onion until it was soft, and then added a thick pinch of hot pepper flakes and a handful of diced guanciale — cured pork cheek that is similar to pancetta but typically leaner. He kept cooking until the onion was golden and the guanciale well cooked. At this stage, Sillani tossed a serving of bucatini into the fryer converted to pressure cooker, then returned to making the sauce.
The rest of the sauce went swiftly: He ladled in pureed tomatoes and kept stirring the sauce over high heat until the bucatini was cooked (about 9 minutes), then added the drained pasta to the sauce.
It could not have been simpler or more delicious — and it's just as easy to make at home.
BUCATINI ALL'AMATRICIANA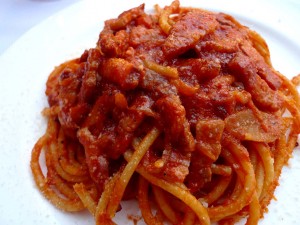 We have adjusted this recipe to serve four as a pasta course or two as a main course.

Ingredients

3 tablespoons olive oil
1 medium onion, thinly sliced
1/2 teaspoon hot pepper flakes
3 oz. guanciale (or pancetta), cut in 1/4" dice
1 lb. bucatini
3 cups pureed ("ground") tomatoes
freshly grated Pecorino Romano cheese
Directions
Saute onion in olive oil in large frying pan. When onion is soft, add pepper flakes and guanciale and saute over high heat until onions are golden and guanciale begins to brown.
Add pasta to boiling water.
Add tomatoes to frying pan and continue heating over high flame.
When pasta is cooked firm (about 9 minutes), drain and add to sauce in frying pan. Toss to coat.
Twist mixture tightly with a large fork and transfer to serving plates. Serve with Pecorino Romano cheese.