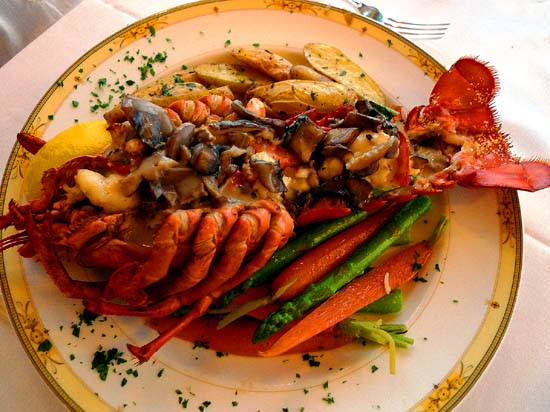 In all the time we have spent on the Maine coast this summer, we have seen better deals on lobster than we've experienced in decades. David is a former lobsterman, so we sympathize with the fishermen struggling to make ends meet, but the low prices and record catch are good news for diners. The real question is, after you've had lobster steamed, baked and stuffed, and in a roll, what's left?
We put that question to Richard Lemoine, the chef at the Cape Arundel Inn (208 Ocean Ave., Kennebunkport, Maine, 207-967-2125, capearundelinn.com) on an oceanfront bluff overlooking the former summer White House on Walker's Point in Kennebunkport. And, yes, the Bushes have popped in for dinner now and then over the years.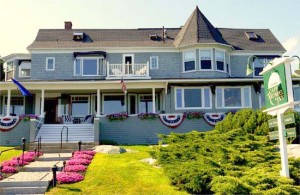 They've never stayed there, but the 14 rooms are a sheer summer delight and most look out at the ocean.
"It's Maine," Lemoine says, "so people expect lobster on the menu." Because the Cape Arundel Inn is a fine dining establishment (with an unusually good wine list for Maine, we might add), Lemoine needs to go well beyond the lobster you'd find at any good harborside shack. In early July, his dinner menu included lobster stew with a truffle oil drizzle, lobster and wild mushroom risotto, and a version of "lazy lobster" with the cooked meat sautéed in chardonnay butter and served with roasted fingerling potatoes. Lemoine's most inspired lobster dish, however, was a surprising combination of lobster and sautéed wild mushrooms returned to the lobster shell and broiled (the menu notes) "to perfection."
"The mushrooms add an earthy taste," Lemoine explains. Whenever possible, he uses locally foraged mushrooms. And the bread crumbs are made from leftover sourdough bread that he bakes daily. His sourdough starter dates from the late 1990s. As Lemoine observes of the lobster dish, "It's easy to eat and tastes like a mix of the land and the sea."
It was certainly a lobster dish we had never tried before, and chef Lemoine was generous enough to share the recipe. It's a bit of work, but worth the effort for showstopper results.
SAUTEED MAINE LOBSTER & WILD MUSHROOMS
IN A WHISKEY AND HERB BEURRE BLANC
Ingredients
four 1.5 lb Maine lobsters, steamed 10 minutes, then quick-cooled in ice water
1.5 cups seasoned bread crumbs
2 cups fresh, raw spinach leaves, picked and cleaned
1 cup mixed wild mushrooms, sliced
2 shallots, minced
1/2 cup whiskey
1/2 cup white wine
1 cup lobster stock
1 cup heavy cream
4 tablespoons cold butter
salt, pepper, and chopped thyme to taste
Directions
1. Prepare lobster. Split the bodies and butterfly. Take off claws and knuckles and remove meat. Remove meat from tail. Rinse out the 4 lobster bodies (throw out stomach sac) and place them on a large sheet pan. Cut up lobster meat into bite-sized pieces and reserve for later. Put crumbs in bottoms of lobster cavities and line cavities with spinach leaves. Hold in refrigerator.
2. Set oven at 400 degrees to preheat.
3. Prepare filling. Sauté mushrooms and shallots in 1 tablespoon butter until fragrant. Remove from stove and carefully add whiskey and wine. Return to stove and reduce by half. Add lobster stock and reduce by half. Add cream and reduce until slightly thickened. Turn off heat and whisk in remaining cold butter (3 tablespoons). Add seasonings and reserved lobster meat and mix well.
4. Carefully spoon stuffing into lobster cavities. Bake until thoroughly hot (about 12-15 minutes) in preheated oven. (Lobsters may also be quickly broiled instead of baking.) Spoon any remaining sauce over lobsters and serve.