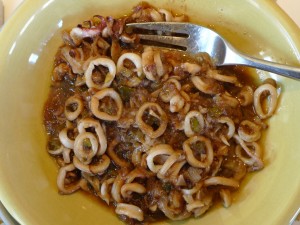 Those of us who aren't Basque have a hard time imagining just how well they eat. Good food and a love of cooking seem to be central to the culture. When we sat down with Elena and Juan Marí Arzak for the Robb Report story about the seasonal special dish of angulas (see the Dec. 21, 2011 post), they emphasized that love of good food was a Basque birthright that extends to every meal–not just special occasions.
That certainly seems to be true. When we later met professional guide Ana Intxausti Gardeki, she took us to the San Sebastian market and told us all about the various kinds of fish available. (She had worked for a seafood broker before changing careers.) She even gave us a recipe for calamari that she makes at home. It's a Basque home cooking standard that even superchef Martín Berasategui serves in his restaurants. Ana calls it "Chipirones encebollados," or "calamari with onions."
CHIPIRONES ENCEBOLLADOS
Serves 4
Ingredients
4 tablespoons of olive oil, divided
8 spring onions, sliced (shallots will also do)
1 cayenne pepper, crumbled
2 cloves of garlic, minced
32 whole squid, cleaned and cut into tentacles and rings (about 2 lb.)
brandy or Armagnac
1/2 cup of dry white wine
salt to taste
Directions

1. In a sauce pan, mix 2 tablespoons olive oil, onion, cayenne, garlic, and a pinch of salt. Set heat on lowest setting and cover pan. Cook very slowly until the onion becomes golden brown, about 90 minutes.
2. Set a large sauté pan over strong flame and add remaining olive oil. When is it hot, add squid and sauté quickly, about 2 minutes. Add a splash of brandy and set it afire, turning pan to deglaze. Do not crowd the pan. Cook squid in 3 or 4 bunches if necessary. Pour the calamari and any remaining liquid into the onion.
3. Add white wine to the pan of squid and onions. Simmer for 30 minutes. Season with salt before serving.