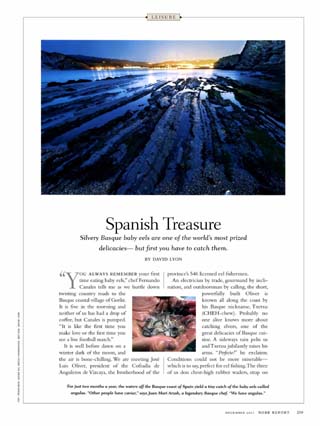 Nothing says Christmas in Basque country like a nice plate of angulas, i.e., baby eels, also known as elvers, glass eels, or "spaghetti with eyes." Threatened by overfishing and by Asian buyers who purchase the live elvers to raise on fish farms, angulas nonetheless remain a touchstone of Basque traditional cuisine. They are, however, expensive. We have a piece in the December 2011 Robb Report about fishing for and preparing angulas. We should note that we had a lot of help to research this story, especially from chef Fernando Canales of Etxanobe in Bilbao, eel fisherman and all-around outdoorsman and gourmand Txetxu Oliver, and chefs Juan Marí and Elena Arzak, who were good enough to sit down and talk with us at Restaurante Arzak about angulas in Basque tradition. You can find the whole piece on our Sample Articles page. Watch for coming posts that share some recipes from Basque home cooking.
We refer you to the Robb Report article for the details on angulas, but wanted to give readers a peek at some of the photos that didn't run with the magazine story. First up is a shot of Fernando with his angulas salad in the kitchen at Etxanobe.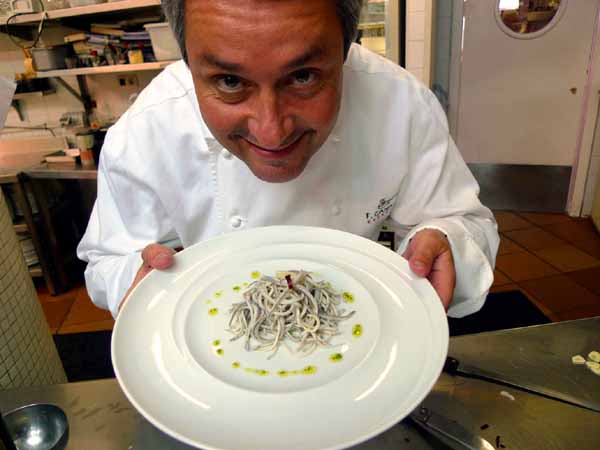 And then there's the stunning version of angulas served at Restaurante Arzak in San Sebastian. The Arzaks plate the eels on a buckwheat toast and add a seaweed salad. The whole thing is served on a plate of wet black slate.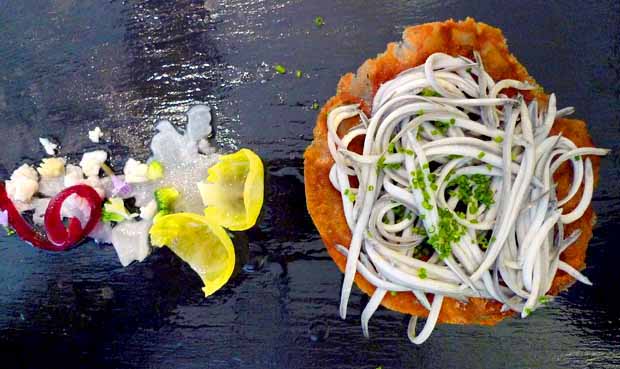 And, finally, here is Juan Marí Arzak himself cooking the angulas over a wood fire in a perforated frying pan as fellow chef (and daughter) Elena Arzak looks on.