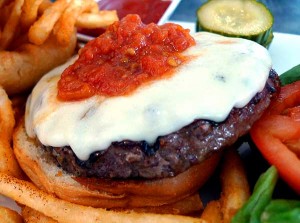 When we were working earlier this summer on a New England burger roundup for the Boston Globe (see Sample articles), we had no idea that we would discover a partial solution to the late-August glut of tomatoes. When we dug into the basic hamburger served at Christie's in Newport–the casual restaurant of the luxurious Hotel and Marina Forty 1º North–we just knew that chef Kim Lambrechts' tomato jam was the perfect complement to the rich beef burger. With a little cajoling, we found out how it's made.
TOMATO JAM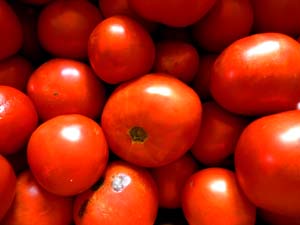 Chef Kim Lambrechts is the director of all food and beverage operations at Hotel and Marina Forty 1º North in Newport–including the casual restaurant, Christie's. He serves this brilliant ketchup substitute on beef burgers. We find it captures summer in a jar. We pressure-can ours, but the jam is acidic enough to be preserved with the boiling-water method.
Makes 1 1/2 cups
Ingredients
5 large red vine-ripened tomatoes (about 2 1/2 lb.)
1 tablespoon chopped ginger
1 tablespoon chopped shallot
1 teaspoon chopped garlic
1 sprig of fresh thyme or 1/2 teaspoon dried thyme
1 tablespoon fresh lemon juice
2 tablespoons red wine vinegar
1/4 cup brown sugar
2 tablespoons olive oil
salt and pepper to taste
Directions
1. Place the tomatoes in boiling water for 15 seconds; remove them quickly and place in bath of ice water. Once they have cooled, remove the core and skins and chop flesh roughly.
2. Heat sauté pan over medium flame. Add olive oil, shallot & ginger, and sauté for a few minutes until shallots are soft.
3. Add remainder of ingredients. Bring to a simmer and cook until liquid is largely evaporated, yielding a consistency like kechup. Let cool and reserve for use.